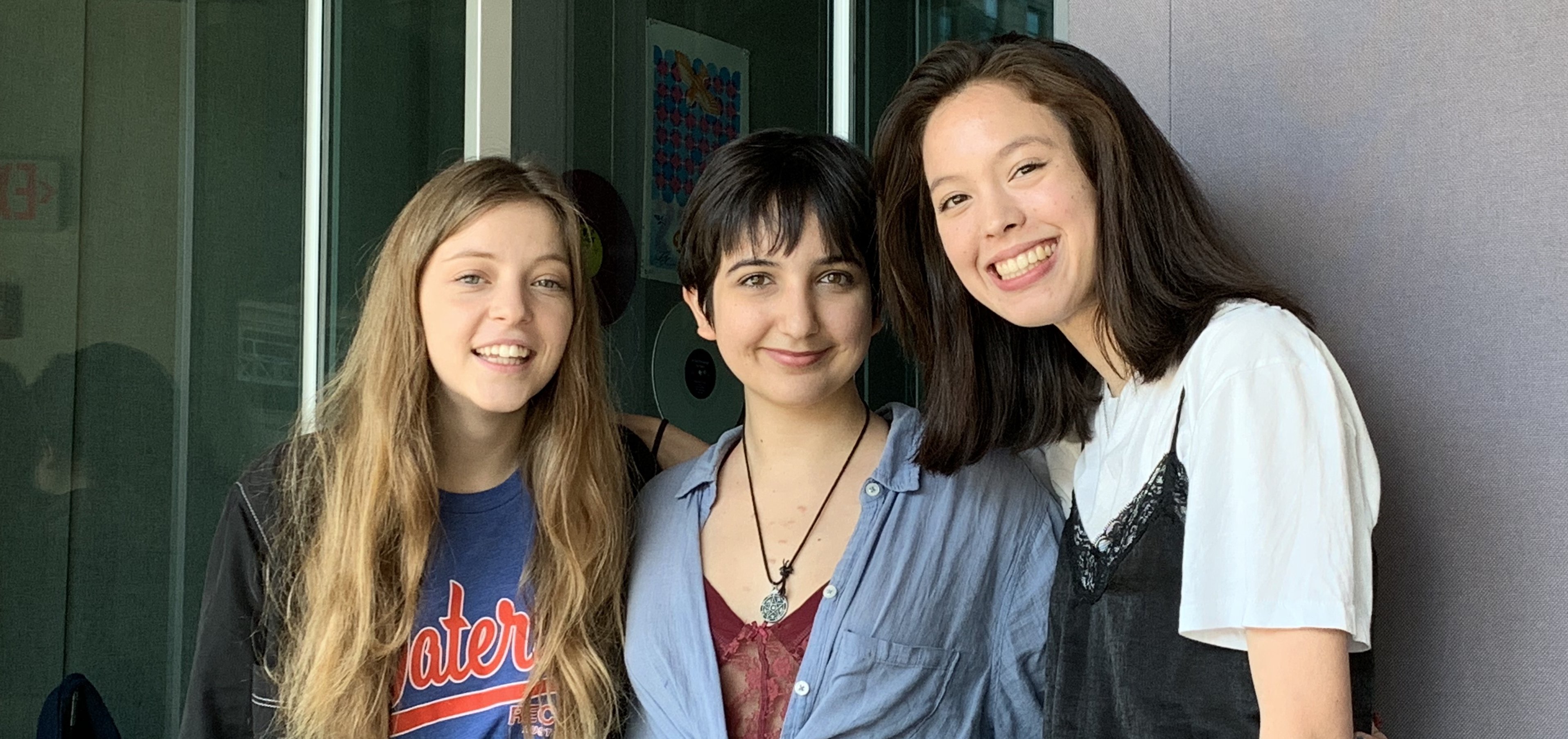 By Mica Kendall
With only one EP out, and a handful of singles ranging from 2017 to current day, the up and coming British 21 year old singer and songwriter, Jade Bird, has made her voice heard on a global scale extending outside her hometown of Hexham in North England. Earning more than millions of streams on all her songs released thus far and climbing the charts in Billboard's top Adult Alternative songs chart, Bird's surgein the music industry seems like it will only be going continuously up from here especially when her upcoming release of her debut album expected for next year.
Bird distinguishes herself amidst other notable artists with her unique mesh of genres in her music not limited to country, Americana, indie, and pop accompanied by her powerhouse vocals that makes her a breath of fresh air in the otherwise pop dominant music industry. Finishing up her first US tour accompanied by various festivals around the country, Bird wraps up her tour on the east coast at Brighton Music Hall in Boston. Prior to her show, Bird conducted a live mix session for WERS for Live Music Week and sat down with me to talk about her upcoming debut album and her life on the road.
See the full in-studio performance here.
Mica: I understand that you moved around a lot as a child, and in your formative years you were stationed in South England in Wales. In addition to that, you lived with your mom and grandmom, and played open mic nights at pubs in Wales. How did those mic nights in your formative years of learning piano and guitar, and just living in Wales in general, shape you into the current day musician you are today?
Jade: I think they are the kind of foundation of everything that I am. I test all my songs out live. So, for example, I wrote 6 new songs before I went on the road and tried 5 of them out live. I've been doing that since I was about 14. You know what I mean when you have the pubs and clubs -- they don't really matter you can just try something. But I think when you are young, no one really cares unless you do a cover of a popular song. That's the kind of tragedy of it. I gained everything I got from those harder times, I guess.
M: So, at the beginning of ages 13 and 14, you wrote at least 1 song per day in your songwriting journal. Do you still frequently come up with songs on a daily basis now at age 20? How would you describe your songwriting process?
J: Well, it's interesting because I feel like I'm going through a new phase of my songwriting since I wrote "Lottery" and "Uh Huh" in January. I wrote them on the same day coincidentally, which there must have been something in the air. But yeah, I think the songwriting process for me differs. Sometimes, I go through more of a note-taking phase where I'm always writing stuff down in my notebooks and phone and things where sometimes you just can't get enough out. It's an interesting process, but I always write a song per day when I'm going through a writer's block. I think it's a good counter when you're struggling to just write through it, even though the songs are rubbish.
M: One of your hit songs, and WERS favorite, that came out this year, "Lottery," was categorized on Billboard as a 'top hit on the Alternative charts.' I know with your music there's a really broad category of music that people say your music sounds like -- such as country, folk, indie pop, alternative, etc. But, without confining yourself to just one genre, I feel like you really repurpose and blend all these genres to make it your own sound. How do you take some of your favorite music genres or influences and translate it into your production and make it your sound?
J: It's never consciously, because I think if you did it consciously it'd be a bit like stealing I guess. It's usually no boundaries -- I get inspired by production in artists in general, like Elliot Smith. I feel like he has no melodic boundaries either in his production, coincidentally. I mean, it translates self consciously. I've been listening to a load of heavy guitar music like Sonic Youth and Autolux for a while now, and even psychedelic like Kurt Vile and Tame Impala. I think it's kind of weeding its way in. Like the new batch, there's this track called "Hold That Thought" that will be on the album and is incredibly kind of psyche in a way. I really enjoy playing that.
M: "Uh Huh" is very upbeat, and showcases your powerhouse vocals. I feel like it really exposes the ways of an ex-lover moving on with someone else -- specifically in the lyric, "she's doing what you did to me." Are all your songs personal narratives relating to your life specifically, or are your songs more like storytelling narratives?
J: "Lottery" is about a direct experience I had with an ex. Number 4 Ferdinand Street is where I grew up playing in London, so that is a direct experience, but "Uh Huh" is actually quite fictional. My family has not had much luck with, you know, men. There's been quite a lot of transitions to put it that way, so I think that kind of whittles its way down. I'm obsessed with betrayal and being unfaithful, which I guess is quite a contrary thing. Which is why I think people associate it with me. But, to be honest, I'm just fascinated by human beings and that's one of the strangest things I think about, how we can never be happy with just one person, so I investigate that so to speak in my songs.
M: So "Uh Huh" and "Lottery" serve as previews towards your upcoming debut album that's going to come out next year. How would you say your new album differs or shows new elements compared to your last EP Something American?
J: Well, I think the new album should show every side to me as an artist now. So it shows, piano ballads, heavy rock songs, I got alternative, I got the Americana feel of Something American -- there's a song for everything and that was my main goal because I'm writing all this stuff 100% by myself, so I just wanted to show every facet of that of who I am and who I am as a writer at the same time. So you'll get absolutely everything on this album I'm sure of it.
M: So it's all produced by yourself lyrically and instrumentally?
J: Yes! So it starts with me on the acoustic guitar, and I write all the lyrics by myself and then I take it to the band. Like my boyfriend is my guitarist and his best friend, who is also my best friend, now is the bassist, and Kaps from the Mystery Jets in the UK is a drummer. We kind of workshop it together on the road or wherever we are and then I take it to upstate New York where we did everything up till now with a guy called Simone Felice who did the Lumineers record and he starts to produce it basically. We track it all live and chip away at the song and try to find that special magic within it, so that's the process for literally every song so far.
M: So I know you're currently on your last stretch of your US tour right now, with a few more remaining dates. And you play tonight at Brighton Music Hall. How has your national tour in the US been so far and do you have any memorable/standout memories from being on the road?
J: It's been absolutely wild! Like, I'm just a 20 year old writer from the UK and I come over here with a band and it's my first ever tour. To be honest, I was expecting dead rooms. I wasn't expecting anything special, but special memories have been LA -- which was the Troubadour -- and we sold it out. I was just in awe the whole time. We did SXSW in Austin and there were so many people from that and it had such a raw energy. And then Salt Lake City because last time I was there, I played as a support and it was kind of a dead show. I was like "ah this must be a hard market to get people to come out to a show" and again we pretty much sold out this tiny little like metal shack and it was just everyone was just incredible and so amazing. It was so good to meet everyone. They are probably my three biggest moments.
M: Bouncing off that, you mentioned SXSW. Compared to your personal headline shows -- and I know you've done other festivals besides SXSW -- which do you personally prefer to do? Even though with like festivals when you're playing with a huge audience that may not know your music you could still acquire new fans out of that. Which do you like better personally?
J: I struggle with festivals sometimes because when you're a new artist, the reality of it is it doesn't matter how big you are. You will get dead festivals and you will get a slot next to someone that people would rather go see right now, so it is tricky. The one thing I'm learning is to have fun with it you know the sound is never great because you're never the headline and you can't hear anything, but, for example, we just did Grandoozy and it was the first one of the kind in Colorado. I just had so much fun with it. I was just like this is great, the sun is shining, we got a couple of hundred people so I just had a really good time. But festivals have been iffy. I think I would choose a small venue over festivals.
M: So I know you mentioned Elliott Smith previously as someone you consider one of your main musical influences. And you also really like Bob Dylan, Neil Young, the Civil Wars, Patti Smith, Loretta Lynn, and Alanis Morissette. If you had the opportunity to work with any of them specifically to produce a song, who would you choose and why?
J: That's a good question because if I had the opportunity to work with anyone in general, it would be Patti Smith. I think she's an artist by every means of the word. I'm a huge fan of her poetry, I'd say even more than her music but I'm obsessed. So I would love to just talk to her. I hid away from her at a festival she was playing. I didn't go and see her because I was too scared. I was like you're such an idol in my head, but to answer your question I think someone I'd love to work with on a song would either be Lady Gaga -- I think she's phenomenal -- or Florence and the Machine. She's doing something so cool and I think she's really true and really great.
M: Florence just released a new album and I was going to ask you what are some of your current favorite albums that you've been listening to while on tour?
J: I struggle with current music at the moment just because of the state of current pop. It's all very co-written and quite formulaic. But I don't want to sound too much like a bug bear. Mitski's new album is good. I mean "Nobody" I think is a tune and she's been doing this for so long and I really admire that the fact that someone can work for five albums and still put out new stuff. So she's really great. Kurt Vile's new album just came out I really want to check that out haven't done so yet, Courtney Barnett's album was really cool. I really love that kind of indie thing. I know there's Snail Mail, Julien Baker, Phoebe Bridgers. I love all their stuff. I think it's a really cool scene that's happening right now. Usually I listen to old music, but that's all the new stuff I've been listening to.
M: My last question is just after you put out your brand new album next year, what are some goals that you have for yourself as an artist for the future? What do you hope to accomplish when it comes out?
J: I think for my debut, I just have so many goals for that and not in terms of figures. I think if I'm gonna be true to myself, I just want it to be something that it doesn't really matter how well it does. I can put it out and be like I couldn't have done anything more and I feel like I've gotten to that space in a songwriting perspective. But it's just time to up it in production and instrumentally now, so that's my main goal. I think I want to a couple more tours next year. Hopefully go over to Australia. I mean, I guess I just want it to be critically acclaimed and I don't mean that by magazines. I mean like by people appreciating its musicality not just the fact that its out.
Jade Bird's first expected debut album is due for next year, but for now, Bird's latest singles "Uh huh", "Furious", and "Lottery" are available on all streaming services. Stay tuned for an upcoming debut tour from Jade Bird as well in 2019.