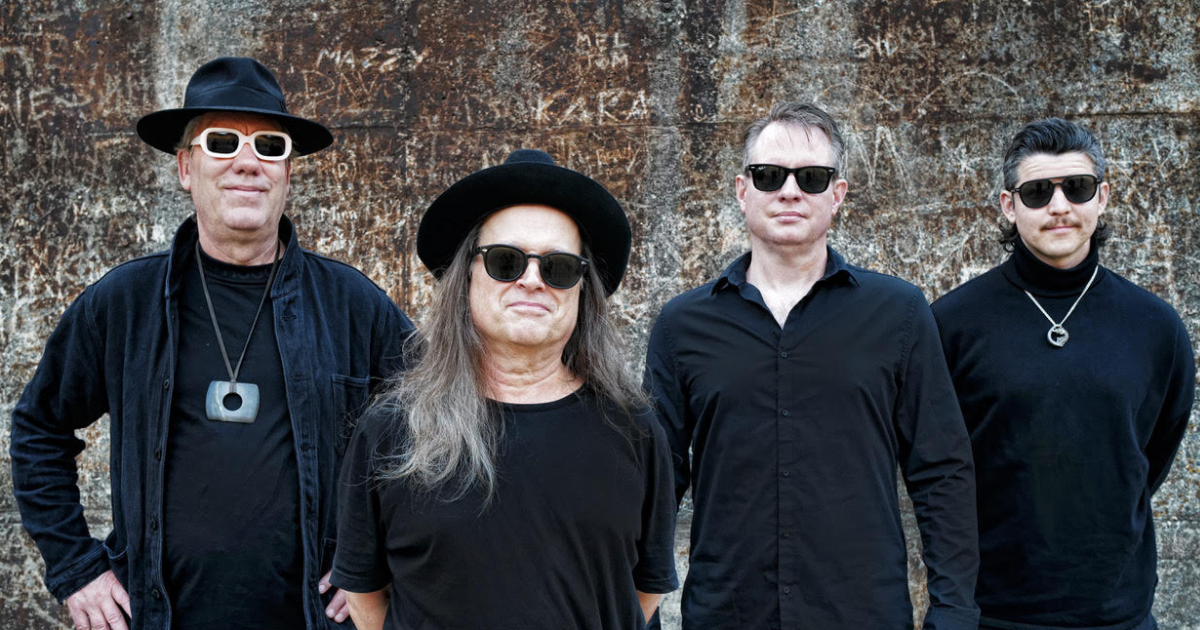 Violent Femmes recently embarked on tour in celebration of the 40th anniversary release of their certified-platinum, debut, self-titled album. Just before their stop in Boston, founding member and bassist Brian Ritchie paused his bike ride in the Canadian wilderness for an interview with Web Services Coordinator Nora Onanian. The two talked about what it's like for Ritchie curating his own music festival, what Horns of Dilemma fans can expect at Friday's show, and his take on fame.
SO YOUR DEBUT SELF-TITLED RECORD WAS RELEASED IN 1983. I WANTED TO ASK, DOES IT FEEL LIKE 40 YEARS HAS PASSED SINCE THEN?
BR: Oh, that is a tough question to answer, because musically, you know, I think that the music is still really valid. You know, even for me to play the music 40 years later doesn't feel nostalgic. Like when you listen to some music that's 40 or more years old, you get the idea that you're just plumbing [through] nostalgia. But I actually feel like our music and the band is still alive, you know? And some of that is the music itself. And some of it is the relationship we have with the audience and the fact that we're always getting new people into the band. So at the same time, if you phrase it like that, in 1981 when we started the band, or in '83 when we released the album, rock and roll itself had not even been around for 40 years. So that gives some perspective on the whole thing. And it seemed unlikely that we could keep going for 40 years. But here we are.
YEAH, IT DEFINITELY DOESN'T FEEL DATED.
BR: Yeah, it's remarkable. And we tried to do it that way because we made the album– we knew that we were playing a lot of roots music, like a lot of rockabilly, kind of blues-influenced, jazz-influenced, folk-influenced. So we were not only influenced by rock music, we were influenced by all American music. Later on, we even had this song called "American Music." So we wanted to make it fit into the continuing continuum of American music, rather than trying to be 1982. It's like we didn't want to fit in at the time. We wanted not to fit in so that the music would last, you know, would be more durable.
YEAH, DEFINITELY. AND RIGHT NOW YOU'RE ON THAT 40TH ANNIVERSARY TOUR PLAYING THE RECORD COVER TO COVER. WHAT HAS THAT BEEN LIKE? HOW IS TOUR GOING?
BR: Well, it's fun playing the album from cover to cover because it's kind of like a book, you know. It's like each song is a chapter and it tells – [well, it] doesn't really tell a story like a rock opera per se – but it does leave you feeling at the end like you've been through some sort of an emotional journey and a musical journey. So we usually play most of the songs from the album anyway. But to do them in order is a different level of experience for us and also for the audience.
YEAH, THAT'S GREAT. AND THE HORNS OF A DILEMMA IS THE SPECIAL NAME FOR THE HORN SECTION THAT TAKES THE STAGE WITH YOU. WILL THEY BE AT FRIDAY'S SHOW IN BOSTON?
BR: Yeah, we'll have our regular Horns of Dilemma, who are some of the people that travel with the band. And we'll also have some guests. During COVID, we kind of minimize the Horns of Dilemma because we were having like COVID restrictions and stuff. But now we're back with the Horns of Dilemma big time. 
VERY EXCITING. ARE THERE ANY LOCAL MUSICIANS JOINING?
BR: There will be, but I still have to sort them out. I can't mention anybody. There are a few people I want to invite, but I haven't heard whether they're even in town. Sometimes we have some of the guys from Dropkick Murphys. I hope they're around.
YEAH, THAT WOULD BE AWESOME. I LOVE THE STORY OF HOW YOU WERE FIRST DISCOVERED BY THE GUITARIST FROM THE PRETENDERS, JAMES HONEYMAN-SCOTT, WHILE OUT BUSKING IN MILWAUKEE. THAT'S SO COOL. AND THEN YOU GOT TO OPEN FOR THEM. ARE YOU STILL IN TOUCH WITH THE PRETENDERS?
BR: Well, as a matter of fact… We do gigs with them once in a while. Last time I saw Chrissie Hynde, because, you know, several of the Pretenders are dead that were at that gig – James is dead and Pete is dead. But I saw Chrissie a few years back at the Rose Bowl in Pasadena. And she said, 
'Oh, you're still around?' (Laughs) Yeah, she's pretty sarcastic. But interestingly, I recently got an email from James Honeyman-Scott's widow. And she asked me to write my memoir of that night. And I wrote that in some detail. And she's going to put it in– she's writing a book about him. She was there that night as well, so she remembered it herself. So she's going to write her account and then she's got some quotes for us. So yes, I am still in touch with them on some level.
DO YOU KIND OF FEEL LIKE YOU CAN PAY IT FORWARD BY LIKE SELECTING SPECIFIC OPENERS FOR YOUR SHOWS?
BR: Well, we've done that a lot. I mean, we've had many openers who then later on went to become much bigger than us, you know, like Nirvana, for example. 
I DIDN'T KNOW THEY OPENED FOR YOU. WOW. 
BR: Yeah, They opened up for us on an Australian tour. And then they paid us back by taking us on tour as their opener in Europe. 
So that was one. 10,000 Maniacs is another one that comes to mind. But we do try to give up-and-comers an opportunity to open up for us sometimes. 
YEAH. AND YOU'RE A MULTI-INSTRUMENTALIST. YOU PLAY ACOUSTIC AND ELECTRIC BASS. YOU PLAY WITH XYLOPHONE AND THEN THE JAPANESE BAMBOO FLUTE SHAKUHACHI. ARE THERE ANY INSTRUMENTS THAT ARE MISSING?
BR: Oh, there are a lot of other instruments I play. Well, I actually counted it once, looking at our album covers, and I've played over 40 instruments.
OH, MY. SO I'M MISSING A LOT.
BR: Yeah, most of them are related, you know, like I played keyboards, I've played organ, piano, celesta. I played the xylophone, berimbau, vibes, you know, So these are all related instruments. Or even string instruments like banjo, mandolin, bouzouki. My philosophy is kind of like: once you know one instrument, you know a lot of instruments because they're all related. As long as you just can adapt to the differences.
DO YOU HAVE A FAVORITE BASS LINE FROM THE DEBUT ALBUM THAT YOU'LL BE PLAYING ON FRIDAY?
BR: Well, everybody knows "Blister in the Sun" now. They frequently use it at sporting events. And I've been told by music store clerks that it's the number one bassline that people use when they try out basses in the store. So, you know, that would probably be the best and most prominent bass line I have. But I really like "Add It Up." Now, that's a great song and the bass line is very complicated on that song and it goes through a lot of different feels. So maybe "Add It Up." Yeah, that's a good one.
DO YOU REMEMBER THE FIRST RECORD YOU BOUGHT FOR YOURSELF?
BR: Yes, it was Fragile, by Yes. You know that band from the '70s?
NO, I DON'T.
BR: They're called Yes, and they were a very famous band at the time playing progressive rock music. So it's like really complicated rock music. And they played all kinds of fancy stuff. And that was also the first band I saw play live. Their bass player, who's dead now, his name was Chris Squire. And he was my biggest influence. He basically made me want to play bass.
YOU'RE THE MUSIC CURATOR FOR THE MOFO FESTIVAL. WHAT'S YOUR FAVORITE WAY TO DISCOVER NEW ARTISTS FOR CURATING? 
BR: Well, sometimes I book people I've met in this life. You know, like, for example, David Byrne has been there and he's somebody that I knew from the past. Or Amanda Palmer, people like that. Other times, people, they recommend artists, other artists. And a lot of times I just go looking – just like anybody else – looking on YouTube or social media. I discover bands that way. Sometimes I discover them playing, like I've even gotten some bands that I've seen playing on the street, similar to what The Pretenders did for us. So it's all different ways that we do it. Now they contact me, you know, like they want to be at the festival.
We're working on the 16th year of it. It's down in Tasmania. And it's really a great festival.
YEAH, IT SOUNDS IT. ARE THERE ANY NEW ARTISTS THAT YOU CAN LIKE PUT ME ON TO? ANYONE YOU'RE LISTENING TO LATELY?
BR: Well, somebody that we had in the festival and who is getting to be pretty popular in the States and worldwide is Courtney Barnett. 
OH, I LOVE COURTNEY BARNETT. I'M PLANNING TO GET A COURTNEY BARNETT TATTOO (LAUGHS).
BR: Oh, wow. That's great. 
So she played in Mona Foma, but I wanted her to do more than just play with her band. So I asked her to do a solo gig. And she was like, 'I don't want to do that. I'm scared to play solo. I don't want to.' But I insisted on it. And then she did that. And she loved it so much that she went on tour in the States solo. And she actually mentioned in Rolling Stone that she got inspired by doing my festival. So. I really admire her. She's going to be in the festival this year.
I THINK I SAW HER PLAY SOLO IN BOSTON. IT WAS GREAT. MY LAST QUESTION, I READ ANOTHER INTERVIEW WHERE IT SAID THAT YOU NEVER REALLY CARED ABOUT BEING FAMOUS. DO YOU WANT TO ELABORATE ON THAT? 
BR: Well, it's nice to be famous. Like, for example, the other day I went to the airport and I was having trouble checking in because they screwed up with my passport, and the guy recognized me and then he really worked hard to fix the problem. So it's good being famous.
I think it's probably not true that I never cared about being famous. I was probably lying. Because it's nice. It is nice to be famous. But maybe what I meant was that the music comes first.
You know, I'm really about music. I care a lot about music. I care more about music and having a good relationship with music than about being famous.
But one good thing about being famous is that you get to play music for a lot of people. You know, like thousands of people every night. So yeah… ideally, they can go hand in hand.
YEAH, I LIKE THAT. THE MUSIC COMES FIRST. THAT'S ALL I HAVE FOR QUESTIONS. IS THERE ANYTHING THAT YOU WANTED TO ADD OR TOUCH ON?
BR: Well, I'm out And I'm in Toronto right now and I'm on a bike ride with my buddy Jim Cregan, he's from the Barenaked Ladies. You know that band?
I DO!
BR: They're a Canadian band. So we're just riding our bikes and having a good time. So it was a pleasure to stop the ride and speak with you for a few minutes.