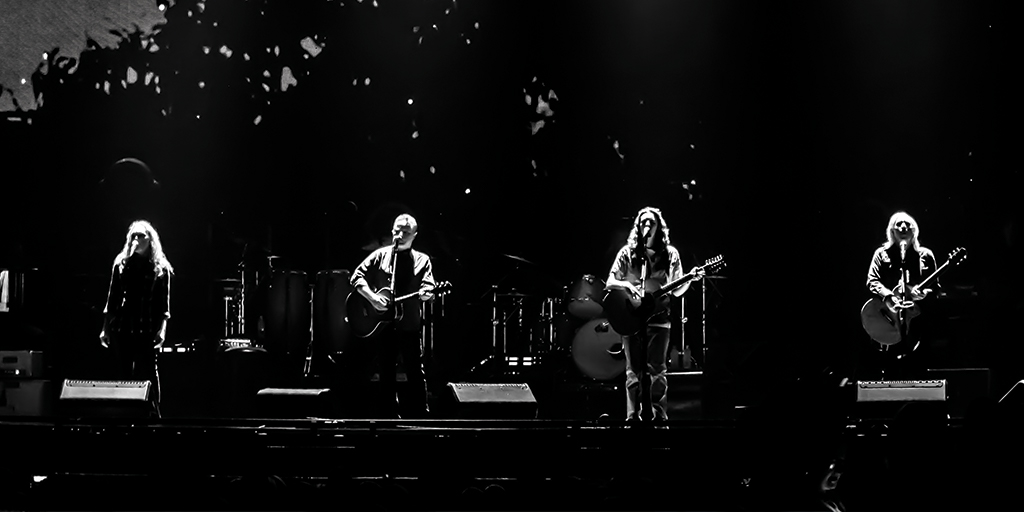 Photography by Lukas Markou
Written By Sarah Fristoe
Friday and Saturday night TD Garden presented An Evening With The Eagles. Joe Walsh, Don Henley, and Timothy B. Schmit led a talented group of musicians through Eagles territory. We spent the evening with the classics as well as some seldom-played songs.
Country musician Vince Gill covered the vocals of late Eagle Glenn Frey with flying colors.
Gill's vocal range is an uncanny match to Frey's, so he fit right in, although he called himself "the 61-year-old new kid." Frey's son Deacon shared the stage with his father's bandmates, contributing guitar and vocals as well. British musician Stewart Smith also held his own up there among rock legends.
Scenes of desert nights backlit the band as they performed their more relaxing hits, such as "Peaceful Easy Feeling" and "Lyin' Eyes."
"Life in the Fast Lane" and other up-tempo tracks bathed them in bright red stage lights. At one point, Schmit turned the tables, asking to see the audience. The cameras then panned to us. Die-hard fans and ecstatic toddlers alike filled the Garden with the joyful noise that can only come from seeing a band as iconic as The Eagles.
Joe Walsh is lovably weird.
We got a glimpse of this from his facial expressions during his guitar solos, but we saw his personality shine when he performed "Life's Been Good." He asked us to scream "BALONEY" on his cue, and when we did it hilariously off-kilter, he laughed through a whole line of the song. He skipped some more words throughout the song to dance and play guitar, but the crowd wouldn't have it any other way. Walsh was having as much fun as we were.
A brass section accompanied many songs, bringing another layer of musicality to an already talented stage. "Hotel California" began with a brass introduction, which let everyone getting refreshments or taking a break to know that they better hurry back. Every time we thought the show was over, they came back with another encore, seemingly topping their last. In one of such encores, Henley glided through "Desperado" beautifully, with a starry night behind him.
The Eagles have been around for over 40 years, but their musicianship has not faltered one bit. Walsh banged out his guitar solos like the maven we know him to be. Henley's voice hasn't wavered since the '70s. Schmit captivated the audience like a true professional. Gill, Frey, and Smith played so well with the rest of the band, I felt like I was watching the original Eagles lineup. TD Garden set the stage for an unforgettable Evening With The Eagles.
Sarah Fristoe is the Program Coordinator at WERS. Studying Journalism at Emerson College, she hopes to go into the radio industry after graduation.