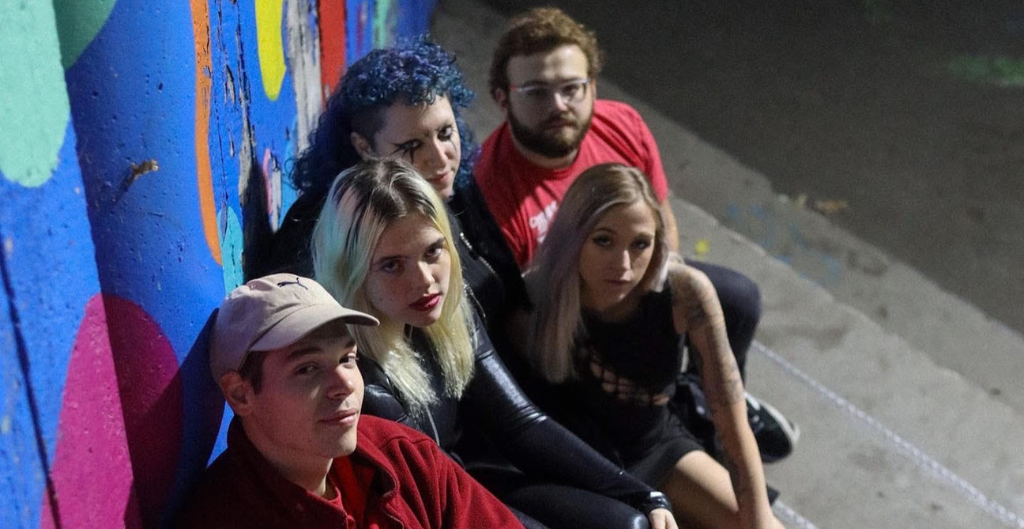 Every Wednesday, WERS presents Wicked Local Wednesday, our program dedicated to bringing you music and interviews with artists in the Boston/New England area. Tune in at 9 p.m. every Wednesday night to hear songs from these local bands looking to share their music with the world! To learn more about the artists you hear on the program, check here on our WERS Music Blog for our series of Wicked Local Wednesday interviews. 
In this interview, three of the members of Boston band JVK — front-woman Jo Krieger, plus Donny, Syd and Troy — talk with staff writer Mina Rose Morales. The group cover everything from their origins to their future hopes, and break down their empowering single "Be My Own Man" off of their debut EP Hello, Again.
I ALREADY KNOW THE ANSWER BUT I'M JUST GOING TO ASK IT. SO, WHAT IS THE BAND'S NAME?
Jo: We are JVK.
AND WHAT DOES THAT STAND FOR? DOES IT STAND FOR ANYTHING?
Donny: (Laughing) we get the easy questions. 
Jo: So, it originally started off as my solo project. So JVK are technically my initials, but as we kind of progressed as a band, it's become more of an established band versus a solo project. We also tell people when they ask that it's up for interpretation and it's what they want it to be. So it doesn't specifically single out one of us. 
SO, WHO ARE THE BAND MEMBERS? IS THIS THE ENTIRE BAND OR ARE THERE OTHER PEOPLE?
Jo: We are missing one person right now because she's sick. 
I'm Jo and I sing.
Syd: I'm Syd; I play guitar. 
Donny: I'm Donny, and I play guitar. 
Troy: And I'm Troy; I play the drums.
Jo: And then Alex is our bass player. 
HOW DID YOU GUYS GET TOGETHER? 
Jo: You want to start the story off?
Donny: So, a friend of mine dragged me to a concert at Brighton Music Hall for a band that I don't really like and didn't want to go see… But the ticket was free, so I went because he said there [would] be a mosh pit and it [would be] fun. Whatever. 
And one of my other friends was there, it turned out. I turned to her and said, "I don't want to be here. I want to go home and practice." And Jo heard me say the word practice and turned around and said, "Are you guys musicians?" That's how I met Jo. 
And then we followed each other on Instagram. And a couple months later she reached out to me because she wanted to start putting together a band for her music, of like Berklee kids. And she was like, "Hey, can you ask around for musicians who would want to join a band? And I said, "Sure, I'll join your band." And then, the rest was— you put up posters?
Jo: Yeah, so I ended up putting up posters around the Berklee and Boston area. And then that's how Syd came into the band, because they saw one of the posters. And then I heard them playing and I was like, "Yes, absolutely, you have to be in the band." 
Me and Troy had played together for different projects that we were both part of from like a few months or even like a year or so back. And then he reached out to me too. And that's how we all came together. Same thing with Alex too. 
Syd: I usually don't really look at the posters, but I was waiting in line during finals week at Berklee to stuff a plush, a little Build-A-Bear type thing. And the line was so long because everybody wanted to do it. And I saw the song link and I thought, "This is really good." 
Jo: (Laughs) And now here we are.
SO, HOW LONG HAVE YOU GUYS BEEN TOGETHER THEN?
Jo: Our first show all together was in February.
OF THIS YEAR?
Jo: Yeah, and we basically had our first show at O'Brien's. It was sold out. It was super cool, and ever since then we've just been playing nonstop. 
I REALLY LOVE [YOUR] FIRST ALBUM [HELLO, AGAIN]. LIKE ALL THE SONGS. AND I REALLY LIKE "MY OWN MAN."
FOR HELLO, AGAIN, WHAT WAS THE INSPIRATION FOR THAT ALBUM? 
Jo: It was a collection of songs that were kind of… a lot of them were from different points of my life, but I kind of tried to put them together to tell some sort of story. So, a lot of them came from the fact that I was in a really bad relationship when I was younger, and I was writing about the tumultuous ups and downs of being in a bad relationship like that and being like, 'Oh, I love this person. Oh, no, I don't. Oh, F-you.'
The whole EP just kind of shows the progression of the back-and-forth relationship. And they were all written at different points in my life. But, yeah, a lot of the inspiration comes from the bad men I have dated. Hahahaha, to put into shorter words.
[WHEN I WAS ASSIGNED TO REVIEW THE EP FOR WERS], IT COULDN'T HAVE BEEN IN A BETTER MOMENT BECAUSE THAT WAS DURING THE TIME WHEN I WAS DATING A GUY WHO WAS KIND OF MESSING WITH ME. SO, I REALLY LIKE THE SONGS. I WAS LIKE 'YES, THIS IS WHAT I NEED RIGHT NOW.' 
Jo: That's so cool. It's not cool that you were in a bad relationship…
IT WASN'T A BAD RELATIONSHIP... IT WAS JUST…
Jo: It was just that men suck.
YEAH (LAUGHING), PRETTY MUCH, YEAH. SORRY GUYS.
Troy: It's all good.
Jo: That's how you know they're good ones because they don't get offended.
FROM THE SONGS THAT YOU WROTE FROM THAT ALBUM, HELLO, AGAIN, WHAT WOULD YOU SAY IS THE SONG THAT YOU LIKE THE MOST? 
LET'S START WITH YOU BECAUSE YOU WROTE THEM AND THEN I'LL ASK EACH ONE OF YOU.
Jo: Absolutely. I would say my favorite is probably either "Freak" or "My Own Man." I'm more leaning towards… yeah, I'm going to say "My Own Man."
Syd: Mine's "Freak."
Troy: I'm probably in between both of those honestly. Probably, "My Own Man," but "Freak" is also really good. 
Donny: I'm kind of split between "Freak" and "Hello, again." I really like both of those songs. I really like a lot of the new stuff that we've written. 
Jo: Yeah, we've written a lot of new stuff recently too. 
Donny: "I'm Your Jesus" is my favorite one we have. 
IF YOU GUYS COULD CHOOSE ONE FROM HELLO, AGAIN THAT YOU GUYS COLLECTIVELY BELIEVE REPRESENTS JVK, WHICH ONE WOULD IT BE?
(All): My Own Man.
Jo: Definitely that one. That's one of the most empowering. 
When I go into lyrical content… When I try to write a song, I always try to tell a story. So, I show the bad parts but then it triumphs into something greater than that. 
And I feel that song shows empowerment, not just for someone in particular but anyone, regardless of the situation you've been in. It's a good one that shows the empowerment of who you are and who you can be. It's [a] message that we want to share with everyone. 
WHAT IS THE BAND'S CREATIVE PROCESS?
Donny: About three times a [week] Jo goes, "Guys, I wrote a song." Jo writes a lot of songs and they're all really good. 
And the creative process is: Jo texts us, and she says, "I wrote another song," every few days or something. And then, every once in a while we sit down and turn one into like a full arrangement.
HOW WOULD YOU DESCRIBE THE MUSIC THE BAND TYPICALLY CREATES?
Jo: I would say the typical theme of our music is definitely…
Donny: Hard rock.
Jo: Yeah, definitely hard rock. 
Donny: It's like metal influence.
Syd: I think it's heavier, some of it. 
Donny: Yeah. And groovy.
GROOVY?
Jo: Yeah. Groovy, hard rock. 
WHAT INSPIRES THE BAND?
Jo: I feel like… the answer might come off as corny, but I feel like we all have vastly different music tastes. But when we come together, it's always like [we're on] similar pages. In a way, we all kind of naturally inspire each other. Because when we write a song, we are like, "Oh, this person would sound really good doing this." Would you guys agree with that?
Donny: I'm really inspired by animals as leaders. 
(All laugh)
WHAT IS ONE MESSAGE YOU GUYS WOULD GIVE TO YOUR FANS?
Donny: Calm down.
Jo: (Laughs) Definitely—
Donny: You've got to be your own man. 
Jo: That's exactly what I was going to say. 
WHAT DOES THE FUTURE LOOK LIKE FOR JVK?
Syd: Recording. Shows. 
Donny: Merch. 
Jo: Mosh pits. 
Jo: Being the biggest band ever.
Donny: Literally the greatest band of all time.
Jo: (Laughing) That's the goal at least. 
Donny: That's the plan. I give it like a year and a half. 
Troy: Tops. 
Jo: Just doing whatever we can to keep growing and elevating as musicians, and as a band. And just keep on keeping on. 
Donny: I think we're going to try and see if we can hit some bigger venues this year, right?
Jo: Yeah. 
Donny: Like Brighton and Paradise. 
Jo: Definitely working on getting some bigger venues. Hopefully being openers for bigger bands. Doing tours that way too. Just doing whatever we can to keep growing. 
Every Wednesday at 9 p.m. we play music from Boston-based bands you won't hear anywhere else on Wicked Local Wednesday.