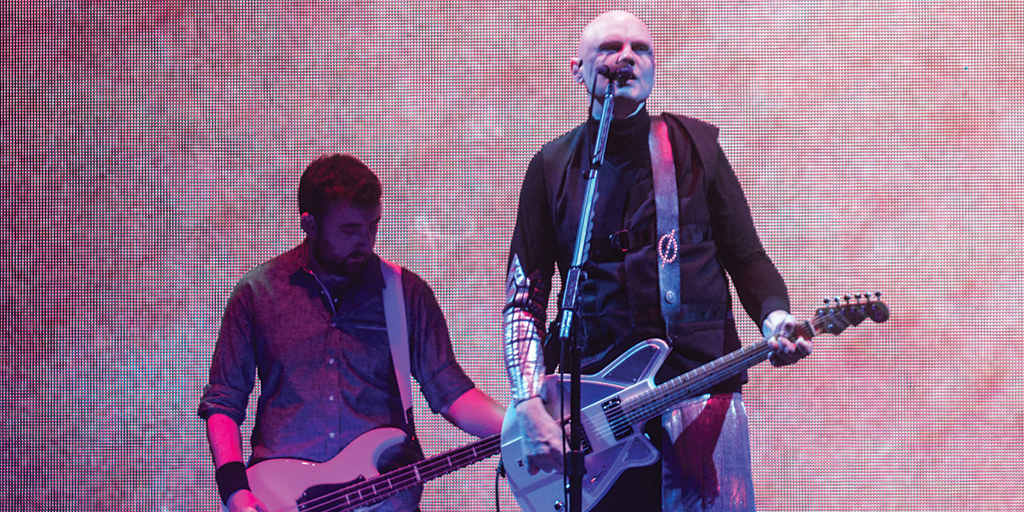 Photography by Jacob Cutler
Written By Emme Harris
On Tuesday, fans trickled into TD Garden as Metric gave an energetic performance. The stadium was filling almost to the brim. Usually, these seats are lined with sports fans. But now they are filled by a new, equally dedicated cult fanbase. Many people were wearing shirts celebrating various albums, and one fan favorite in the front row was wearing full Beetlejuice attire.
The stage was set up with a giant vertical screen.
As the lights went off, the monitor started to display a night sky full of stars sparkling, and an animation began to take us on a journey through the art from the past Smashing Pumpkins album covers. Afterwards, the screen parted in two, and out walked frontman Billy Corgan. He was in a tunic -- one metallic sleeve and a mock-neck jacket combo that fittingly said ZERO on the back.
The attendees cheered as only Corgan and his acoustic guitar took the stage.
He went into an acoustic rendition of "Disarm." Childhood photos of himself played on the big screen accompanied by dark imagery and words like "dead." Not many bands open up with an acoustic set, and the audience knew they were experiencing something unique.
After the song ended, the rest of the band came out. Both the original guitarist and drummer, James Iha and Jimmy Chamberlin, took the stage as well as some newer members.
The show went on with stunning visuals and intense guitar solos by Iha.
There were even a few unexpected covers including "Space Oddity," which started with Corgan standing on a platform facing videos of rocket launches. An emotional cover of "Landslide" by Fleetwood Mac was included, and some "Stairway to Heaven" action. Even James Iha remarked he was surprised to be playing "Stairway to Heaven" in Boston.
During this, a light-up Virgin Mary statue was pulled through the crowd by hooded figures, and more religious imagery played on the screen. The imagery of the night consisted mostly of blonde women, sometimes crying, sometimes putting on a showgirl-style dance, and sometimes just mournfully dancing in the stars.
At the very end of the night, they played an even more unexpected cover of "Baby Mine" by Betty Noyes. Chamberlin climbed down from his perch at the drums to play ukulele for the cover.
After twenty-two songs, fans rejoiced when they finally played "1979." Afterward, Corgan decided to address the crowd:
"We're from Chicago!"
"Chicago and Boston share a lot -- a lot of Chicagoans in Boston. A lot of Bostonians in Chicago. A lot of drunk f***ing Irish everywhere!"
They finished off their pre-encore set with a crowd favorite performance of "Bullet with Butterfly Wings" and then "Muzzle."
The evening can be best described through the conversations overheard during the middle of the performance.
"Write down f**k yeah!" A man said to one of the reporters.
"I don't think I can write that."
"Then write s**t yeah! Or h, e, double hockey-sticks yeah! Or I'm reliving my 1996 college days...yeah!"
He grinned, took a sip of his beer, and turned back to the show, both he and the band having a great time basking in the glory of some old songs.
Emme Harris is a pathological liar and a direct descendent of Abraham Lincoln. She writes for WERS and is a senior Visual Media Arts Production major at Emerson College.