Sundays from 7-8 AM
You Are Here is our weekly, AP-award-winning public affairs program. Each week, our reporters produce long-form audio journalism pieces that tell stories of global importance with relevance to you. Through interviewing local experts, residents, and change-makers, You Are Here's student reporters delve not only into breaking news, but a wide variety of relevant topics ranging from the thought-provoking to the quirky. 
Our mission is to keep people informed and engaged with the greater-Boston community. 
Our reporters take ethics seriously, and strive to produce thorough and truthful journalism. We recognize our responsibility as journalists to provide our listeners with accurate information. 
Meet our News Coordinators: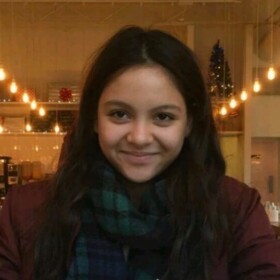 Leah Jablo has been with 88.9 since 2018 when she started as a public affairs reporter. She became News Coordinator and producer of our public affairs show You Are Here in the fall of 2019. During her time at the station, she's reported on a variety of public affairs topics including public health, climate science, and social justice issues. You can also catch her delivering the morning news on Mornings With George Knight. A Chicago native, Leah has found a home in Boston with her friends at WERS. Beyond her passion for writing and journalism, Leah joined the 88.9 team because she's a lover of good music, just like the rest of the WERS staff. She comes from a family of musicians, and she herself is a violinist. She also loves to sing. You can hear her humming, and sometimes belting, along to music playing in the station as she works in the newsroom. Leah will be graduating from Emerson College in 2021 with a major in journalism and a minor in environmental studies. 
Nicole Poitras is a journalism major at Emerson College set to graduate in December of 2020. She started at WERS her first semester as a reporter for You Are Here. After trying her hand at print and television journalism, she came back to her first love of radio in the second half of her junior year. It was then she began taking radio-related courses and unexpectedly received the opportunity to fill the News Coordinator position while Leah studied abroad. She has been blessed to stay on as Co-News Coordinator with Leah since then, and has found a family among the student and professional staff at the station. Nicole is driven by a calling to better the world through storytelling, and she plans to continue in the field of public affairs radio journalism. News isn't the only thing she loves about radio - an avid musician, she's been singing all her life and has dabbled in many instruments, and is currently teaching herself guitar. In her free time, she enjoys writing original songs, having a cup of tea, and reading a good book.
In the wake of the death of George Floyd, a Black man killed in Minneapolis police custody in May, Americans across the country took to the streets. Those calling for change argue that it's not just about police brutality, but years of systemic racial oppression across the board. So, how did we get here? Our new You Are Here special report series "Shadows of a Dream: The History of Racial Inequality in America," looks into the history of racial injustice in Massachusetts and beyond, as well as the reverberations of such inequities that are being felt by the Black American community today. 
Check out our most recent episode:
We value our listeners and would greatly appreciate feedback or suggestions. If you have any questions, comments, or ideas for stories we should cover in the future, fill out the form below!