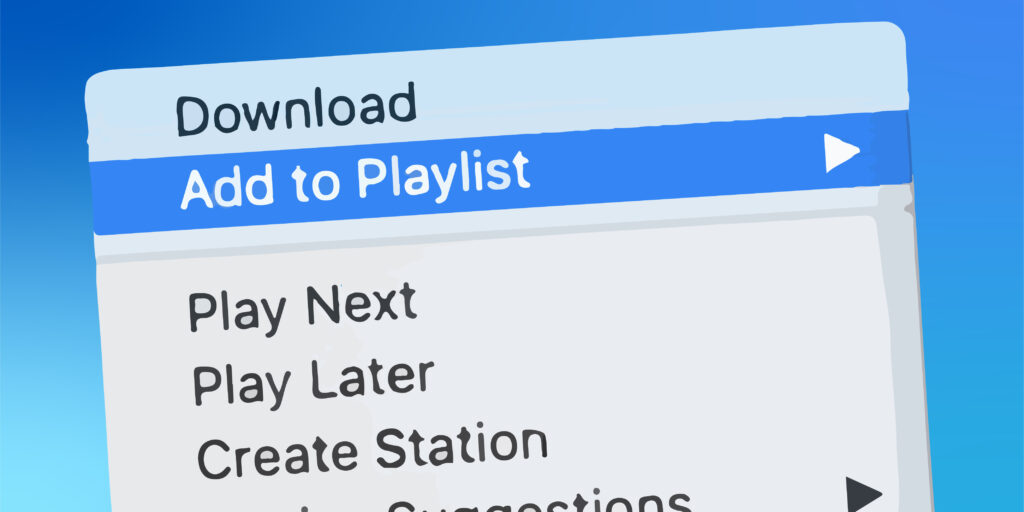 By Lily Doolin
Every morning, to get myself in the right headspace, I throw in my headphones and open up a playlist. I scroll through the same five playlists I do every day. It's times like these that I promise myself I'll make a new playlist to give myself some variety.
And… that never happens. I just end up throwing on my "favorite albums" playlist and call it a day. However, listening to the same few songs every day has started to get on my nerves. I love Ed Sheeran, but I've started hearing "Shape of You" in my sleep.
I know that certain apps do have those pre-made playlists you can subscribe to, but I've found that-most of the time-these are overly saturated with either the pop songs that get the most clicks, or some of the most obscure songs I've ever heard. With this in mind, I endeavored to create short, twenty-thirty song playlists for every day of the week (Mon-Fri), trying to match the vibe of the songs to the mood I'm in on whatever day. Here's how my experience went:
Monday's Black
I think we can all agree that Mondays absolutely suck. When it's 7 AM and I'm questioning all of my life's decisions, I'm not really in the mood to listen to anything super noisy. Even as the day goes on, I gravitate towards more calming songs that promote a sense of serenity during my busy Mondays. So, I filled my Monday playlist with songs like "Love is a Losing Game" by Amy Winehouse and "When We Were Young" by Adele-soft ballads layered with lots of piano, and tracks with a more stripped-down vibe. Listening to this playlist definitely made me feel more relaxed and ready to take on the week ahead.
Tuesday…
I know a lot of people say Wednesday is that "awkward" day of the week. But personally, I feel like Tuesday is such a boring day. I have a lingering case of the Monday blues, and the weekend is still too far out of reach. For this playlist, I tried to compile a group of songs that a grandmother might describe as "pump up jams"-motivational songs with upbeat melodies. Some highlights included "Dogs Days are Over" by Florence + The Machine and "Thunder" by Imagine Dragons. I have to say, this playlist was probably my favorite; it made my Tuesday a lot less melancholy and helped me to avoid falling into a rut so early on in the week.
Wednesday, Heart Attack
While the weekend is in sight, the fallout from Monday and Tuesday can sometimes have me feeling a bit down in the dumps. I wanted to fill this playlist with a set of exuberant songs that would keep me in a happy mood… musical theater to the rescue! I mostly included upbeat, large-scale musical numbers like "Holiday" from American Idiot, but I also added some solos that I not-so-shamelessly tried to sing along to, like "Good Morning Baltimore" from Hairspray. If you stood outside my bedroom door, you'd probably think there was an amateur performance of Wicked going on. Tickets start at $8.
This playlist was probably the most fun to create and really helped me get back in touch with a genre I had neglected for a while.
Thursday, Never Looking Back
Thursday is my favorite day of the week. On Thursdays, I feel free. Whatever happened at the beginning of the week is behind me, and the freedom of the weekend is almost upon me. So, for my Thursday playlist, I decided to choose some songs that matched this sort of vibe-songs that make me feel unburdened and limitless. "Midnight City" by M83 and "Anna Sun" by Walk the Moon are among some of my choices. Since Thursday is also practically international throwback day, I also included some of my favorite 80s songs, like "Your Love" by The Outfield and "Mr. Roboto" by Styx. I actually played this playlist at a little get-together with my friends, and they all enjoyed it as much as I did.
Friday, I'm in Love
To finish out the week, I wanted to create a playlist of my favorite artists of all time. While I partly started this experiment to try and diversify my music listening throughout the week, I did want to make at least one playlist that still paid homage to the artists and their songs that made me fall in love with music in the first place. Some artists I included were Panic! at the Disco, Fall Out Boy, and Queen. It was nice to close out the week and be carried to the weekend by the artists who hold such a dear place in my heart.
This experience was quite eye-opening. Creating five different playlists not only helped me to reconnect with songs I had forgotten about, but also to discover some new music that I was neglecting. In addition, because the playlists are so short, I plan to update them every now and then, adding more music as I discover it. If you're also struggling with listening to the same music every day, I'd suggest undertaking a similar experiment as mine. You'll end up diversifying your music taste and finding new music you may have never found otherwise along the way. Happy listening!