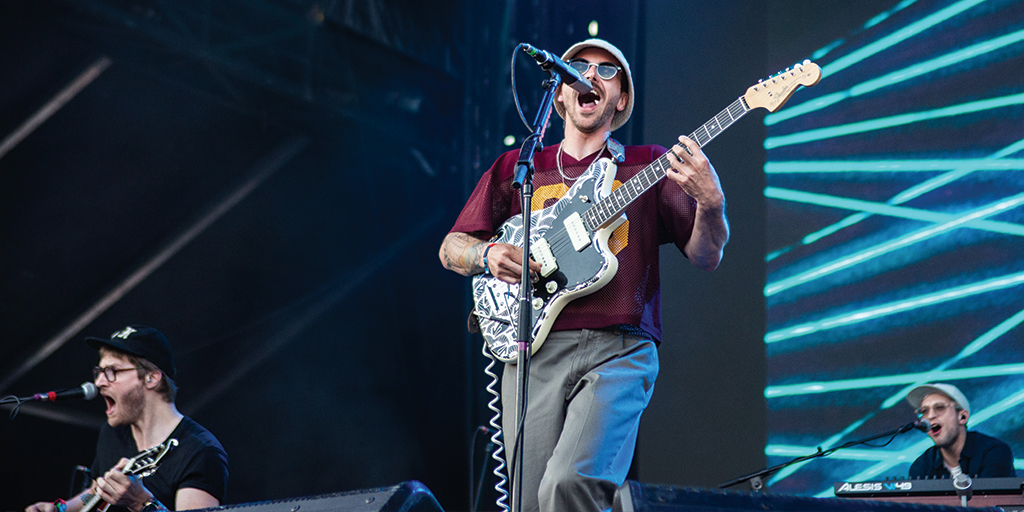 - Written by Regan Harvey -
The Friday evening crowd came to life
as the first electric notes of Portugal. The Man's "Feel it Still" reverberated across the Boston Calling festival grounds. This excitement turned to confusion as a projection of Beavis and Butthead appeared instead of the Alaskan rock band. As the Grammy winning track continued in the background, the title characters poked fun at the band from that familiar spot on their couch. The pair then shifted their tone, likening the band to the Beatles before dubbing them "the greatest band in the world." This introduction set the tone for Portugal. The Man's entire performance: delightfully unexpected.
The band finally took their positions onstage
and began their set with a cover of "For Whom the Bell Tolls" by Metallica. This then melded into "Another Brick in the Wall" by Pink Floyd. Lead singer John Gourley sported his signature 70's mustache, bucket hat, and shades. As the band played with intense concentration, the projection above them explained that they "are not very good at stage banter." The visuals would be doing the talking for them. As promised, throughout their set the musicians stayed quiet while the screen provided commentary ranging from wry remarks like "We love playing [city name]," to sincere social commentary including a quotation from Malcolm X that solicited a round of cheering from the crowd.
The band's live sound is not as clean cut as it is on their indie rock albums. They embark on long guitar solos, extending and merging their songs with covers, for example blending their own track "Modern Jesus," with guitar elements from Black Sabbath's "Black Sabbath." Paired with this experimental jam session were psychedelic visuals of colorful swirling oil drips and white mannequin-esque figures distorting and fusing -- along with the ever present commentary oscillating between self-deprecating and self-aggrandizing one-liners.
A highlight of the evening featured the band bringing out an entire brass section
including a trumpet, saxophone, and tuba to jam with them during a musical interlude. Portugal. The Man are new to commercial success but have been part of the music scene for nearly 15 years. This performance seemed to be making a statement. They may have recently won a Grammy for Best Pop Group Performance, but their roots are in rock and roll and doing what they want comes with the territory. The audience rejoiced as the projection quipped, "Don't worry we're playing that song next," and the band finally launched into the real version of  "Feel It Still," their mega hit. The audience left the stage having gotten what they wanted and then some with Portugal. The Man's dynamic and unpredictable performance.
More Boston Calling Coverage: The Killers and Maggie Rogers.