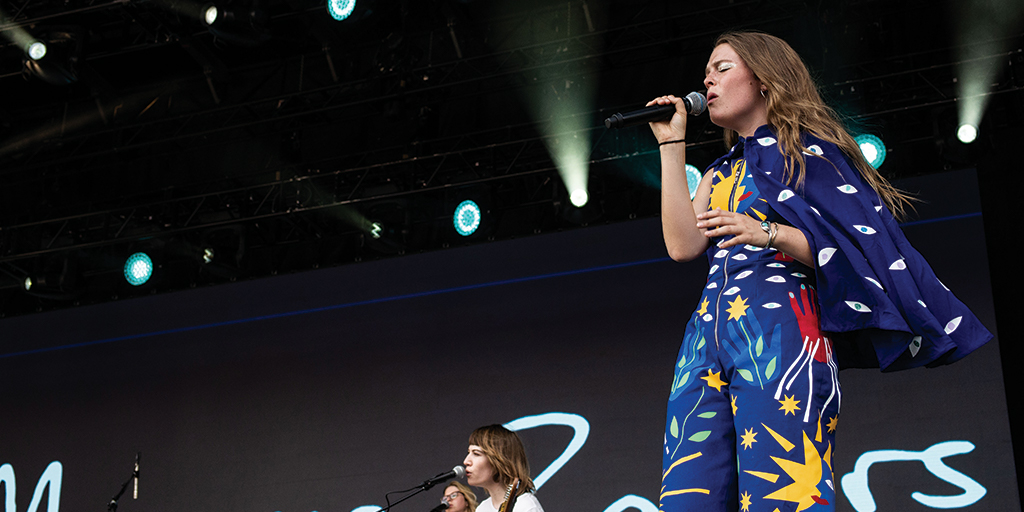 - Written by Regan Harvey -
It's the golden hour of the day when Maggie Rogers emerges from the wings of the Red Stage on Friday at Boston Calling. She's wearing a royal blue jumpsuit with a matching cape that billows behind her. The jumpsuit is detailed with bright designs of eyes, suns, and plants that mirror the primary colors of the beach ball popping into view above the crowd every so often.
The nighttime hum of cicadas swells from the speakers
as Rogers begins "The Color Song," a gentle ballad rife with natural imagery. She credits the outdoors as one of her biggest influences. The musician began as a folk banjo player before having a transformative experience with dance music while studying abroad in France. These influences shine in her unique and personal sound. As Rogers dives into her electric next song, "On + Off," she whips her long blonde locks out of a bun and the crowd goes wild. The beats are as infectious as her smile. She proclaims that she's "so so excited to be here tonight." The familiar concert phrase feels genuine and new again.
Maggie Rogers is a relative newcomer to the music scene. The Maryland native has been writing and performing since she was a child. But she didn't break out until 2016 when she debuted "Alaska" at a Pharrell Williams masterclass. The famous producer was visibly blown away and Rogers' song quickly became a viral hit. Her fresh approach is apparent. Despite having "only five songs in the world," as Rogers says, her hour set is flush with energy featuring many new unreleased tracks.
She has the spirit of a novice and the confidence of a weathered professional.
Her open and frank nature charms the audience as she announces, "I'm totally in love right now and that's what this song is about," before launching into her next track. Highlights included a soulful rendition of Macy Gray's "I Try," and a synchronized dance routine with her two back up singers reminiscent of the HAIM sisters. As Rogers closed the evening with her brand new track, "Fallingwater," the crowd joined in clapping to the beat. As the audience dispersed back into the festival there was a buzz of excitement for this emerging star.
Click to read our review of The Killers at Boston Calling.