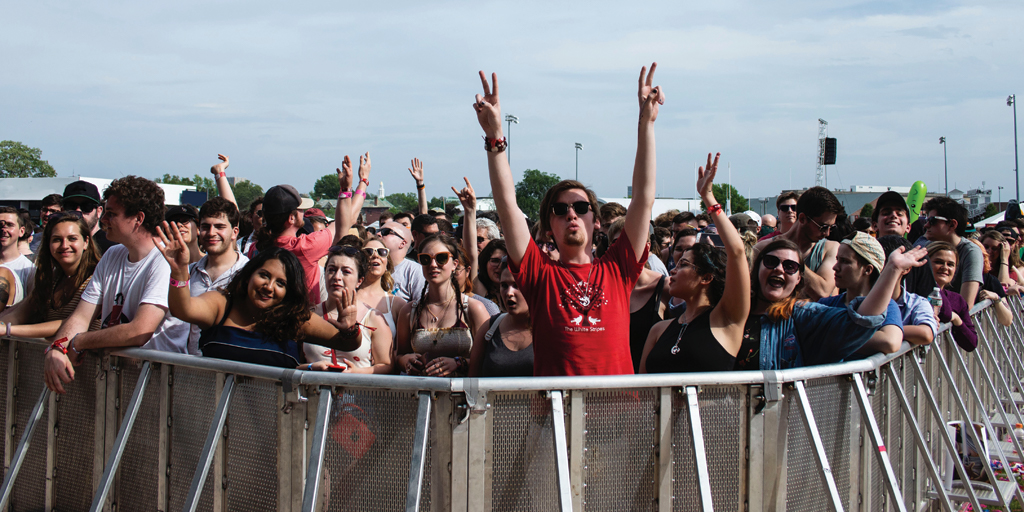 - Written by Regan Harvey -
Jack White's band kicked off Saturday night's finale at Boston Calling,
giving a rousing musical introduction before the accomplished musician himself took the stage with his distinctive voice and illustrious guitar skills. White loves color imagery. Therefore, the singer was swathed in dark clothing complete with a mop of black hair. The stage was also washed in blue. Just as The White Stripes had their signature crimson color theme, White's solo career is an electric blue. This is an apt choice as White transitioned into "Over and Over and Over," the frenetic second single from his most recent solo album.
Throughout the night White shifted effortlessly between the chaotic synth-led tracks
from his newest release Boarding House Reach to bluesy White Stripes classics such as "Hotel Yorba." While White stayed away from The White Stripes fan favorites like "Fell in Love With a Girl," and "Icky Thump," the crowd was not disappointed with White's medley of material from his solo career, The White Stripes, and even tracks from a couple of White's other bands. Such as The Raconteurs and The Dead Weather. White performed extended versions of his music with plenty of jam sessions and guitar solos. This all showed off his mastery of the instrument. He sang into a three microphone set up. One standard, one for over-distortion, and one for reverb.
As the group took an early intermission, images of the band members' faces occupied the stage. Sections of the screen containing their eyes slid in and out of view. White proved that even with the creative restrictions of sticking to a color theme, he could produce intense visuals. The band closed their second act on the crowd pleasing mega-hit "Seven Nation Army." The entire crowd sang along to the iconic guitar riff. It repeated over a steady beat throughout the song.
Besides commending the audience for making it through the day, White didn't take much time for stage banter. This only highlighted the importance of his final message before leaving the stage. He requested that his listeners to "spread positivity, don't spread hate." It seemed that attendees took this message to heart as the crowd filtered out of the Harvard Athletic Complex onto the streets of Boston. They were laughing and discussing their experiences of day two at Boston Calling.
Click to read our review of The Killers at Boston Calling.