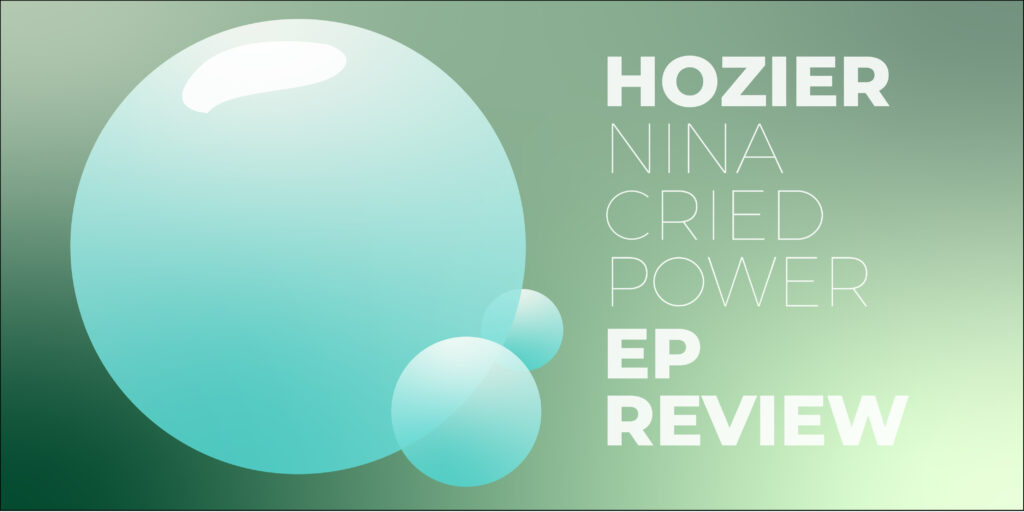 By Regan Harvey
On September 6th 2018, Hozier returned to the public gaze after four years with a four track E.P. titled Nina Cried Power. The musician described the release as a "sampling" of his coming 2019 album. The songs range in style and emotion, all while hinting at the artist's new vision.
"Nina Cried Power (ft. Mavis Staples)"
The title track of the E.P. is one of Hozier's most uncompromising songs yet. Unlike the singer's 2013 hit, "Take Me To Church," which drifted between religious doubt and interpersonal distress, these lyrics leave no room for interpretation. This is Hozier's protest song. As a musician, Hozier has been vocal about his sources of inspiration. He has cited Irish folk and American blues as his biggest influences. The track honors a few of his heroes by naming them directly. These icons include Nina Simone, Bob Dylan, Billie Holiday, and Mavis Staples. The former lent her incredible vocals to the track, making the song not only feel but sound bigger than it would as performed by only Hozier himself.
"NFWMB"
"NFWMB" takes it back to Hozier's roots with crooning biblical references and themes of intense devotion. The title's initialism stands for "Nothing F*cks With My Baby." Less optimistic than "Nina Cried Power," Hozier referred to "NFWMB" as "a love song for the end of the world." While the sound is gentle and almost evokes a lullaby, the lyrics are dark and hardened. The track speaks well for Hozier's growth as a musician. While his self-titled album developed a unique sound, Hozier's new E.P. previews an artistic voice that has developed drastically since 2013.
"Moment's Silence (Common Tongue)"
"Moment's Silence" is a robust track with layers of electric guitar and gospel vocals. The lyrics criticize conservative views on sexuality, both from political and religious standpoints. Growing up in the predominantly catholic country of Ireland, it's easy to see why religion and sexuality are common themes in Hozier's lyrics. In "Moment's Silence," Hozier celebrates the common language of love and physicality while pointing out the hypocrisy of authoritative figures that forbade such acts.
"Shrike"
Shrike forays into Hozier's folk tendencies with lovelorn lyrics and a crescendo of acoustic string instruments. The song emanates feelings of loss and regret. Hozier compares himself to a bird in the lyrics, eventually creating the imagery of a pair of ex-lovers being reborn as a shrike and a thorn; shrikes being a type of bird that impale their prey on thorns before eating them. Please refer back to "themes of intense devotion."