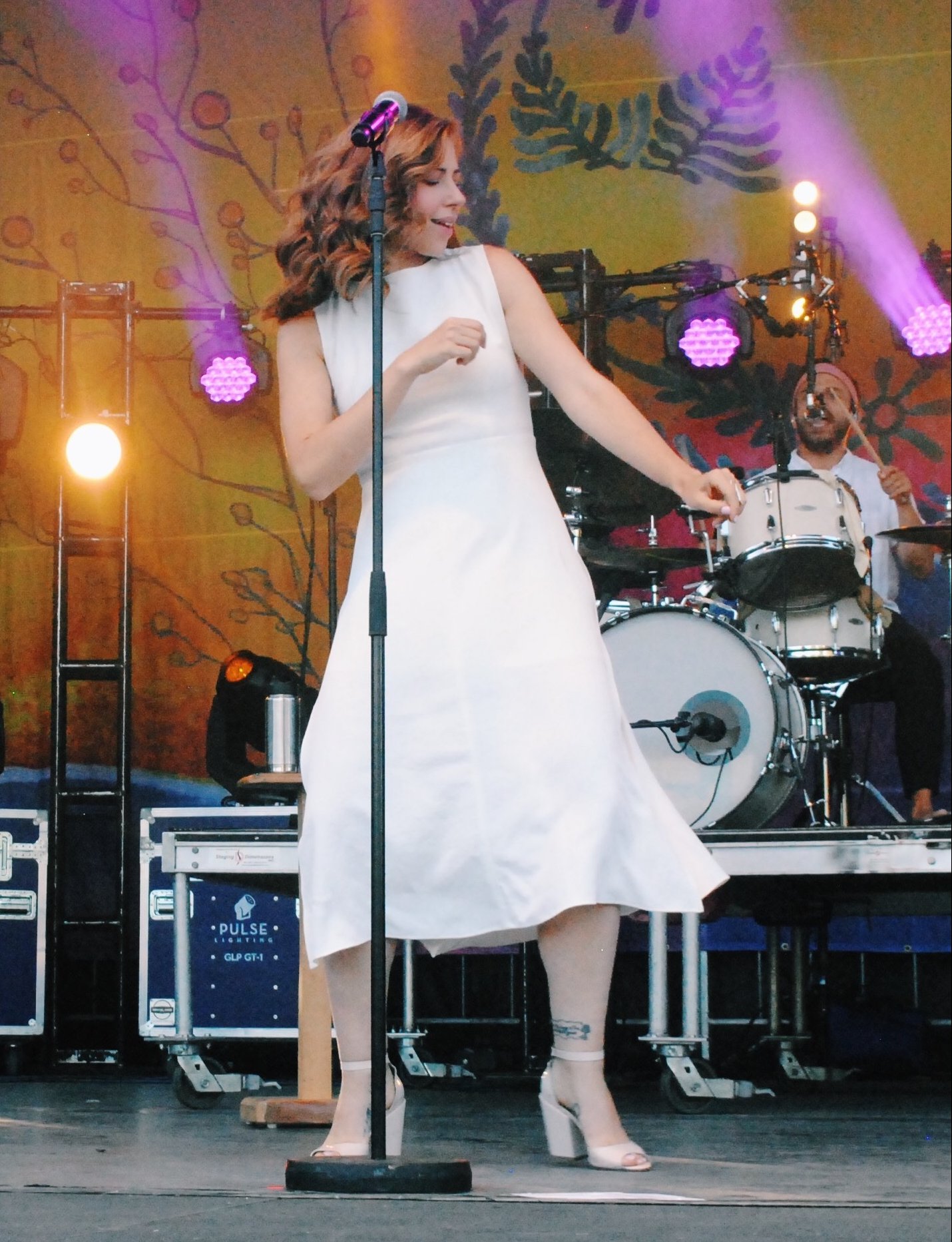 - By Erin Jean Hussey -
Lake Street Dive flew close to home earlier this month at the Levitate Music & Arts Festival in Marshfield, MA. Lake Street Dive may be still an underground act to some, but this quartet is no stranger to the WERS catalogue. In fact, they're quite familiar with Boston, as the multi-genre act formed in Boston during the early 2000s while studying at the New England Conservatory of Music. Now based in Brooklyn, vocalist Rachael Price, multi-instrumentalist Mike Olson, bassist Bridget Kearney, and drummer Mike Calabrese are currently floating off their fourth album, released off Nonesuch Records in early 2016, titled Side Pony.  
Lake Street Dive defies true genre distinctions. Drawing from folk, soul, modern indie, and jazz roots, the band is characterized by their powerhouse live sets and breezy instrumentals that verge on infectious sound.
WERS had the opportunity to sit down with the band before their set and chat about festival performance, jazz influences, and rocking out on the side.
EJH: Here at Levitate Festival this weekend, we have quite a varied lineup from The Revivalists to Ziggy Marley to you guys, the mix certainly contributing to a high energy atmosphere. What would you say is a key characteristic of your festival performance versus a traditional live set?
Rachael: For festivals, it's generally what we call power sets - a kind of like a 'punch you in the face set' for an hour, where we play all the hits, get people moving, dancing, less slow stuff - we keep the party up as much as possible.
EJH: The four of you met at the New England conservatory in the early 2000s... at the time, did you ever really imagine this would be your future? Headlining festivals, playing Radio City Music Hall, all while touring in a collective band...
Mike C: Absolutely not! It's funny I feel like we just said, 'Yeah this feels good, let's keep doing this, why not?' I think that when we weren't in a mindset with specific expectations.  We were really free of fear, it opened us up and we liked it, following the response.
EJH: Do you come back to Boston to visit often or just for touring?
Mike C: Well I live here, so I came back! But we hit up Boston three times a year at least.
EJH: Does the feeling differ at all in Boston versus when you tour in a different city?
Bridget: Our oldest fans are here more than anywhere else. Especially in the last year, touring with this album cycle, we've been digging back in and getting into some of our old songs again. In some parts of the country they're basically new songs to people, but in Boston people are singing along and cheering for these songs.
EJH: How have each of your individual styles influenced your songwriting over time? Do you collaborate all at once or come together individually to make something
Mike C: We used to write individually exclusively, though lately it's been kind of like finishing each other's ideas, seriously for the first time.
EJH: Do you think that this change occurred due getting to know each other throughout the last 13 years or it was a happenstance brought out by the particular material on Side Pony?
Rachael: I think so, after two years in between Bad Self Portraits in 2014 and Side Pony in 2016,  we figured out co-writing was a thing we could do. It was almost like it never occurred to us, and what we realized is this most obvious idea that a lot of people use. We always wrote separately and then the common ground stylistically was playing the songs together. Now it feels kind of like a new thing stylistically in our writing could emerge in cowriting.
EJH: Side Pony seems to have a stronger, more streamlined influence of 60s/motown/soul/jazz than your previous work, are there any particular motown/jazz artists that you've drawn influence from?
Rachael: We have our main inspiration - which might be The Beatles, a lot of Motown stuff for feel... Paul Simon, it really runs the gambit, and even listening to new music together in a really focused way and using that for inspiration.
Mike O: Of course a lot of other bands who have used their roots as inspiration, kind of organically where it's the music that they grew up playing. Incorporating the more modern music like Erykah Badu or D'angelo, those creating a whole new genre unto itself.  We listen to that stuff too and it's another way to go for influence.
EJH: Do each of you draw influence from personal experience, storytelling, or art, what kind of gives each of you narrative inspiration?
Rachael: Kind of runs the gambit again, for me.
Mike O: There's only so many breakups that you can write about without repeating yourself, that sort of was for a long time our bread and butter - the heartbreak song, and so this co-writing thing has been really fun, because it's not up to you to come up with the lyrics, etc. for the song. I found it to be interesting as it's allowed me to be inspired more directly by my bandmates. If I'm taking over a song from Mike Calabrese, I have a different personal experience than him. He's started the song in one place, and I'm going to come up with my own narrative - so in some ways it is a form of storytelling, fiction writing almost. I'm trying to put myself in the place of this character, when the character is Mike, who I may know pretty well but I'm not him - so I make it up where he leaves off.
EJH: There is a wide variety of instrumentation going on in your studio, but only four instrumentalists on tour. Do you add additional touring members for the most part? Has it been enjoyable or challenging getting the right sound live?
Bridget: We've long been a quartet, this last year we did have a keyboard player with us for much of the year, and on occasion we'll have the opening bands sit in as horn section.  It's fun to have the live show be different from the records - and it's both a choice when you go into the studio and out of the studio. We're four human beings who play these four instruments, does that mean these four instruments are going to be on the record - maybe, maybe not. Three of us are all capable background singers, does this song need background vocals? Maybe, maybe not.
You try and make the best record that you can, without thinking too literally about what we can and can't do on stage. Then you get to the stage, and here is the song we made - what is the best way that we can play it in the live setting?  Live is so different than listening to an album by yourself or with your friends in the car. When you're at a live show, there is a whole other visual element. In some ways I feel like you want it to have less ingredients, and more art, more dynamics and sort of raw intensity. It's definitely a fun thing to play with.
EJH: Rachael & Bridget, each of you have a solo and side projects as well, can you tell me a little bit about those?
Rachael: I recently started playing shows in New York when I'm at home with a friend. It's old jazz stuff, just as a duo and we play around in the city. I grew up singing jazz, so it gives me my jazz kicks.
Bridget: I've been doing this solo thing where I'm the lead singer and play guitar. It's a nice way to keep experimenting and working on music between the cracks at times where we're not on the road. One of the difficult things about the music industry is the album cycle. You're only solely creating for a small amount of your time and the rest of the time, you're hitting the road and getting those songs in front of people.
EJH: Lake Street Dive is at Levitate and then playing the Green River Festival in MA...what else is in the cards for the future?
Rachael: we're going to be touring the rest of the summer and then in the fall we're going to be working on a new album.
Lake Street Dive took to the Levitate stage with gusto, Price blowing out in a windswept white dress, along with Olson, Calabrese, and Kearney. The setlist contained songs from all of their albums, backed by upbeat grooves, four-part harmonies, and old favorites to keep the crowd shaking. Fans sung along to their favorites and festival goers who were first time listeners danced along. The set's energy kept up in time, by a band that only beats to the sound of their own - and Mike Calabrese's drums.
You can find Lake Street Dive touring for the rest of the summer alongside a variety of other acts including Trombone Shorty, Nathaniel Rateliff & the Night Sweats, and Amos Lee.