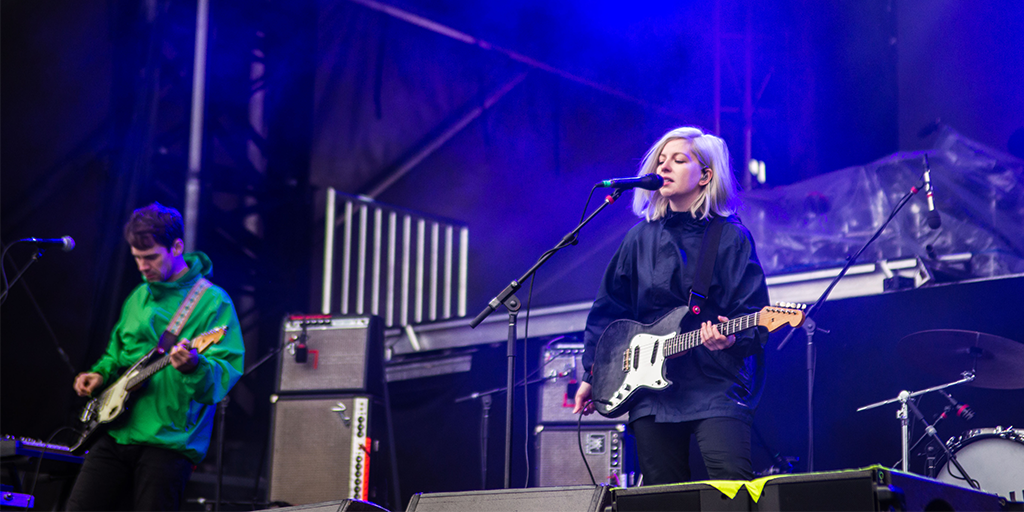 - Written by Regan Harvey -
The attendees at day three of Boston Calling were met with cold and rain. The poor weather was apparent as Alvvays stepped onstage in giant raincoats instead of expected fashionable stage attire. The band began their Sunday afternoon set with the track "Hey," from their second album Antisocialites.
The crowd warmed up as the Toronto native band's irresistible beats got them dancing.
As the song ended, lead singer Molly Rankin addressed the audience with a relatable complaint, "It's cold! What the hell? I thought America was supposed to be warm!" Despite the weather, the crowd was obviously pumped to be there for the show.
As each track began, a cheer rose from the audience as fans recognized the opening chords of their favorite songs. Rankin couldn't help but smile as a voice yelled, "We love you Molly!" at a lull between songs. The singer further won the crowd over by announcing her support for the Celtics.
After a 50-minute sampling of the greatest sugary hits from the band's two albums,
Alvvays finished their set with the heartstring-tugging track "Dreams Tonite." Rankin dedicated the song to Celtics player Terry Rozier, who was certainly in many hopeful Boston residents' dreams that night. The pink and blue stage lights reflected off Rankin's silvery blonde hair, giving her the same dreamy atmosphere as her songs. And though the audience was cold and damp, it seemed they would gladly have stayed at the Red Stage all night. As the crowd filtered back into the festival that afternoon, not a single person left without having fallen a little bit in love with the endearing Canadian pop band.
More Boston Calling Coverage: The Killers and St. Vincent.