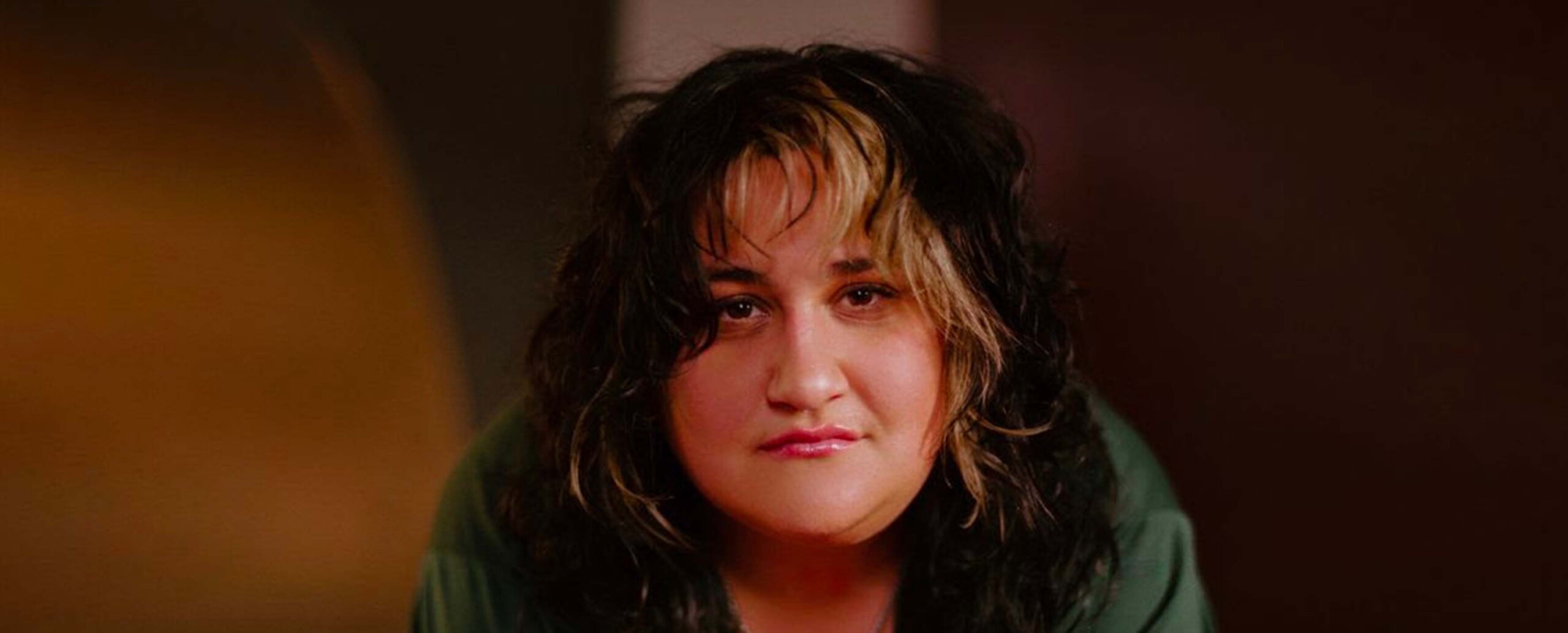 Nestled within the thriving music landscape, Palehound emerges as a captivating force, blending haunting lyricism with a sonorous fusion of rock and folk. On their latest album, "Eye On The Bat," El Kempner, the mastermind behind this enigmatic project, invites listeners to join them on a journey through introspection and transformation.
Now, this Wednesday (October 18th), Boston fans can hear Palehound's electric new music at The Sinclair! Prior to this show, our Staff Writer, Kathia Dawson spoke with El about the artistic labyrinth that defines Palehound's spellbinding sound and their highly anticipated "Eye On The Bat" Tour.  
CAN YOU TELL US ABOUT THE ORIGINS OF PALEHOUND AND HOW YOU CAME UP WITH THE BAND NAME? 
El Kempner: Yeah. So Palehound started, just kind of as an accident. Well, not an accident—I guess that's not the right word. But, I just recorded a few songs with some friends of mine and wanted to put them on Bandcamp back in 2013. I was like 19 years old and was like, "I don't know. What should I put on Bandcamp? What should my name be?" and I had a list of a bunch of words in front of me and just put two together and that was Palehound. If I'd known it was gonna be a career that would span a decade at this point, I don't know if I would have put more thought into the name. I'm happy with the name, still, considering. That could have gone a bunch of other ways, but it is funny that I really was not thinking.
SOUNDS LIKE A HAPPY ACCIDENT! SO, YOUR MUSIC HAS BEEN DESCRIBED AS A BLEND OF VARIOUS GENRES. HOW WOULD YOU PERSONALLY DEFINE THE SOUND OF PALEHOUND?
EK: I don't know. I feel like it's a mix. I have a history of being an acoustic singer/songwriter and being mostly inspired by that, like Joni Mitchell and Elliott Smith, but I also love classic rock a lot. So I think it's like a blend of that. You could say we're an indie rock band, I guess. But that's like, my least favorite answer.
WHAT WAS THE INSPIRATION FOR EYE ON THE BAT? 
EK: It was inspired by a bunch of different life events that happened to me in the course of a year or two: COVID happening and derailing all of our music plans and the heartbreak of that, and then, it also kind of derailed the relationship I was in. So, [it's] just about hitting a point in life where you think you're prepared for anything, and then something happens, and you are seriously not prepared. 
YEAH. YOUR LYRICS TOUCH DEEPLY PERSONAL AND EMOTIONAL SUBJECTS. HOW DO YOU APPROACH SONGWRITING AND TRANSLATING YOUR EXPERIENCES INTO MUSIC?
EK: I recently have been trying to be more vulnerable about it. You know, I used to shroud things with metaphor a lot more, but now I really am at a point where I'm just trying to be very open and honest about my thoughts in a way that feels conversational. I kind of want the lyrics and the stories to be told like you're listening to a friend telling you a story like, "Oh my god, you won't believe this crazy thing that happened!"
AS THE LEAD SINGER AND SONGWRITER, YOUR VOICE IS A DISTINCTIVE ELEMENT OF PALEHOUND'S SOUND. CAN YOU SHARE YOUR VOCAL INFLUENCES AND HOW YOU'VE DEVELOPED YOUR UNIQUE STYLE? 
EK: Yeah, I mean, I've never taken a vocal lesson. I had done choir as a kid and stuff. So I have some vocal guidance. But in high school, I was really inspired by singers like Stephen Malkmus, who weren't really "singers." And that inspired me to embrace things like, "I can sing," you know? And I do belt sometimes, and stuff like that, but I also like to embrace the sloppiness that I've heard in other people's vocals.
YOU'VE TOURED WITH SOME WELL KNOWN BANDS AND ARTISTS. CAN YOU TELL US ABOUT SOME OF THE MOST MEMORABLE EXPERIENCES YOU'VE HAD ON THE ROAD? 
EK: Yeah, I mean, we did a month with Big Thief back in 2019. That was one of my favorite tours I've ever done because that band is so incredible and inspiring, and they're also like the best people and friends of ours. So it was just awesome to be on the road with them for all that time. There was one night in particular, we spent Halloween on this haunted ranch in Arizona, and we all had a campfire night on Halloween and just sat around the campfire and sang songs to each other. That was really special. 
SO, IN THE WORLD OF INDIE MUSIC, WHAT CHALLENGES HAVE YOU FACED AS A BAND AND HOW HAVE YOU OVERCOME THEM?
EK: I mean, it's such a challenging industry, you know? Like, you can do all you want and all that you can to think that you're setting yourself up for a certain kind of success, but it's really such a crapshoot. And getting to know just how much of a crapshoot it was, was so freeing. Where it's like, "Oh, I don't have to pretend to be something else" or "I don't have to put on this persona or be this kind of person." Because nothing will really move the needle besides just being your genuine self. So I think, because I started this so young I struggled with that for a while, where I was like, "Who does this business want me to be?" and I thought about that too much. But then recently, I was just like, "You know what, that's so detrimental to mental health." And now, I just want to be my full authentic self, which involves me coming out as non-binary and stuff like that. So yeah, just navigating, like not letting yourself get lost in like all of the bureaucratic bullshit. Sorry, I don't know if I can swear.
NO, YOU'RE TOTALLY FINE! SO PALEHOUND'S MUSIC VIDEOS HAVE UNIQUE AND CAPTIVATING VISUALS. HOW DO YOU APPROACH THE CREATIVE PROCESS FOR YOUR MUSIC VIDEOS, AND HOW DO THEY COMPLEMENT YOUR MUSIC?
EK: I honestly really trust the people I work with on that stuff. You know, I definitely have visions for the kind of vibes that I want. So for the videos for this record, for example, I went into it with Brittany River and Kolodny who were friends of mine who I trusted, and I was like, "I don't want to do like a high art concept video." I just wanted to feel like early 2000s bands, like playing to the camera. And then they turned it into more of a concept and took that from there. And I trust them to do that. So I'll usually start with a vibe and then honestly like relinquish a lot of the creative control to friends who know better than I do. 
THIS IS A FUN QUESTION, WHAT'S YOUR GO-TO KARAOKE SONG?
EK: Oh my God, I just did karaoke the other night. My go-to karaoke song is really hit or miss, depending on the crowd, and it's "Flavor of the Week," by American Hi-Fi. Are you familiar with that song? 
I AM NOT. 
EK: Okay, that's the thing. I feel like the people who know that song—It's like a pop-punk beat type a little bit, but it also was a hit, an early 2000s hit, but not one that really stuck. So I feel like some people get really excited about it, and then other people are like, "I don't care, I don't really know this song." 
IF YOU WERE TO CREATE A PALEHOUND THEMED ICE CREAM FLAVOR, WHAT WOULD BE THE KEY INGREDIENTS?
EK: Well, it would definitely have to be a take on rocky road because it's been a bit of a rocky road, and also, that is like the best flavor. I love rocky road. Okay, so it's usually like a vanilla-based ice cream, but for this we're going to go chocolate-based with the elements of rocky road, like chocolate, marshmallow, and walnut, and then throw some peanut butter cups in there. Because that's my favorite thing. So we gotta throw that in there somewhere. 
I LOVE THAT! AND THEN, THIS IS MY LAST QUESTION FOR YOU. WHAT CAN FANS EXPECT FROM PALEHOUND IN THE NEAR FUTURE?
EK: You know, a lot of touring which is really exciting. Just kind of hitting the road and taking my awesome bandmates on tour. We're just so excited to play and give like the best shows we can give after all this time. So you can expect that, and we're always working on new music, so, not entirely sure when that'll happen, but it's always in the works. 
Be sure to catch Palehound at The Sinclair on Wednesday, October 18th!