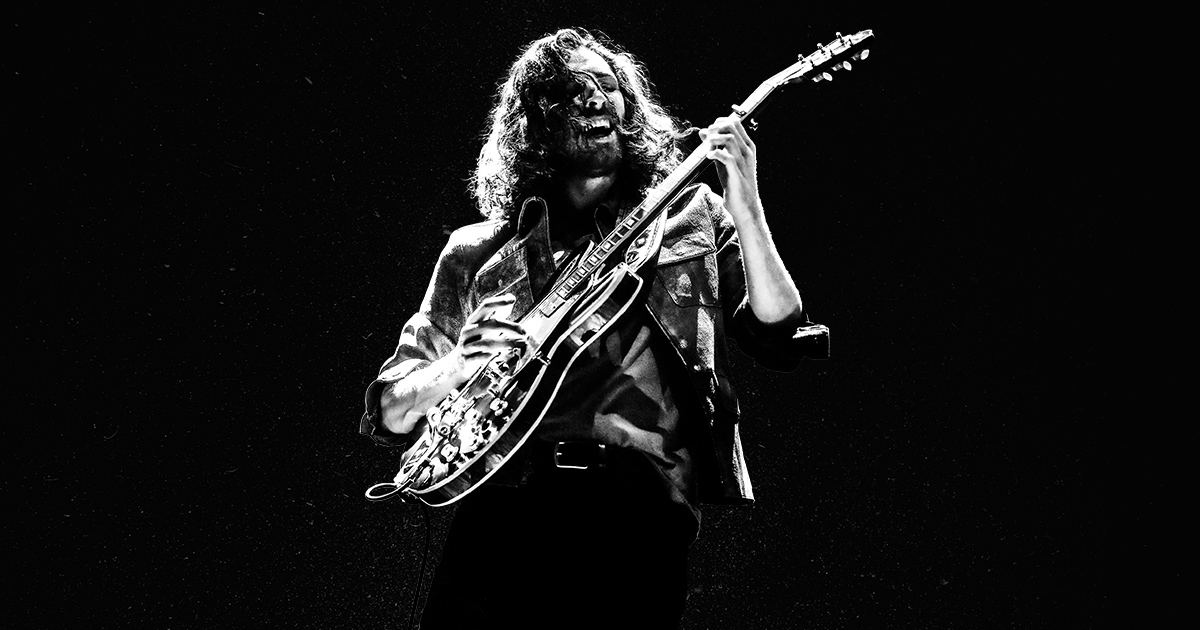 It's official, Hozier is back! Not only did the Irish musician release "Eat Your Young," a brand-new EP consisting of three profound and deeply poetic songs, but he has also announced the release of his third album, "Unreal, Unearth." 
Last week was a particularly special week for Hozier fans in Boston. First, on Monday, the musician surprised hundreds of fans with a meet-and-greet event at Newbury Comics. Then, on Tuesday, Hozier played a pop-up show at Paradise Rock Club, a venue that gives concert attendees a uniquely intimate listening experience. Ahead of the show, he sat down with our Membership Assistant, Erin Norton to talk about his time in Boston, the inspiration behind his upcoming album, and his passion for poetry. 
THANK YOU SO MUCH FOR BEING HERE WITH US TODAY. IT'S SO AWESOME TO MEET YOU!
I JUST WANTED TO START OFF BY ASKING HOW YOUR MEET AND GREET WENT YESTERDAY BECAUSE I HEARD SO MANY GREAT THINGS. I THINK IT'S JUST SO AWESOME HOW ENGAGED YOU ARE WITH YOUR FAN BASE. YOU DON'T SEE TOO MANY ARTISTS REALLY REACHING OUT IN THE WAY THAT YOU ARE, AND I JUST WANTED TO HEAR HOW IT WENT FOR YOU.
Hozier: Yeah, I really enjoyed it. We're only doing a few on this run. So, I guess it's been a while since I've seen or met fans, and more often than not, it's people I haven't met before. And yesterday, I met a few people I've seen before at shows or after shows and stuff. 
But it's really rewarding. I was really touched and really humbled. It was just lovely to meet so many good people. And I'm always blown away, every time we do a meet and greet, at just how kind and polite and sweet my fans are, you know? They're all incredible people.
ABSOLUTELY. THAT'S SO COOL TO HEAR. I LOVE THAT.
AND I ALSO JUST WANTED TO SAY THAT YOUR NEW EP, EAT YOUR YOUNG IS SO GOOD. IT'S JUST BEEN ON MY LISTENING ROTATION FOR THE LONGEST TIME, AND EVERYONE AT THE STATION JUST LOVES IT AS WELL. WE'VE BEEN PLAYING "EAT YOUR YOUNG" ON REPEAT, AS THEY SHOULD. IT'S SO GOOD. 
H: Thank you very much.
OF COURSE! AND I'M SO PUMPED FOR YOUR ALBUM TO COME OUT TOO. AND I JUST WANTED TO KNOW, IS IT CORRECT, THAT IT'S ALSO SORT OF THEMATICALLY BASED ON DANTE'S "NINE CIRCLES OF HELL?"
H: The album is more so, but it's structured. The themes of the songs are arranged into nine circles. So there's kind of a dissent at the top, I suppose, of the album, and then the songs go from circle one to nine. Then, there's a sort of an "ascent" or "emergence"—that's the word.
THAT'S SO COOL. DID YOU HAVE A FAVORITE CIRCLE TO DEPICT, I SUPPOSE, IF THAT'S THE BEST WAY TO PHRASE IT?
H: There were songs that were easier to know what was going into them—and the circle of violence was very easy in that respect. And there were ones that were difficult to choose, or that could have had many, many contenders—and the circle of heresy was definitely one of those. So like "Swan Upon Leda" was definitely a leader for that. So yeah, I think it's not so much a favorite, but just more ones that were more challenging or easier, you know, what I mean, to know what song belongs in that circle?
ABSOLUTELY. AND I KNOW THAT YOU'RE ALSO VERY POLITICALLY ACTIVE, WHICH IS AMAZING. AND THAT REALLY SHINES THROUGH YOUR MUSIC. AND I WAS JUST WONDERING IF YOU THINK THERE'S ANY SORT OF PARALLELS BETWEEN THE THEMES IN WHICH WE SEE IN THIS ALBUM AND SORT OF, YOU KNOW, WHAT WE TAKE FROM THE NINE CIRCLES, AS WELL AS SORT OF WHAT WE SEE IN THE REAL WORLD CURRENTLY?
H: I don't know if I consider myself terribly politically active as it were, I think I speak my mind sometimes—or maybe my moral conscience, or like my moral outlook, finds its way into the work sometimes. I don't do a huge amount of like frontline activism and certainly not at the moment. 
But what was I gonna say… Definitely, some songs reflect on the social conditions of today—there's a song called "Who We Are" which comes to mind. And there are songs that reflect and credit. I suppose they just reflect upon, and try to make sense of, a history of violence, if that makes sense. And that's certainly in the circle of violence—that will be the case. 
So there is yeah. It's subtle at times, but in some respects, yeah.
I CAN'T WAIT TO HEAR THAT. THAT SOUNDS SO INTERESTING. 
H: Thank you.
ABSOLUTELY. AND ALSO, IT'S BEEN 10 YEARS SINCE "TAKE ME TO CHURCH" CAME OUT, WHICH IS AMAZING. CONGRATULATIONS ON THAT. 
I WAS JUST WONDERING IF THERE WERE ANY, LIKE SIMILARITIES OR DIFFERENCES TO WHAT YOU'D CONSIDER YOUR PROCESS TO BE OR YOUR WRITING OR STYLE OR ANYTHING LIKE THAT?
H: Yeah. There are definitely differences this time around, like, I wrote "Take Me To Church" in a very solitary way. And all like, if not the majority of the songs in that first record and second record, I just wrote everything on my own, you know, so this is the first album that I brought other people into the process of creating the songs for the record. 
So in a very old-school sort of way, I just jammed a lot of music with a few producers and Dan Tannenbaum. We would just get together and make music—make noise and see what would happen. And I've never written songs like that with other people in the room, so that was the first time. So that is new to me, that's something that is different.
YEAH, ABSOLUTELY. ALSO SPEAKING OF THE COMPOSITION AND THE CREATION OF YOUR MUSIC, I SUPPOSE THAT YOU'RE VERY INTERESTED IN LITERATURE AND POETRY. AND THAT ALSO REALLY SHINES THROUGH IN YOUR LYRICS. AND IT'S REALLY BEAUTIFUL. AND I WAS JUST WONDERING IF YOU HAD ANY FAVORITE POETS AND IF THEY'VE INSPIRED YOU IN ANY WAY.
 H: Yeah, for sure, and I have tons of favorite poets, but I mean, I've said it a bajillion times, the work of Seamus Heaney is a well that I still find myself returning to, and an Irish poet. 
There is, I mean, I was sort of dipping in and out of a few translations, but one that I was really enjoying of Inferno when I was getting into it, was Robert Pinsky and his translation. Then, that sort of led me to some of Pinsky's other work. 
But I mean, Seamus Heaney is always one. Patrick Kavanagh was an Irish poet that I was diving into a little bit more recently. It depends on where I am and depends on what I'm doing, but I'm never too far away from poetry, for sure.
DEFINITELY. AND ALSO STILL STAYING IN THE REALM OF ART. AS A FAN, I WAS ON YOUR WEBSITE, AND I WAS LOOKING AT THE MERCH, WHICH I THINK IS SO COOL. AND I NOTICED THAT IT WAS ACTUALLY YOUR ARTWORK, WHICH I THINK IS AMAZING. AND I REALLY LOVE IT. AND I DIDN'T KNOW IF YOU ALWAYS HAD YOUR ART ON YOUR MERCH, OR IF THIS WAS SOMETHING THAT WAS NEW.
H: No, I was just doodling. They really are doodles. I just figured there's something honest, and something authentic about it, rather than just putting a photo of my face or trying to print that onto a t-shirt. And I just liked the idea of just drawing my own self or drawing a few different things. And they're very sort of high-school-doodles-on-a-textbook type thing, but they're fun. And they're me, I suppose, in some respects. It was nice to sort of open that door. I hadn't really been sketching for years, you know, so it was nice to just try that again.
THAT'S SO COOL. YEAH. AND MY LAST QUESTION IS: YOU HAVE THIS PERFORMANCE TONIGHT, WHICH IS VERY EXCITING. I CAN'T WAIT TO BE THERE, AND I WAS JUST WONDERING IF YOU HAD ANY PARTICULAR SONG YOU WERE LOOKING FORWARD TO PERFORMING.
H: Yeah, I'm really enjoying performing some new stuff at the moment because it's just always an interesting new challenge. There's a song called "Unknown" that I've been playing a few times on the shows, and "Francesca," released last week, I've only been playing that live for a couple of weeks. And I think in Toronto, we played one of the songs from the circle of violence called "Butchered Tongue" and that was really fun. So it's nice, it's exciting to just step in and play a different song. You know what I mean? One that has not been heard before. So, playing songs from the new record, I'm getting a real kick out of that for sure.
THAT'S SO COOL, AND THAT'S ALL I HAVE!
H: Thank you so much!