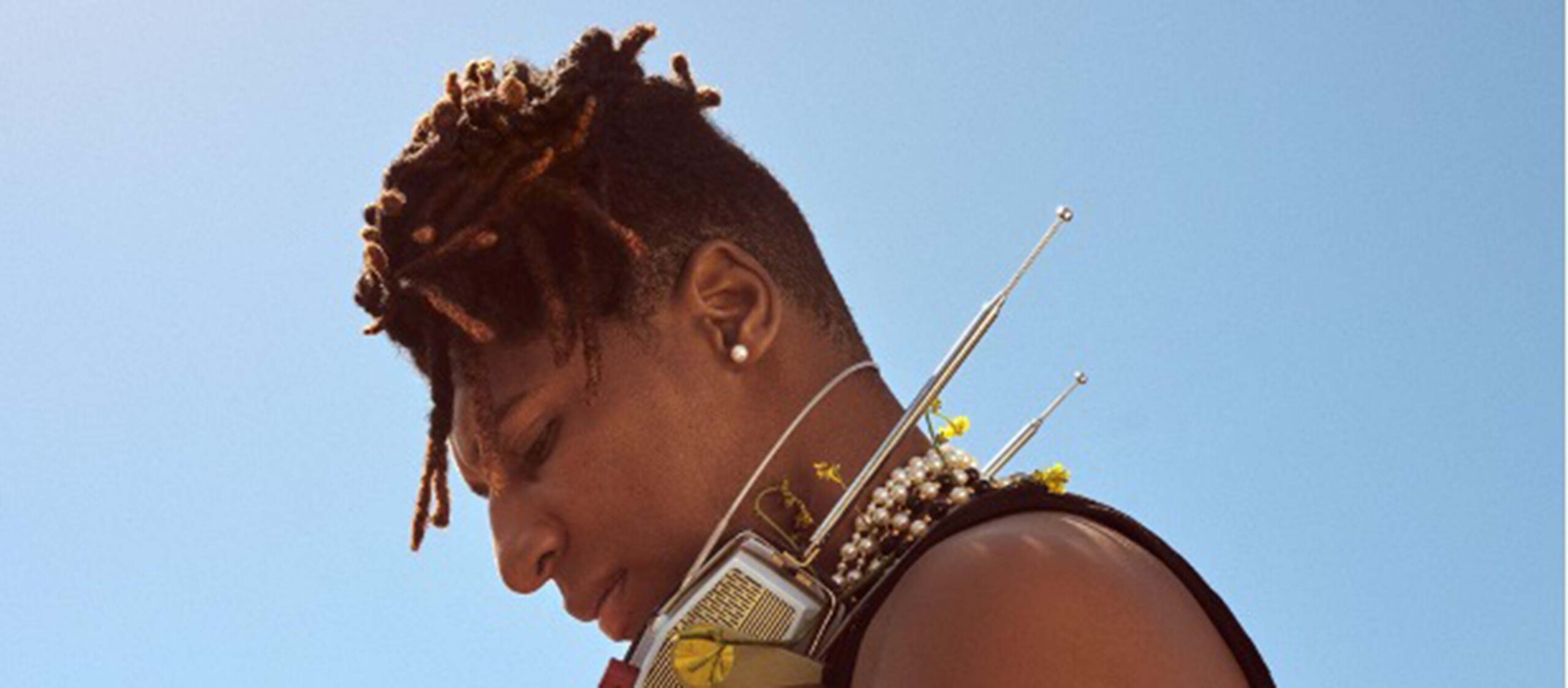 With five Grammy Awards, an Academy Award, and a Golden Globe under his belt, Jon Batiste is an unstoppable musical force. The acclaimed composer and musician's new album "World Music Radio" is a one-of-a-kind conceptual feat that skillfully subverts the constraints of a musical genre. 
Following the release of this unforgettable record, Batiste sat down with our Music Coordinator, Claire Dunham to discuss his creative process for "World Music Radio" and how it compares with his previous projects.
HI!
Jon Batiste: Yeah! Hello, Claire! How are you feeling? 
I'M GOOD. I'M GOOD. I'M SO EXCITED TO TALK TO YOU. THIS IS VERY EXCITING FOR ME!
JB: Ooooh! We all the way in there!
IS IT ALRIGHT IF I JUST GO AHEAD AND JUMP IN?
JB: Oh, yeah. 
PERFECT. PERFECT. YEAH, SO I WORK FOR A RADIO STATION IN BOSTON, AND WE'RE PLAYING "CALLING YOUR NAME" ON THE AIR RIGHT NOW. IT SOUNDS AWESOME! EVERYONE AT THE STATION LOVES IT, SO I THOUGHT I'D START OUT BY LETTING YOU KNOW ABOUT THAT.
JB: Oh, yeah! "Sun and the stars. Night and the day…"
YEAH! SO GOING OFF OF THAT, I WANT TO TALK A BIT ABOUT THE NEW ALBUM. DID YOU FIND THAT YOUR APPROACH FOR THIS ALBUM WAS DIFFERENT THAN YOUR APPROACH FOR WE ARE, ESPECIALLY CONSIDERING ALL THE AMAZING AWARDS THAT WE ARE WON. DID YOU FEEL MORE PRESSURE WHEN WRITING WORLD MUSIC RADIO? 
JB: I had so many big changes in my life when I started this one [World Music Radio], that it felt like a new season. I always have several things going at the same time—more like two things on different axes. You know? I was writing WE ARE, and I was writing the score for Soul at the same time, the film Soul. With this project, I was writing a symphony, and I was working on World Music Radio, the album that you now have. 
Those are the things that really balance me in a season, so it wasn't even like I was trying to do what I had done before or try to top anything. It was more like, "Oh, this is a new time." Really, the pressure comes from the internal vision and trying to reach that. All of the ambition that I have for my my artistry is just so demanding on an artistic level that I don't have outside pressure about metrics. In fact, it was crazy, with WE ARE we weren't even aiming for that then, so the pressure is more from myself. 
YEAH, DEFINITELY! DO YOU FEEL LIKE YOUR CREATIVE PROCESSES FOR ALL THE DIFFERENT THINGS THAT YOU DO ARE PRETTY SIMILAR OR DO YOU THINK THEY'RE MORE SEPARATE?
JB: So they're always bleeding into each other, the different projects. Even if it's not so clearly identifiable how this one and that one connect, they're connected. You know, that's how I'm able to really get inspiration. I like to have those dual plates spinning. They're generally different on the surface, but underneath it seems like they're connected for me. 
So for the symphony, it was this idea of creating what a symphony would be if it was made in the year 2023. What would it sound like? Who would be on stage? We had modular synthesizers and marching band musicians mixed with classical musicians, mixed with musicians from Venezuela, and Native American and Indigenous musicians, all these things, right? 
Then the album, similarly, is this limitless genreless thing. It's not a world music album, it's really taking that genre title, flipping it on its head, and using it as inspiration to make limitless genreless music. It's really about a message of radical oneness and radical love. Both of those concepts are disruptive in their respective spaces, you know? In a genre-based music industry and a very gatekept classical world these are both disruptive punk ideas, so they connect to me in that way, even though they're completely different. They're like brother and sister.
That's what it was like when I was making WE ARE and Soul it was like, "Oh, wow, a jazz film that's an animation by Pixar about death and the afterlife with Nine Inch Nails, and an album [WE ARE] speaking to the times that we're in and the history of culture in Black America as a microcosm for the universal." So that's what happened there. 
Then, this is a new season with World Music Radio and American Symphony. That's how I operate. I don't know why. It's really demanding, and it's really tough, but it's just my process, you know? 
YEAH, FOR SURE! WELL, I THINK IN THE END, YOUR PROCESS DEFINITELY PAYS OFF BECAUSE YOU'VE MADE SOME INCREDIBLE ART! SO, SORT OF GOING OFF OF THAT, FOR THE NEW RECORD, YOU COLLABORATED WITH A LOT OF DIFFERENT PEOPLE, LIKE LIL WAYNE, LANA DEL REY, AND BEHIND THE SCENES I'M SURE YOU COLLABORATED WITH EVEN MORE MUSICIANS AND PRODUCERS. 
DID YOU HAVE THESE COLLABORATIONS IN MIND WHEN YOU FIRST STARTED THE ALBUM OR WAS IT SOMETHING THAT HAPPENED LATER ON IN YOUR PROCESS? 
JB: It was really organic in the sense that I'd wanted to work with a lot of the collaborators that I ended up working with, for some time we've wanted to work together. There's been a sense of timing that maybe it didn't happen because it didn't line up; or maybe we tried something, but it wasn't the right project; or maybe it was we had been meaning to meet, and we hadn't been able to meet, even just socially, until this project, and then that led to a collaboration. A lot of that was happening with this project. 
Then, there were also people who I discovered as the concept of the album continued to reveal itself to me. It's like the album you're making is constantly telling you what it wants to be. It's constantly telling you, "This is what I am. Keep walking this path. This is the right way," and you meet people along that path. I met a lot of artists that are involved in the album that way as well. 
But you know, with Lil Wayne, New Orleans is a great connections between us, and culture, and also just trying to really think about who could speak to that song, "Uneasy." I also did a lot of work with Jon Bellion who I wanted to work with, and we've been wanting to work together on something and had done a few things together. With Lana Del Rey, it was socially set up for us to meet. We wanted to meet each other and a mutual friend who worked on the song "Life Lesson" with us, Zach Dawes of the band Dawes, he was saying, "Y'all have to meet! Y'all have to meet!" Then we met socially. It wasn't even to record, and it led to several songs, some on her record and the one on this record. And Kenny G… I'm just thinking about the range of people. It was very organic, and I love that it all fit together with Billy Bob Bo Bob, this interstellar DJ. 
You know, when you listen to the album, it's like what you do. Claire, it's really a radio broadcast. From top to bottom, the album is a radio format, so it's really meant to be listened to in that way, and I love that. 
FOR SURE! YEAH. AND YOU CAN DEFINITELY HEAR THAT IN THE WAY THE ALBUM FLOWS AS WELL. SO I HAVE ONE MORE QUESTION, THIS IS A FUN ONE GOING OFF OF THAT PREVIOUS QUESTION. DO YOU HAVE ANY DREAM MUSICAL COLLABORATIONS? LIKE ANYONE IN THE BACK OF YOUR MIND THAT YOU'D REALLY LOVE TO WORK WITH? 
JB: Wow! Wow! There are so many people that we're working on things with that are not public yet and also just people I want to collaborate with.
I mean, there's an artist who we're talking about doing some work with, who's great. She's a jazz and classical pop composer/singer. She's amazing.
But in general, I like to work with anyone who is ready to go into this limitless genreless space, and explore things from a purely artistic viewpoint without being hampered by the rules. You know, I studied music and I know all types of music, but as Charlie Parker says, "You learn all of it, so that you can forget it," and that's what I like.
FOR SURE, FOR SURE. YEAH, THAT'S ALL I HAVE FOR YOU TODAY. THANKS FOR CHATTING WITH ME. THIS WAS AWESOME.
JB: Oh, yeah.
HAVE A GREAT REST OF YOUR DAY. 
JB: Have a good one!
Jon Batiste's "World Music Radio" is out now!