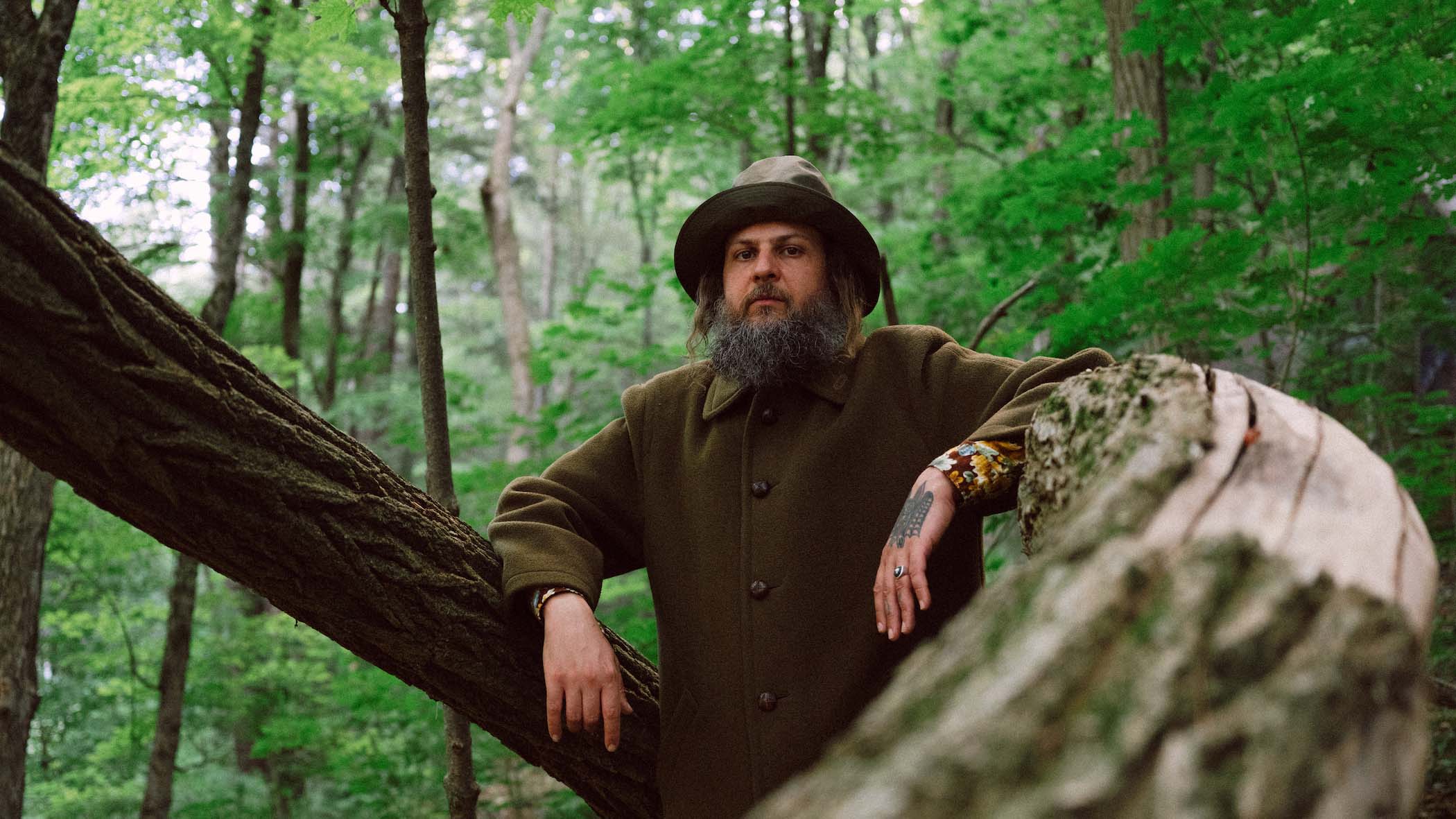 Kyle Thomas, who is best known by his stage name King Tuff, released his debut album "Was Dead" in 2008. In the years following this monumental release, the musician has embarked on various tours and collaborated with acclaimed musicians like J Mascis and Sasami. King Tuff's latest album, "Smalltown Stardust," was released earlier this year. The new record symbolizes a musical shift for the artist. 
On March 23, King Tuff brought his Smalltown Stardust Tour to The Sinclair in Cambridge. Ahead of the show, he sat down with our Blog Assistant, Claire Dunham, to discuss his new album, the highs and lows of touring, and Boston's local music scene.
OKAY, SO DO YOU WANT TO START AND TALK A LITTLE BIT ABOUT THE NEW ALBUM, SMALLTOWN STARDUST?
King Tuff: Sure. I wrote, like half the record at the end of 2019. And then, during the pandemic, I finished writing the songs and then recorded it throughout 2021. And then it was done, like, over a year ago, and I kind of had to sit there waiting for it to come out. 
So it's been a multi-year process, but it's cool, you know, it gave the songs a chance to grow and find their way. And it's a bit of a different vibe, compared to my previous records. And it just needed to happen. I needed to change in order to feel like I was growing.
YEAH, DEFINITELY. I KNOW YOU COLLABORATED WITH SASAMI ON THIS ONE AND HAND HABITS AS WELL. WE PLAY SASAMI OVER AT THE STATION. I LOVE HER STUFF. THE NEW ALBUM IS AWESOME.
KT: Yeah, I worked a lot on her [Sasami's] album as well. We were kind of going back and forth between the two, throughout the year.
Meg [Hand Habits] actually didn't play on my record, but they live in the same house, so they were there in spirit. 
But yeah, it was really interesting, the juxtaposition of working on my record compared to Sasami's record. We would just work on one for a month, then switch over to the other. We kept just going back and forth. It was a really interesting and informative way to work, and we both learned a lot doing it, I think. 
HAVE YOU EVER DONE A LONG-TERM COLLABORATION LIKE THAT BEFORE?
KT: Yeah, I mean, I've had a lot of really great collaborators in the past. I've been blessed to work with a lot of amazing songwriters who have inspired me a lot throughout the years, so yeah. You know, I do like working on things by myself, because there's a certain type of thing that you can only get, if it's just you in a room, figuring it out yourself.
But if you collaborate with someone, you get something totally different that you never would have gotten otherwise. You know, they come from different worlds, so they have different choices and different taste. So you just have to find people that your taste aligns with for the most part, but you also have to be able to let go of some control.
SO GOING OFF OF WHAT YOU SAID BEFORE ABOUT HOW THIS NEW ALBUM IS A SHIFT FROM YOUR OLDER MUSIC, HOW DO YOU FEEL PLAYING THESE SONGS ALONGSIDE THE OTHER ONES ON THIS TOUR?
KT: Well, we've kind of had to figure out how to do it live because the album is very acoustic, and it's also very lushly arranged. There's a lot of strings and things that we can't reproduce live as a four-piece band, so we had to change, you know. We had to figure out ways to play the songs a little differently, more stripped down. 
So quite a few of the songs are a bit more electrified live than they are on the record, which is cool because I personally like the live show to be different. You know, I don't need to see a band completely reproduce something perfectly. I could just listen to the CD, you know. 
So yeah, I like it when it changes live, and that's what's happening. Live they're more in the zone of the older stuff. Yeah, they're still pretty different, but we've figured out a set that works with throwing some of the old songs into it.
HAS THE TOUR BEEN GOOD?
KT: I can't complain at all. You know, I have a totally new band. They're all people that I've met in the past few months. 
REALLY? I DIDN'T KNOW THAT!
KT: Yeah, I just put a call out for who was looking to play, and I somehow assembled a group of people who are really amazing. They're all incredible musicians and really nice and fun to hang out with. That's hard to find, you know, they're definitely the best band I've had. 
So it's pretty great. The traveling is still the hard part. Tour is just a 24-hour-a-day job. You know, it's mostly travel, so it's just tiring in that way. But I'm good at it after all these years. 
YEAH, PRACTICE MAKES PERFECT.
KT: It is like, when you get to a certain point, you're like, wow, this is a strange job!
I CAN ONLY IMAGINE! I KNOW YOU'RE SET TO PLAY SOME FESTIVALS THIS SUMMER, AND YOU'RE ALSO PLAYING WITH ANGEL OLSEN. WILL YOUR NEW BAND PLAY WITH YOU FOR THOSE SHOWS?
KT: They're gonna do the Angel show because that's in LA, and I think they're going to do a music festival up in the Pacific Northwest. I think they'll do that with me. 
I'm going to play End of the Road Festival, which is in the UK, and I don't think they'll be able to come to that one. So I might have to steal some people from another band playing at the festival. That one we're still figuring out. Yeah, because it's impossible to tour in Europe now without losing money. If you're like a mid-level band it's really hard to make it work, without losing thousands of dollars.
I CAN IMAGINE. I STUDIED ABROAD LAST SEMESTER, AND TRAIN AND PLANE TICKETS AROUND EUROPE ARE RIDICULOUSLY EXPENSIVE.
KT: There are just so many costs, and, you know, if the guarantees aren't crazy, it's kind of not worth it. I mean, it's cool to go there and play, but it's got to be sustainable. So, I'm figuring that out.
YEAH! DO YOU WANT TO TALK A BIT ABOUT THE AESTHETICS OF THE ALBUM? I WAS REALLY DRAWN TO THE NATURE IMAGERY. I LOVE THE VIDEO YOU GUYS DID FOR "PORTRAIT OF GOD." HOW DID THAT COME TO BE? WAS THAT SOMETHING YOU HAD PLANNED BEFORE YOU STARTED WRITING OR DID IT COME TO BE AS YOU STARTED WRITING?
KT: I mean, definitely, a lot of the songs are focused on nature, and kind of yearning to be in nature. I think a lot of that was coming from sitting in the house all day, you know, in LA. There is amazing nature in LA, but it's different than the nature that I grew up in, being from Vermont. I was missing the forest a lot, so there is a lot of green imagery with the album. 
And, yeah, the "Portrait of God" video—that song is really about nature as religion. That's what I consider to be my religion. Nature, music, and art are my spiritual paths, so I really wanted the video to be very lush and green. And we were looking around for like a month for somewhere to film in LA that was a garden or something. But it was also like, the hottest time of year and everything is just brown and dead. After a while I was just like, this is not gonna happen. I could not find anything, and I was like, we need to go to the rainforest in Washington.
So yeah, it was a crazy move to do it, and we kind of had to do it renegade style. We just had a couple of people, and the directors are in the video. So they're directing while dressed up as mushroom people, and we just went to the National Forest and just filmed there. There were hikers walking by looking at us like we're crazy, but it's the most magical forest there. It's so mossy and just incredible. I had been there before, and I just really wanted an excuse to go again. So, I was like, I might as well take my video budget and turn it into a trip. 
OH, YEAH!
KT: So that was cool. And it worked out.
I BET THAT WAS A NICE CHANGE OF SCENERY AFTER BEING IN LA FOR SO LONG.
KT: Yeah, it needed to happen. The late summer in LA is just brutal! September and October are actually the hottest months there. 
REALLY? I DIDN'T KNOW THAT. 
KT: You know how the winter goes on too long here?
YEAH!
KT: Like, when it gets into May, and there's still snow, sometimes you're like, I'm gonna die. That's what it's like, but it's the reverse there. So I usually actually come here during those months and get the fall, because it's like the best time in New England. But yeah, I had to get out, for sure. 
YEAH, COOL! LOOKING FORWARD, IS THERE ANY NEW MUSIC THAT YOU'RE THINKING OF OR IS THAT JUST WAY TOO FAR IN THE FUTURE TO THINK ABOUT?
KT: I finished another record with my band Witch, my other band with J Mascis. So that will come out, maybe at the end of the year, but maybe early next year. 
Once I'm done with this tour, I'm just gonna kind of start writing. My goal is to tour a little less and write in the studio more because that's really what my passion is—the creative side of it and recording. I like playing the shows and meeting people and that experience, but all the rest of tour is a lot of work.
I CANNOT IMAGINE HOW EXHAUSTING THAT IS. 
KT: Usually, at the end of the tour, I get blown up. It's a totally different headspace, so sometimes it takes me months to feel normal again after a tour. Sometimes when I get home, I just start driving and have nowhere to go. Like I need to keep my momentum going, so I just drive around. It's very strange, but I'm trying to figure out how to switch between the two a little better. 
But yeah, I'm gonna do some writing with one of my best friends, Chris Wiseman, who's a musician out of Brattleboro. He's gonna come to LA, and we're gonna do some stuff together, so that'll be good. I'm just trying to keep it going. I feel like I didn't do anything for like three years you know?
YEAH. 
KT: I mean, I did stuff. I made the record. I made a few records. But it's not until you put out the music and play some shows that you feel like things are actually happening and you're actually working. Like making the record. It's just fun. It doesn't feel like work. So, yeah, I just kind of want to keep the motion going. 
KEEP THE MOTION GOING. YEAH. THAT'S AWESOME! YOU WERE JUST IN PHILADELPHIA LAST NIGHT, AND NEW YORK IS TOMORROW.
KT: Yeah. New York tomorrow. 
OKAY!
KT: It's a bit of a back-and-forth. I think they do that so I can play in New York on a Friday night, you know?
THAT MAKES SENSE.
KT: But yeah, all the shows have been really good. You know, really good crowds, and everyone's been very attentive to the new music which is really nice. It's much softer than my previous music, so I didn't know how my fans would react. But people are listening very attentively, so that's nice. 
It's nice to play in Boston. You know, this is where I grew up going to shows, so it feels like it's definitely within me—like hanging in the Harvard Square T stop, which looks like they're really… I don't know what's going on. 
THERE'S CONSTRUCTION EVERYWHERE IN THE CITY. YOU CAN'T AVOID IT! DID YOU HAVE A FAVORITE VENUE AROUND HERE THAT YOU LIKED GOING TO?
KT: Well, when I was in my teens, I used to go to The Rat a lot. It was a legendary punk club. 
COOL!
KT: Mostly, I think in the 80s, maybe the 70s. I actually don't know how far back it goes. It might be really old. It closed in the late 90s, but it was just legendary. You know, I'd go see the Dropkick Murphys with their first singer. Those were fun times!
SOUNDS GREAT! YEAH, A LOT OF PEOPLE GO TO HOUSE SHOWS NOW, ESPECIALLY AROUND MY SCHOOL.
KT: That's cool. I mean, that's a thing that I feel like wasn't happening for a while. Like when I was a kid, it was happening all the time. I used to come to Boston in the early 2000s, and it was all house shows. It was awesome. 
But, I feel that kind of stopped happening. It doesn't really happen in LA. Yeah, I've been to a few, but it's not really a thing. But on the East Coast, it's always a lot of house shows, and I miss that. It's such a good vibe. 
OH, IT REALLY IS!
KT: Yeah, and as a musician, I always liked playing those, so it would be cool to do like a little house show tour at some point. 
YEAH! I BET YOU COULD FIND SOME VENUES, ESPECIALLY IN BOSTON. I THINK IT HELPS THAT THERE ARE SO MANY COLLEGE STUDENTS, SO BANDS ARE ITCHING TO PLAY.
KT: Yeah. I went to some crazy Boston house shows—house madness! I love that it's still going on. 
I DO TOO! ESPECIALLY AFTER COVID, I DIDN'T THINK IT WOULD EVER BE LIKE THAT AGAIN.
KT: Who's the hot band on the scene?
THERE'S A GROUP CALLED RAAVI. THEY STARTED IN BOSTON, AND I REALLY LIKE THEM. I DON'T KNOW IF THEY ARE SUPER HOT, BUT THEY'RE HOT TO ME! 
KT: That's all that matters!
I'M TRYING TO THINK OF OTHERS... TROPHY WIFE IS COOL.
KT: I wish I had more time, and I could go to house shows. 
AFTER THIS TOUR!
KT: All right, I'll come back!