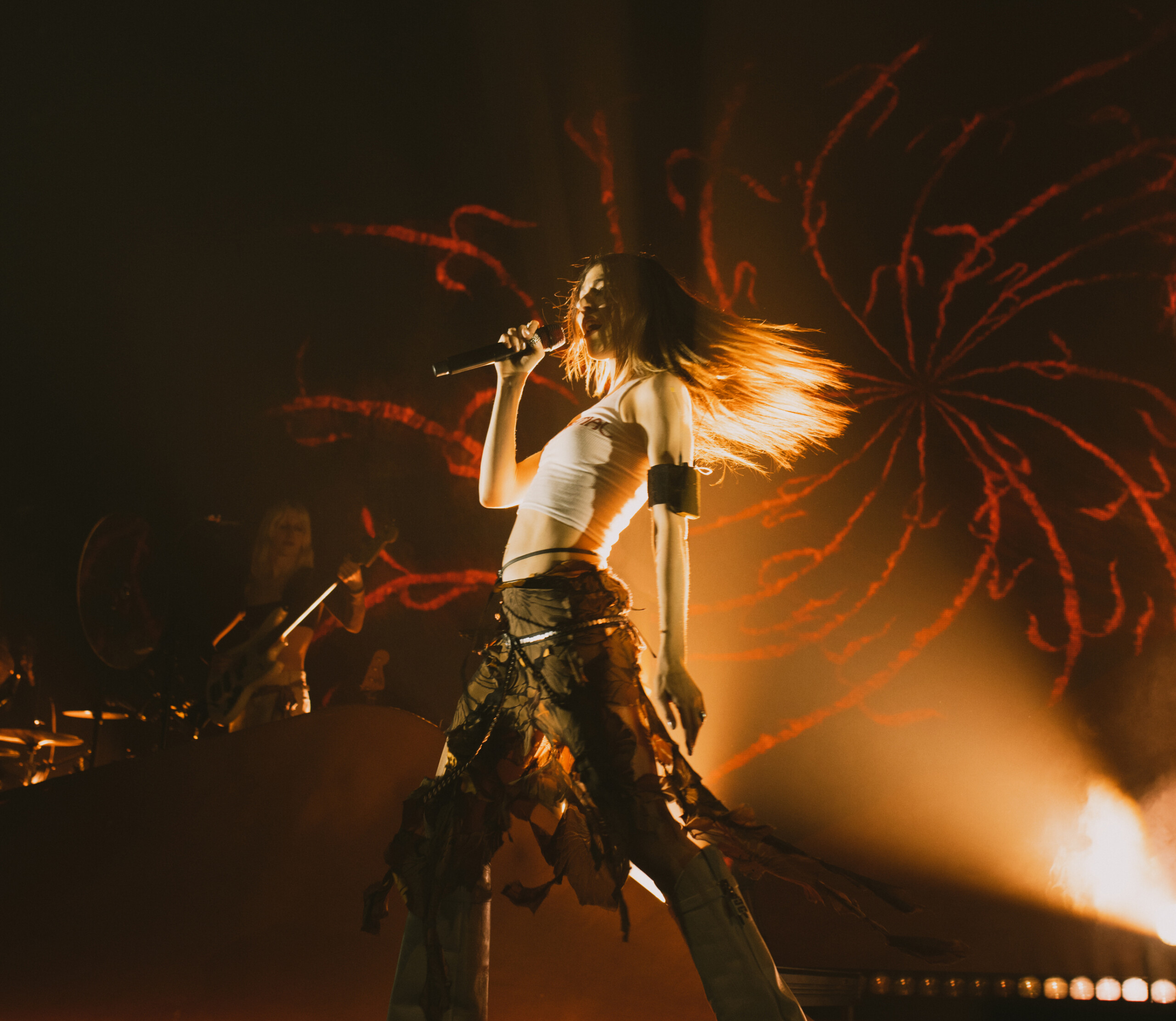 Caroline Polachek released her sophomore solo album "Desire, I Want To Turn Into You" in February. It experimented with percussive composition and featured many different instruments, most notably bagpipes. Caroline Polachek constantly asks us to listen closely to the sound of her music for themes and motifs of desire, connectivity, and catharsis—all intense, tactile, and very physical experiences—which are also present in her groundbreaking lyricism.
Our Membership Assistant and one of our midday hosts, Erin Norton got to speak to Polacheck before her show at Roadrunner on April 15th.
IT'S SO NICE TO MEET YOU, BY THE WAY! I JUST WANTED TO SAY THAT! I'M ALSO JUST LIKE A BIG FAN IN GENERAL, TOO. SO THIS IS REALLY COOL BEING ABLE TO MEET YOU. 
Caroline Polachek: Thank you!
YEAH, OF COURSE! SO JUST TO START, IT WAS FUNNY, I WAS WATCHING A PITCHFORK INTERVIEW THE OTHER DAY, AND IT WAS WITH BOYGENIUS. AND ONE OF THE QUESTIONS WAS: WHAT'S SOMETHING THAT YOU WOULD LISTEN TO WHEN YOU WERE DOING CHORES THAT YOU DIDN'T NECESSARILY WANT TO DO? AND SOMETHING THAT LUCY DACUS SAID WAS YOUR ALBUM, DESIRE, I WANT TO TURN INTO YOU.
IT MADE ME WONDER, WHAT WOULD YOU LISTEN TO IF YOU WERE DOING YOUR CHORES, AND YOU DIDN'T WANT TO DO THEM?
CP: I mean, the new boygenius record is, you know, that's my chore music.
YEAH, ABSOLUTELY. AND I DON'T BLAME LUCY DACUS EITHER LIKE, I WANT TO BOUNCE AROUND TO THAT ALBUM ALL THE TIME.
I PUT THAT ON WHEN I'M GOING TO AND FROM, LIKE WHEN I'M ON THE "T." I FEEL LIKE THE MAIN CHARACTER WHEN I LISTEN TO IT. I LOVE IT. IT'S GREAT. AND YOU HAVE A SHOW TONIGHT, WHICH IS SO EXCITING. I CAN'T WAIT TO BE THERE. 
CP: Thank you.
OF COURSE! I JUST WANTED TO KNOW WHAT YOUR FAVORITE SONG IS TO PLAY.
CP: My favorite song to play. It's a hard tie, actually between "Pretty In Possible" and "Butterfly Net." And they kind of serve very different roles, both in the album and then the live show.
"Pretty In Possible" feels like a prologue. Not even a prologue, it feels like the opening scene. The prologue has just finished. And now we're kind of really entering act one. And it feels like it's sort of welcoming people into this kind of topsy turvy, very liquid, very free-associative. And ultimately, just the quite rhythmically feel-good side of the album inside of the live show. So it's really like a welcoming gesture.
And then "Butterfly Net" is like the kind of deep dark heart of both the record and the live show. I think by the time we arrived there in the show, things just feel so focused and intense and nocturnal, and I feel like vocally that's when I kind of am leaning in the hardest.
DID YOU THINK THAT THOSE WOULD BE A FAVORITE TO PERFORM WHEN YOU WERE INITIALLY RECORDING THE ALBUM?
CP: You know, you never know. Usually, when I'm recording my vocals on the album, it's a song that I'm still getting to know, I don't have the lyrics memorized. I'm still reading them off my phone or out of my notebook. And I might not even be doing the whole song in one take. It's that kind of thing. But then by the time, you know, when I first started rehearsing it, that's when I learn like, oh, is this harder to sing than I thought or maybe it's easier than I thought? And both those songs revealed themselves to be very natural to say, and just feel really good to sing.
ABSOLUTELY. AND SPEAKING OF RECORDING, I WAS RECENTLY RE-LISTENING TO PANG, WHICH IS AN ALBUM OF YOURS THAT I LOVE AS WELL.
IT'S INTERESTING TO GO BACK AND FORTH BETWEEN THE TWO BECAUSE I FEEL LIKE PANG IS, I DON'T KNOW HOW ELSE TO DESCRIBE IT OTHER THAN ALMOST EVEN MORE ATMOSPHERIC. AND I FEEL LIKE DESIRE, I WANT TO TURN INTO YOU IS SO FILLED WITH PERCUSSION AND EXTREMELY STACCATO. IT FEELS TACTILE. AND I LOVE IT. IT FEELS LIKE IT ITCHES A SCRATCH IN MY BRAIN.
I WAS JUST WONDERING IF THERE WAS AN INSPIRATION BEHIND WHY YOU WANTED IT TO SOUND THAT SPECIFIC WAY, OR IF THAT'S JUST THE WAY IT TURNED OUT.
CP: Yeah, that was 100% intentional. And I guess going back to the very beginning of the process, "Bunny Is A Rider" was one of the first songs that was written for this album. And it felt so markedly different than anything, not only on Pang, but that I'd done before, precisely because it was so staccato, but also so warm and so rhythmically percussive and vocal. And also so abstract, but also the visuals and the lyrics in a way that I did a lot with Chairlift, actually, but hadn't really introduced yet into this project. And so it kind of felt like a both new and familiar mode of writing for me.
But also, I think, coming out of the pandemic, I felt this real need for physicality. You know, that I felt like collectively we'd experienced so much through virtuality and through screens and just the idea of being bodied and a sound being physical felt not only very cathartic but also very ancient, like a very ancient answer to the need for connectivity and the need to make sense of chaos. But maybe sculpture can answer that question better than words can.
AND I CAN DEFINITELY HEAR THAT "MAKING SENSE OF CHAOS" AND ALMOST FINDING SO MUCH FAMILIARITY WITH IT.
BECAUSE I FEEL LIKE THERE ARE SO MANY UNEXPECTED SOUNDS I FOUND IN THE ALBUM THAT JUST MADE SO MUCH SENSE, LIKE THE BAGPIPES IN "BLOOD AND BUTTER." HEARING THAT IN THE FIRST LISTEN, I WAS LIKE, "OH, I DIDN'T EXPECT THAT." BUT IT JUST MADE SO MUCH SENSE. AND IT MADE THE SONG JUST SO WELL ROUNDED, WHICH I JUST, I LOVED. I JUST THOUGHT THAT WAS A REALLY COOL ADDITION. 
CP: Thank you. 
ABSOLUTELY. ALSO, THIS IS KIND OF RANDOM, BUT I WAS SO CURIOUS ABOUT THIS. YOU RECENTLY PUT OUT A REMIX OF "WELCOME TO MY ISLAND" WITH GEORGE DANIEL AND CHARLI XCX.
AND I WAS JUST WONDERING HOW YOU CHOOSE WHO TO COLLABORATE WITH AND WHO YOU REMIX YOUR MUSIC WITH. AND I KNOW THAT YOU'RE FRIENDS WITH CHARLI XCX, BUT I WAS JUST CURIOUS.
CP: You know, it's all very intuitive. There's no grand plan, really. I just get very excited about certain ideas. Charli is a repeat collaborator of mine, and she's so unconventional with how she approaches different formats. I think this is now the third collab that we've done. It's pretty unusual that artists sort of, you know, return to feature on each other's stuff this much. We're also neighbors as well. But I don't know, there's just a kind of bitchy brattiness and also a code switch-iness within that song, but I was like, "Okay, I think Charli can take this."
And also George, because they're both, you know, chameleons, and so clever that they could take it and do something quite wild with it. And they did. Charli had said, like, "Cool, cool. Yeah, I'm going on vacation with George, you know, just to have some private time. So we won't be able to start working on this until after," and of course, the day they arrived off vacation, they just started obsessively working on it for the entire vacation. So the workaholism jumped out.
I LOVE THAT. THAT'S INCREDIBLE. AND I JUST LITERALLY HAVE ONE MORE QUESTION, THIS IS JUST SUPER QUICK. BUT I SAW THE SET OF YOUR SHOW, JUST IN CLIPS, AND HOW IT CHANGES KIND OF FROM SONG TO SONG, AND IT LOOKS INCREDIBLE. IT'S JUST SOMETHING I'M REALLY LOOKING FORWARD TO SEEING TONIGHT.
AND AS SOMEONE THAT HAS A BACKGROUND IN OPERA, DO YOU THINK YOU'VE TRIED TO IMPLEMENT THEATRICAL ELEMENTS INTO YOUR MUSIC, ESPECIALLY SINCE YOU'RE SO AMAZING AT STORYTELLING IN YOUR MUSIC AND IN VISUALS?
CP: I love how in physical theater like in Opera, Ballet, and stage plays, you are dealing with the restriction of, again, physical objects, there's only so much that can change. And I think this idea of setting the scene and having it morph actually provides a more transportive and evocative experience than constant change. Where people kind of leave feeling like they've really been in a space and experienced its weather patterns. And have a relationship with a space which in the case of our show is this kind of volcano scape, that transforms kind of slowly over the course of the show. Yeah, that was the real philosophy behind it.
And I guess it also came out of touring with the gate as a backdrop on the last album. Which in the case of the gate, it was even more literally a theater prop because it was a painting. It was a hand-painted painting that we projected light onto, and I just really wanted to stick with this idea of having a whole adventure take place in one place.
I JUST THINK THAT'S INCREDIBLE. THANK YOU SO MUCH!
CP: Thanks so much. Hope you enjoy the show tonight!