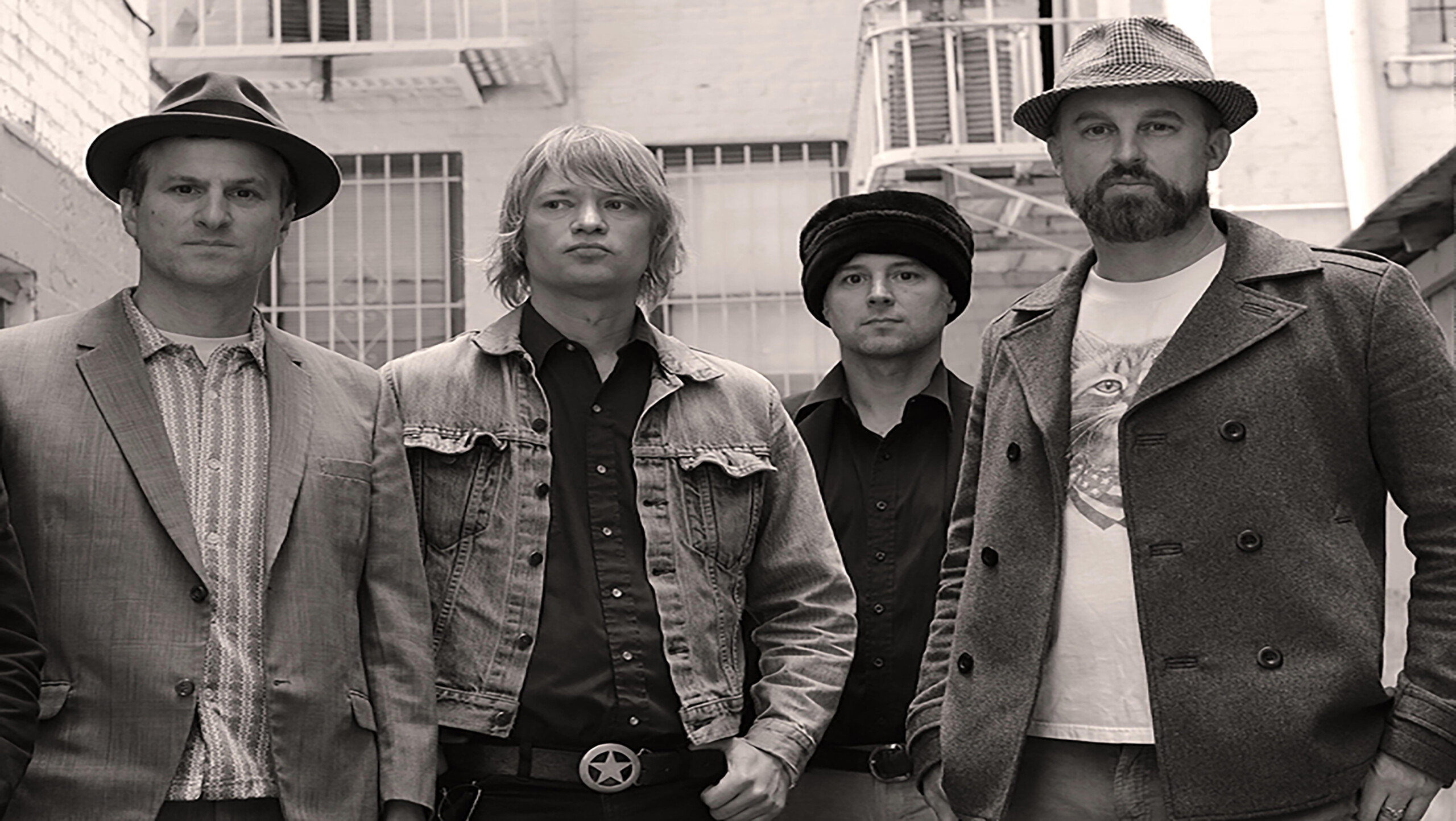 John McCrea has been Cake's lead vocalist since the band's inception in 1991. Over the past 30 years, the group has released six studio albums, embarked on numerous tours, and recorded unforgettable covers of classic songs, like Gloria Gaynor's "I Will Survive." 
This summer, the iconic band is back on tour and will bring their genre-defying sound to Boston's Leader Bank Pavilion on July 18. Before this performance, McCrea spoke with our Music Coordinator, Claire Dunham to talk about tour antics, his aversion to setlists, and the uncertainty of songwriting.
ALRIGHT. SO FIRST, I WANT TO TALK A LITTLE BIT ABOUT THE TOUR. YOU RECENTLY KICKED OFF A SUMMER TOUR, DO YOU HAVE A FAVORITE MEMORY FROM THE TOUR SO FAR? HOW'S IT BEEN FOR YOU GUYS?
John McCrea: Well, I'm really enjoying my T-shirt cannon. It's really been therapeutic for me. Last year, we played our first shows after not playing shows for a while, and I was having a little bit of anxiety about going up in front of lots of people. I had been to a women's basketball game a long time ago, and I remember they had a cannon, and they were shooting hot dogs at the audience. I was like, "Holy shit! We have to shoot hot dogs at the audience. This is something we've got to be able to do," and our manager immediately shut it down and said, "You know, with liability issues and food and safety issues, we can't." And I'm like, "Well, why? Why do sport people get to have all the fun? What's so different for us?" We argued about it, but I ended up going along with using T-shirts instead of hot dogs. I still harbor a little bit of hope that someday we can shoot food at people.
THAT'S AWESOME!
JM: …But there's nothing more life-affirming. So, then, we got the T-shirt cannon, and it just worked perfectly. It kind of quelled my anxiety, and still, sometimes I have anxiety. It's just this thing that I can do. It's like a weirdly comical and powerful sort of thing, that just kind of makes me not nervous anymore. Being able to shoot merchandise into the air is just really empowering. 
YEAH! I BET IT'S VERY FREEING.
JM: Yeah, and there's a good thump sound that it makes that's satisfying too. It's a visceral kind of thing, and another thing that's been really good is… Well, I don't want to give the whole show away, but things like that just take the emphasis off of having to get everything right, or be perfect, or whatever. It makes you realize that you're just a clown—you're just an entertainer, nothing matters, and we're all gonna die soon.
DO YOU TYPICALLY SHOOT IT AT THE SAME TIME EVERY SHOW OR DO YOU LIKE TO KEEP AUDIENCES ON THEIR TOES?
JM: Yeah, just whenever I feel like it, but it's like you're having a conversation with somebody that you don't know very well and smoking cigarettes. Like if the conversation fails, you know, mainly I'm doing this fire thing. I'm holding fire in my hand, that's my main thing. 
It's similar, like, mainly I'm shooting stuff. There are some songs and stuff, but mainly, that is the most important thing. You know what I mean? There's something really important about shooting. 
YES, DEFINITELY, SO SORT OF GOING OFF OF THAT, THE MUSIC PART OF THE SHOW: DO YOU HAVE A FAVORITE SONG THAT YOU'D LIKE TO SING LIVE?
JM: No. I don't know that I do. I think it changes all the time because we don't use a setlist.
Early on, I realized I just felt like a machine, I felt like I was being told what to do when we used a setlist. I couldn't just ask myself what I actually felt like doing in that moment. There are songs that come and go, certainly, and there are songs that I've let fall off of what ends up being the setlist, but not intentionally. But, there's nothing that we know for sure that we're gonna play, so at the end of one song, we'll just kind of ask ourselves what we feel like playing. Usually, I just think it's a better experience for everybody, because we're more genuine about it, and we're actually having a better time.
But, I didn't answer your question, because there's no real answer right now. I like dragging up some of the songs from the first album. That's sort of an answer. I guess. I think, some of them still sound good, and the band can play them well. Some people think the production values on the first album weren't powerful enough, so it's a chance for them to hear the songs a little bit bigger sounding. 
YEAH, I MEAN, I'M SURE PEOPLE GO CRAZY FOR THE SONGS OFF THAT FIRST ALBUM. I FEEL LIKE IT'S DEFINITELY A FAN FAVORITE—THERE ARE A LOT OF FAN-FAVORITE TRACKS ON IT. 
JM: I think it might be my favorite album, but it's definitely an acquired taste. The production values of that album are not mainstream sort of power rock. I think there was one reviewer that said, "Dinky drums," and you know, that's what we were trying to do: a revolt against the big dumb rock of the early 90s. We thought that it would be more subversive to sound small, and again, I don't mind listening to that album. It doesn't hurt me. I think you can have a good time listening to it. It's just not super powerful.
YEAH, DEFINITELY. 
JM: Anyway, that's not a very good sales pitch. 
NO, IT WAS PERFECT!
JM: But anyway, we were just angry about how big everything sounded, and so we were just like, "We're gonna make things sound small."
YEAH! MY SISTER AND I ARE BOTH FANS OF YOU ALL, AND WE WERE RELISTENING TO THAT ALBUM TODAY. WE REALLY LOVE IT. 
JM: I'm so glad to hear that. That makes me happy.
SO MOVING ON, I WANT TO ASK A LITTLE BIT ABOUT YOUR WORK WITH HEADCOUNT. I KNOW THAT YOU'RE ON THE BOARD OF DIRECTORS WITH THEM, CORRECT? 
JM: Yeah, I'm sort of shifting away from that, because of just life stuff and how busy I am with some other things. But, yes, I have been on the board of directors, and I fully support the cause, now more than ever. I feel like voter engagement is our only hope. If you look at what people who are anti-democratic are trying to do, they're trying to tell people a story where both sides are equally bad, which makes people think, "Well, what's the difference whether I vote or not?" 
I mean, hopefully, smart people are realizing that there's a lot of nuance to this, and certainly, both sides are not equally bad. You know, there's, there's a lot to criticize everywhere, but that's just like being alive. But, there's an objectively gigantic difference between a democratic system and whatever else—you know, lions pulling apart the flesh of their prey.
YEAH, DEFINITELY. WELL, I WANTED TO ASK BECAUSE I HAVE A FRIEND WHO INTERNED WITH THEM, AND I ALWAYS GET EXCITED WHEN I SEE THEM AT SHOWS. I FEEL LIKE THEY DO REALLY GREAT WORK, AND I SAW THAT THEY WERE AT A COUPLE OF YOUR SHOWS AS WELL. 
JM: Yeah. They're coming whenever we can get them. We try to get them as many tables as possible, so at all the venues that are allowing it, we're doing it. 
NICE. SO GOING OFF OF THAT A LITTLE BIT, I ALSO WANTED TO TALK ABOUT THE REFORESTATION EFFORTS THAT YOU'VE BEEN DOING. I KNOW YOU'VE BEEN DOING IT FOR A WHILE, AND IT'S COME BACK ON THIS TOUR. DO YOU MIND TELLING ME THE JOURNEY OF HOW THAT ALL STARTED AND HOW IT CAME TO BE?
JM: Yeah, initially, before the band ever started being able to make a living, I was living in an apartment, and there was a little median strip between the sidewalk and the street, and I illegally, without permission from anybody, planted a tree. I was at a garage sale, and they were selling a plum tree, I think. I just bought it for $7 and planted it there, and it was, you know, three or four feet high. Then, things started getting busy with the band, and we started touring. I moved to a different place, and I moved to another different place and a different town. My life changed in many ways. Then, I just happened to be walking in that same part of town, and I saw this gigantic tree that was like, 27 feet tall, or so, and it was the tree that I had planted, and it made my sense of time, sort of like, unsettled in a good way. You know, it dwarfed my sense of time—it was like a different scale of time and also dimension as well. Anyway, that's the best I can do to describe the almost body sensation, I had seeing this tree that was tiny and was now big. 
I just thought everybody should do this at least once in their life, and that's when it occurred to me that we should just start giving trees away at our shows. It's pretty cool because we have a map of the world and there are little tree icons in different cities, and you click on them and you see Hans who's in Germany with his cherry tree, or Jeff in Fresno, California with his apple tree or whatever. Ideally, as those people age, and the tree gets bigger, they will send photographs of themselves standing next to the tree, and we can watch them watch this progression. That's the idea, and we've also done some collaborations, planting lots of trees with an organization called One Tree Planted. 
What I'd like to do someday, if I can get somebody to help me organize it, is do a festival, where everybody gets there early, and there are teams that plant lots of trees—find some cow field that's ecologically degraded, and have the concert there, but first plant a whole bunch of trees. The team that plants the most trees or does the best job gets to have the VIP seats for the show in the evening or something like that.
It would be cool if it's like a festival where people can have booths about alternative energy or things that are like just sort of life-affirming. You know, various things, but not too culturally specific where people felt excluded, just generally like good ideas. Yeah, a festival of good ideas. If you know anybody who is willing to help me put that together, let me know.
I'D BE MORE THAN WILLING TO HELP YOU OUT WITH THAT IF WE CAN GET A GOOD TEAM TOGETHER. 
JM: So yeah, I mean, if you meet people in your travels and somebody has a little bit of experience with organizing things, please send them my way because I do think it's good timing for something thing like that. If you have any ideas or energy or connections, please let me know. 
YEAH, DEFINITELY. ALL RIGHT. SO I'M GONNA SORT OF GO IN A COMPLETE OPPOSITE DIRECTION WITH THIS NEXT QUESTION, BUT I WANT TO TALK TO YOU A LITTLE BIT ABOUT SONGWRITING: HOW YOU STARTED SONGWRITING, HOW IT'S PROGRESSED THROUGHOUT YOUR CAREER, AND HOW YOU FEEL LIKE YOUR RELATIONSHIP WITH IT HAS CHANGED.
JM: Okay. That's a great question. I have to have that be the last question, because I have to be somewhere, but let me try to really do justice to that one.
I was just thinking about this yesterday, actually. A friend of mine is doing a workshop, a songwriting workshop, She was asking me what the best songs were or what songs I thought had really well-written lyrics, and, and it occurred to me that intellectually, I'm confident that I can write a song, but it's like each song, I'm never sure if I can even do it, you know? 
I think it's always been that way for me. I think I've had periods where I feel like I can do it, like, I know that I can do it, but there's never a sense of like, "Absolutely! I will write this song." I think maybe that's good, but it's hard. I don't think I could tell other people exactly how it's done, and I was just amazed that she was able to have a workshop on writing songs. I think I've probably written more songs than her, but I still don't feel like an expert. In a way, every time I do it I'm like starting from scratch, and I don't know what the rules are. 
I really think that's true, like, every chord pattern, and the way the rhythm leans one way or leans another way is pertinent to the DNA of what becomes the song. Anyway, I think, what I'm getting at is that uncertainty is really important.
YEAH. I BET THAT KEEPS IT NEW FOR YOU, LIKE, IT NEVER GETS OLD, IN A WAY. 
JM: Right. Right, and sadly, I never get to be all that confident about it. But, you know, I'll take it! 
That's something of an answer to that. It's probably not exactly what you wanted, but I think it's important, and I just happened to be thinking about it yesterday. Yeah, It doesn't feel like anybody's necessarily an expert. 
YEAH, THAT'S A GREAT ANSWER! THANK YOU SO MUCH FOR TALKING TO ME TODAY.
JM: Okay, well, it's very nice meeting you, Claire, and I hope that you can come to the show and catch a T-shirt or whatever. I'm just joking, I know you probably don't need to catch a T-shirt, but have a good summer. 
THANK YOU! ENJOY THE REST OF YOUR TOUR. 
JM: Okay, take care.