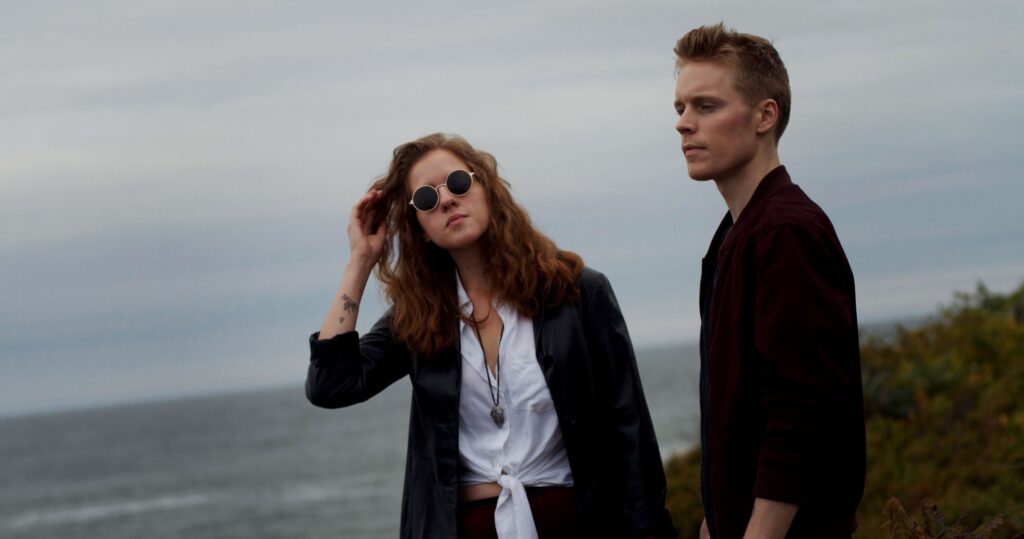 By Sonali Anand
Ryan Meier and Marion Earley make up the Boston native band, Gentle Temper. They are in the middle of their tour and stopped to play a live set in the WERS studio filled with folk, soul, and creative vocals. WERS' Sonali sat down with them to chat.
Sonali: How did you come up with the name "Gentle Temper"?
Ryan Meier: It just fit. That was kind of it. The way we started was pretty free form with throwing ideas around. [Gentle Temper] was one of them and we were like "Wow, I would say this at the start of every show and feel okay about it."
What are your goals for the next couple of months as we near the end of 2018?
Marion Earley: We're releasing an album, and we have tours and a lot of shows so we have to just keep that going. Stay on the road for a while.
It's been a big year for both of you, what have you been up to?
ME: We've been recording a lot, writing, and working on booking more tours.
RM: We just played a smashing set at WERS 88.9!
ME: Yes! And we're nominated for a Boston Music Award this year, New Artist of the Year.
Are you excited about that?
ME: Yeah!
RM: Yeah, it's pretty surreal. We were full-boar on tour when we found out, on day four of twenty. We released our album on October 7th, and the release show, which we put together with the help of some good friends at Grendel's Den in Harvard Square, was on October 10th, so that kind of took up all of our time. We got word about our nomination and we were like, "Oh my god", dropped to our knees like "This is ridiculous", and then went right back to work.
So I know you both are from Boston. What is it like to play in your hometown?
ME: It's awesome. Boston's been both of our homes for six years now and we've spent the last two years building our name here. It feels good to be doing stuff here and to come home to Boston. It's a great city for anything creative.
RM: Marion's originally from Maine and I'm from Central New Jersey so Boston is sort of like the meeting point, and on this tour right now we just get to see our family 90% of the time. So it's been super fruitful, but also just a nice sporadic vacation seeing a lot of our folks. Coming back to Boston makes me appreciate the city, even more, every time we come back. It's sorta like the Joni Mitchell syndrome where you "pave paradise, put up a parking lot."
For 2019, what are you looking forward to? What are your goals?
ME: More tours, more recording, possibly another release.
RM: Tour forever! That's the goal.
ME: We're gonna be like the Rolling Stones, we're gonna be touring until we're 90.
What's on the top of your venue bucket list?
RM: Sinclair hands down. I think we do Sinclair then we have agreed that that's it for us. We're done.
ME: I think when we play at Sinclair we can just stop. We love the Sinclair, I think that's our favorite venue in Boston, but there are countless venues that we would play at. I'd love to play at the Orpheum too, it's beautiful.
RM: We've realized that the venue depends a lot on the people who run it. You meet a nice person who knows what they're doing, and that makes the show for you. Whether it's taking care of you in the green room or setting up real nice and smooth. Even a joke when you're super tense, you're like "Oh, right this is fun, yeah I didn't forget that." But I guess in terms of bucket list venues, I thought more about bucket list artists we want to open for. I think Hozier is my biggest one.
ME: That would be sick.
RM: *laughs* He's a little bit more eighteen piece and we're more like two piece.
Wow. Thank you both so much for coming to WERS! Good luck!