The Boston Music Awards are announced this Friday. We're so proud to see some familiar names on this list, all regulars on Wicked Local Wednesdays
By Tatum Jenkins and Riley Greenstein, Staff Writers
Red Shaydez
Nominated for: Breakthrough Artist of the Year, Album of the Year, Hip Hop Artist of the Year
Hip-hop artist Red Shaydez is an artist with a vision, choosing to handle almost every part of the creation of her music. As she said in an interview for WERS this summer, "I've tried in the
past to bring other people on, and oftentimes you get in a situation where they don't share your same vision, or it's not their dream. They're not going to have the same urgency or determination as you because it's not something that they're trying to accomplish, it's essentially yours." This self-reliant, confident attitude can be felt in her music, specifically in her song, "Steppin' out." She recently released the second album, Feel the Aura, of her Magnetic Aura Trilogy this summer. Beyond being a musician, she volunteers as a youth mentor for the Hip Hop Transformation Project and as a speaker at Berklee College of Music, Harvard, and Northeastern. 
Favorite Songs: "I Remember," "Steppin' out," and "We Got It On"
Squirrel Flower
Nominated for: Breakthrough Artist of the Year, Album of the Year, Song of the Year, Alt/Indie Artist of the Year, Vocalist of the Year
Ella O'Connor Williams, or Squirrel Flower, graduated from college almost two years ago and has already released two EPs and an album, and she's 
nominated for five awards for the BMAs this year. Her stripped-down, airy sound and her ability to craft emotional, relatable songs has captured  the admiration and attention of so many in the Boston community. Before COVID, she signed to Polyvinyl and had plans to tour all over the U.S. However, she did perform virtually for WERS this summer, giving fans a mini-concert after a season of empty venues.
Favorite Songs: "Streetlight Blues," "Headlights," and "Red Shoulder"
Will Dailey
Nominated for: Singer-Songwriter of the Year, Live Music Stream of the Year
An artist who has shared the stage with famous names such as Dave Matthews and Eddie Vedder, Will Daily is a talented musician who's only rising in the ranks. Each of his songs has a unique feel to it, using pure instrumentation and his soaring voice to create resonant alternative music. His "vintage" sound - as critics have described it - has landed him on the Billboard Hot Seeker chart and won him multiple Boston Music Awards. His music has been featured in around 50 TV shows and movies, and he's been highlighted in many notable Boston publications. To learn more about Will Dailey, check out WERS's virtual interview with Dailey.
Favorite Songs: "Sprawl II," "Higher Education," and "Sunken Ship"
Marcela Cruz
Nominated for: R&B Artist of the Year
After attending University of New Hampshire to study psychology, this three time BMA-nominated artist decided she wanted to go into music instead. Though she still has a nine-to-five job at a global ad agency, music remains Marcela Cruz's main dream, 
and she pours all of her emotion into her work, as evidenced by her songs. Her R&B/pop sound has such a precise, refined quality to it, revealing her solid creative vision. This summer, she performed her song "Magic" and a cover of Alicia Keys's "Good Job" as part of WERS's at-home concert series.
Favorite Songs: "Misbehave," "Magic," and "Stuck on You"
Tall Heights
Nominated for: Folk Artist of the Year
Coming from households with two vastly different approaches to music, the duo Tall Heights utilizes their differences to make amazing music. While Paul Wright is classically trained in the cello, Tim Harrington grew up without music as a major presence in his upbringing. Their music has a great down-to-earth, DIY feeling, revealing how much Wright and Harrington give to their art. They've taken their music outside their home state of Massachusetts, touring with notable acts such as Ben Folds and Colony House. Back in March, Tall Heights gifted WERS with a virtual concert with Upper Structure (a local a capella group), bringing listeners a bit of musical joy in the live concert-less era.
Favorite Songs: "Spirit Cold," "Not Like It Was," and "River Wider"
Ripe
Nominated for: Pop Artist of the Year
Last year, WERS Staff Writer Megan Doherty attended a Ripe concert and stated something so true of this seven-piece group and their fanbase: "Before I even walked into the building, there were friend groups outside trying to finesse their way into getting tickets. 
Many bright blue posters hung on the venue saying the show was sold out, yet they didn't care. They only wanted to get inside. Let me reiterate: People absolutely love this band." This beloved band, formed almost ten years ago at Berklee College of Music, churns out groovy indie-pop music that earned them a nomination for Pop Artist of the Year. They first gained attention for their song "Goon Squad," uploading a video of the track that had 250,000 views within its first 48 hours. Now, they've played at many festivals, headlined shows all across the country, released an album along with countless singles, and maybe they'll be able to add Boston Music Award winners to their list of accomplishments.
Favorite Songs: "Downward," "First Time Feeling," and "Flipside"
Ghost Grl
Nominated for: Vocalist of the Year, Singer-Songwriter of the Year
The word "cinematic" comes to mind when I listen to Ghost Grl. This is instantly supported by her instrumentation; a combination of cooing synths, drums, and reverb-soaked guitar picking. They sound less 
like distinct musical elements and more like a wave of melancholy atmosphere, greater than the sum of its parts. The soundscapes are definitely the most noticeable feature, but Ghost Grl's lyrics are worth merit as well. She includes subtle yet intimate details that draw listeners in and give weight to the hauntingly epic sound she has crafted.
Favorite Songs: "Enough," "Living Room," "Holy"
Coral Moons
Nominated for: Alt/Indie Artist of the Year, Video of the Year
It's hard to wrap my head around the fact that Coral Moons is barely one year old. After releasing their debut EP, Quarter Life Crisis, last year, the band has cemented itself as a mainstay of the Boston indie music scene. Lead
singer Carly Kraft has such a powerful and emotive voice that instantly gets stuck in my head. The retro-tinged rock jams this band puts out are the perfect embodiments of joy, with each song sounding like its own party. Coral Moons has their entire career ahead of them still, and I can't wait to see what they do next.
Favorite Songs: "Fall In Love," "Dive In," "Winnebago"
Gentle Temper
Nominated for: Folk Artist of the Year
The name "Gentle Temper" is very fitting for a band with such range. They can go from fuzz guitars over a booming stomp beat in one song to stripped-down acoustic guitar strumming on the next. Despite this vast scope of energy, singers Ryan
Meier and Marion Earley maintain beautiful chemistry with each other across their 2018 album, Our Warm Red Light. Their New-Age approach to folk music allows for ample experimentation, especially in their wistfully spiritual lyrics.
Favorite Songs: "Ancient Tattoos," "Heavy Handed," "Sunnyside"
Anjimile
Nominated for: Artist of the Year, Breakthrough Artist of the Year, Song of the Year, Alt/Indie Artist of the Year, Folk Artist of the Year, Vocalist of the Year, Singer-Songwriter of the Year
September was an especially great month for Anjimile. The singer/songwriter just released his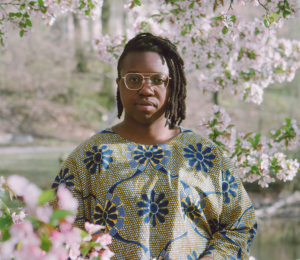 debut album, Giver Taker, and was nominated for a whopping seven BMAs. If you've heard even one of his songs, you understand that this hype is not unwarranted. Anjimile's haunting lyrics display as much confident strength as they do intimate weakness. His use of rhythm throughout Giver Taker is instantly memorable, as is the warmth of his voice and guitar playing. It's a sound that draws on a wealth of influences across pop, indie, and folk music. The stories he tells throughout his songs paint a vivid life story, one of a person who had to fight hard to get to where he is now. That journey is what makes Giver Taker such an enjoyable experience.
Favorite Songs: "Your Tree," "Maker," "Not Another Word"
Brandie Blaze
Nominated for: Breakthrough Artist of the Year
Brandie Blaze is one of those artists who understands that there is beauty in imperfections. Despite bringing a lot of swagger and charisma to her delivery, she isn't afraid to rap about her own weaknesses. She makes these
insecurities her own, flipping them on their head to boost her own confidence. Brandie's fiery flow reminds me of a boxer, keeping up her guard and striking the beat with perfectly timed barbs. There's a lot of hunger in her voice, and it's clear from the start of her late 2019 album, Late Bloomer, that this is an artist to watch. This is only the beginning of Brandie Blaze.
Favorite Songs: "Fraud," "Only 1 Me," "Brandi/Brandie"