During WERS' annual Live Music Week and End of Fiscal Year Fundraiser, matching gifts are the number one way we raise money to keep the station up and running.
Matching gifts are when a donor - or a team of donors - pledges to double donations made to support WERS by other listeners for a given amount of time.
Incredibly effective at encouraging listeners to make their very first donation, matching gifts raise dollars key to the long-term stability of station revenue.
Major donors who pledge to match gifts get to choose how long the window of time is that they double donations as well as the maximum dollar amount they are willing to ultimately give.
Throughout Live Music Week and the duration of the End of Fiscal Year Fundraiser, our radio programs periodically feature matching gifts. The opportunity to have donations to the station doubled will be presented on-air, social media and via email, with thanks to the generosity of a matching gift donor.
For even more details, download our info sheet below:
A look at the program in action
Part of an email that went out to encourage donations to be matched by the Wells family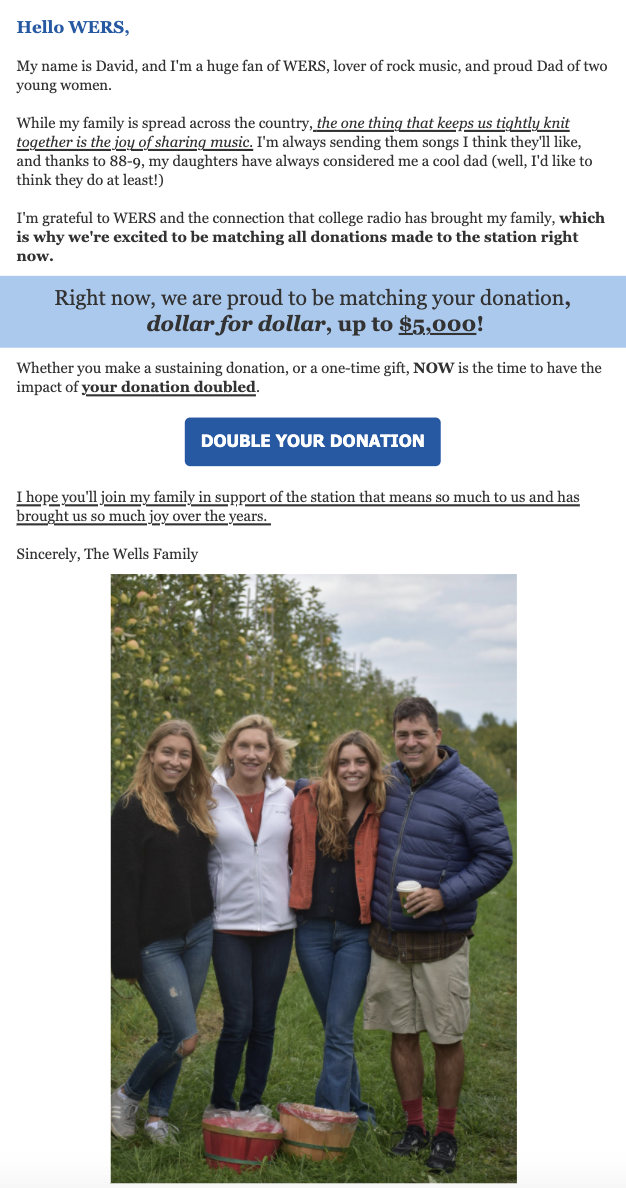 Audio of the Goldsteins' matching gift being presented on-air
Audio of David's matching gift to support Standing Room Only
A Facebook post promoting donations to be matched by an anonymous donor
Hear for yourself why past donors made a matching gift promise
"In the past few months, I've come to realize how truly essential WERS is to me, and that I will continue to do everything I can to support this community institution."
- David from Boston, $5,000 matching gift donor from Live Music Week, Fall 2020
"We consider WERS to be a vital part of our ability to connect daily to the greater-Boston community. The dedicated folks at WERS made it easy to get involved; we now feel we're part of something essential to the area's arts culture."
- Persis and David Levy, from Arlington
"WERS is a gem in Boston's radio scene, with its creative and varied programming, and support of our local music and theater performers and groups. And supporting WERS financially is just as easy as tuning into Standing Room Only or The Secret Spot as we do, or any of their other fine shows. Whatever you can give, it's easy, it's feels good, and it keep 'ERS on the air for all."
- Lee Ridgway & Donald Vaughan, from Boston
 "Even when we're physically apart, I feel incredibly connected to others through the power of music thanks to 88-9. But here's the thing - they can't do it alone." 
- The Wollam Family from Norwell, $3,000 matching gift donors from Live Music Week, Fall 2020
"I'm not an Emerson alum. I'm not a local boy who grew up on WERS. And I've never really felt compelled to financially support any organization, that is, UNTIL I got hooked listening to 88.9 shortly after moving to Boston 8 years ago. It didn't take long for me to hear, appreciate and understand just how passionate the on-air talent and behind-the-scenes staff are about the station, the music and the community. So the first time Live Music Week rolled around for me, and I learned about how the station relies on its listeners to keep the lights on, I knew right then and there that I had to get involved…and I did, and I've never regretted it. Without a doubt, I know that no matter how much I ever contribute in monthly and one-off pledges, I get far, far more out of listening to WERS than I'll ever give.
- Gary from Boston
"I've been so happy to support WERS over the years and I absolutely love being a listener, simply the greatest station. WERS keeps me current on the best of new alternative and keeps me really happy with the best of all the old alternative that I loved 20-30 years ago and still love now."
- Jon, from Hingham
When listeners like you decide to take a leadership role in the mission of WERS, big things can happen.
Matching gifts during Live Music Week make a big impact. How big? We've seen giving increase as much as 189% when a donor has provided a matching gift. 
FREQUENTLY ASKED QUESTIONS
Can I give anonymously? Yes!
Can my company make a matching gift? Sure! In the past, we've welcomed businesses small and large, local and national, to the airwaves to help us fundraise for the station.
Can I make my gift over time? Absolutely. Pledges can be broken into smaller monthly payments so long as they're paid before the end of the fiscal year (June 2022).
Can I donate part of a gift? You bet! Contributions from $500 to $2,000 can be made towards a pooled matching gift.
READY TO TAKE THE NEXT STEP? GIVING IS EASY!
(2) $5,000 individual or pooled gifts for Live Music Week
(1) $5,000 individual or pooled gift for our End of Fiscal Year Fundraiser
(2) $3,000 individual or pooled gifts for Live Music Week
(1) $3,000 individual or pooled gift for our End of Fiscal Year Fundraiser
(1) $10,000 pooled gift for Live Music Week
(1) $5,000 individual or pooled gift for our End of Fiscal Year Fundraiser
Progress to our overall goal of $36,000: