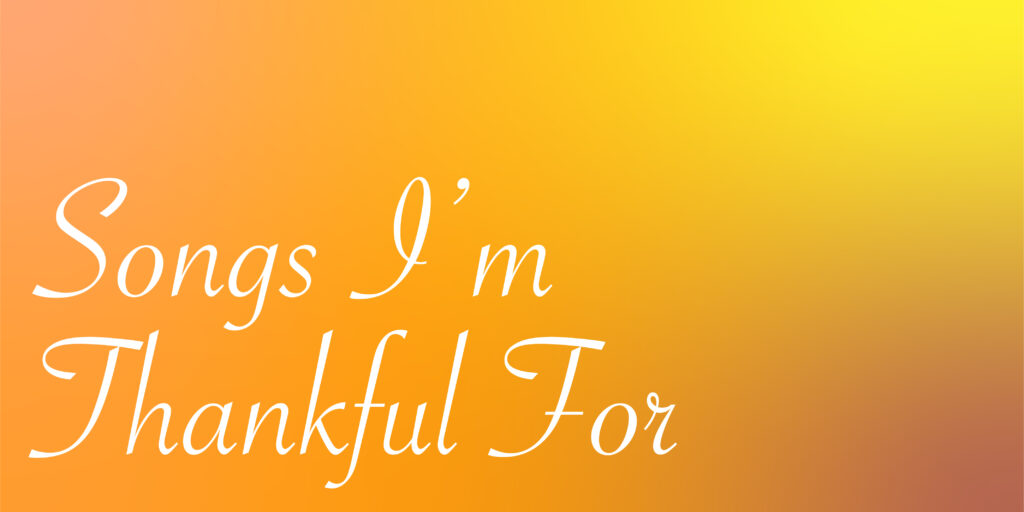 By Sonali Anand
Here at WERS, we have a lot to be thankful for. We have an amazing staff, engaged listeners, not to mention incredible music. This is why, with Thanksgiving just around the corner, I felt it would only be fit to have a playlist of songs that I am thankful for. So, when you are not stuffing your face with mashed potatoes and gravy, listen to some of these songs. I am sure you will find yourself thankful for them as well.
"Anna Sun" by Walk the Moon 
This song is an absolute banger. You can always find me and my roommates having a dance party to it in the middle of the living room. This song reminds me of midnight drives to the beach, throwing graduation caps up in the air, and the realization and understanding that comes with leaving home for the first time. If any song could save me, it would be Anna Sun. Thank you Walk the Moon.
"Morning Crawls Towards You, and I" by Good Luck Finding Iris
Good Luck Finding Iris manages to make a song that conjures up so much emotion and nostalgia. Its rhythms are hypnotizing, and cause me to travel back in time to all of the last goodbyes I've shared with people who I never thought would ever leave my life. I'm thankful that a song that so perfectly fits the feeling of departure exists.
"Supercut" by Lorde
Now, to make it clear, I am thankful for all of Ella Yelich-O'Connor's songs. However, there is no denying the power of Supercut. If Lorde had a song for each stage of grief, this one would be 'acceptance.' How she managed to make an upbeat breakup song that you can dance and cry to? I'm not sure. But hey, I'm not complaining.
"Fluorescent Adolescent" by Arctic Monkeys
This song is synonymous with impromptu fashion shows in your childhood bedroom with your best friends while you wait for the pizza your mom ordered. In fact, this is the first song in my 'Coming of Age' playlist. I'm thankful for the funky beat and the eccentric lyrics that remind me of neon skies and collective heartbeats.
"Keep the Car Running" by Arcade Fire
Confession time: I never went to sleepaway camp. Another confession: I was always incredibly jealous of the kids that did. As a kid, I thought that there was nothing more freeing than being away from home. This song reminds me of the craving for something more than my home. Now I listen to this and become thankful for late night drives into the city and endless days on the beach.
"Something Good Can Work" by Two Door Cinema Club
Whenever I face rejection of any kind, I play this song. It reminds me of a slap in the face, the kind your friend gives you when they tell you to snap it out. My sister would always play this song when we drove to school, so I have been accustomed to starting off the day with it. I am thankful for the motivation it provided, especially the days when I contemplated dropping out and moving to a farm in the middle of Iowa.
"Love" by The Quins
When I think of songs that I am thankful for, this song definitely makes the list. It tells the story of dysfunctional love, but it is in no way about heartache. To me, I am most thankful for the guitar and vocals in this song. The combination of the two makes me want to dance on top of a table. Think I'm exaggerating? Listen to it and you'll agree.
"A World Alone" by Lorde
The cure for a bad day. I'm probably most thankful for this song because it focuses on the feeling of loneliness and growing up. We are born alone, and we will die alone. Lorde makes the poignant observation that everyone in the world is alone, which is ironic because we are constantly surrounded by others. I am thankful for this song during nights when I contemplate my relationships, as well as what I am doing with my life. I have been made a lot less lonely and increasingly more self-aware because of this song.