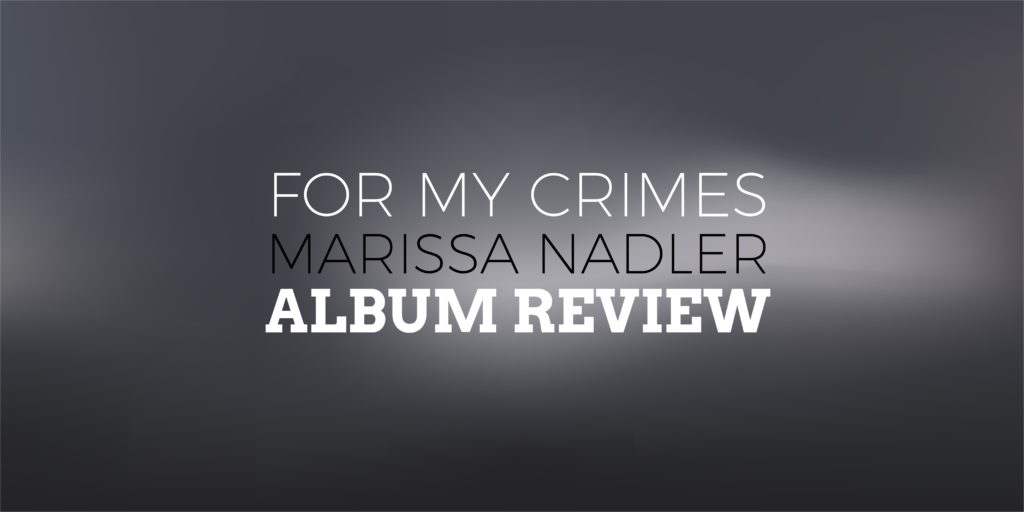 by Simon Luedtke
The Massachusetts native and singer-songwriter Marissa Nadler has just released her latest full-length album For My Crimes. The project bears her signature skeletal instrumentation and angsty ballad song format, providing plenty to unpack. This is the first Nadler piece we have heard since her 2016 double-album release Strangers and Bury Your Name. Riding off her ever-heightening critical reception, she has continued to expand her musical explorations. For My Crimes contains some of the artist's most ambitious lyrical content to date. The vocals largely act as an emotional tether, guiding the listener through the album's bleak and dismal landscape. At a brief 34 minutes, this project is a tight, effective, and deeply personal message from Marissa Nadler.
A Gothic Artist
Marissa Nadler is one of the foremost artists exploring the Gothic Americana genre. Her music on this project truly embodies this area of music. There is a distinctly western twang to the earlier tracks, emphasized by words like 'lover' and 'morning' from the singer. Many of the ballads sprinkled throughout sound like they could be played over images of dilapidated saloons and covered wagons. In the third track, "Are You Really Gonna Move to the South?" this audial feel comes to a peak. The slow guitar resembles a Chet Atkins riff and the soft supporting vocals evoke an Ennio Morricone piece. Even more evocative are the dense, layered strings that hang in the background. Right from the beginning, Nadler utilizes her extensive musical background in folk and traditional pop to reel the listener to her morose tales.
Through and Through
It is impossible to assess any Marissa Nadler piece like For My Crimes without addressing the artists' aesthetic. In true gothic fashion, Nadler has gained notoriety for the gloomy images attached to her albums. With the exception of her self-titled 2011 album, every entry in her discography features muted colors, often completely monotone. Additionally, fungi, spiders, eyes and gothic era design are common features upon each cover. Her album Songs III - Birds on the Water (2007) features a sketched prickly wreath and what appears to be an etched robin or mockingbird. That album lifted Nadler into the acclaim she holds today and likely informed her look for years to come. In her later works, Nadler herself took to the cover, posing in a statuesque demeanor before equally stark backgrounds.
For My Crimes, however, is a departure from this exposure. The album cover is a detailed abstract oil painting, crisscrossed with black, white, and gray strokes. Though no concrete image is immediately clear, the work resembles an overcast sky, looming over a mountain range.
Breaking Ground
What is perhaps most exciting about For My Crimes is its unique placement in Nadler's career. She is an established musician now, having worked with the likes of Angel Olsen, Mary Lattimore and Angel Van Olsen just last year. Olsen even lends her vocals to a few tracks on this project. Her sound, to her fans, is familiar, and regardless of its angsty nature, presents a degree of comfort. However, on her latest, Nadler manages to break every rule she has set in her previous albums.
Though her song lengths have gradually shortened over the years, For My Crimes features the shortest average length by far. Save for the title track, not a single song breaches the four-minute mark. The tactic diverts notably from her older tracks like "Hungry Is the Ghost" off of Strangers. This six-minute piece wanders and wallows in an intense purging musical experience, where the new tracks place emphasis on narrative.
Save the Drums
The album also takes an interesting stance on percussion. The known scarceness of Nadler's instrumental vista is entirely subverted at a single point in the album. For My Crimes does not contain a lick of drums in its entire runtime, except on the track "Blue Vapor." The song is positioned near the end of the albums first half. The percussion swings into motion at the two-minute mark, with one of the most sonically complex moments in recent memory.
Even without the driving beat, Nadler makes the most of her stripped back music. In her song "All Out of Catastrophes" Nadler shares her token dread and apprehension by way of personal vulnerability. In the following track, "Dream Dream Big in the Sky" she again subverts her own style. The latter song still possesses a degree of vulnerability, but there is much more at play here. The lyrics are directed outward, preaching hope, morality and personal fulfillment. It seems Marissa Nadler has turned a new page with For My Crimes. She certainly has not strayed far from her ghostly mystique but has expanded her experimentation with new themes and sounds.