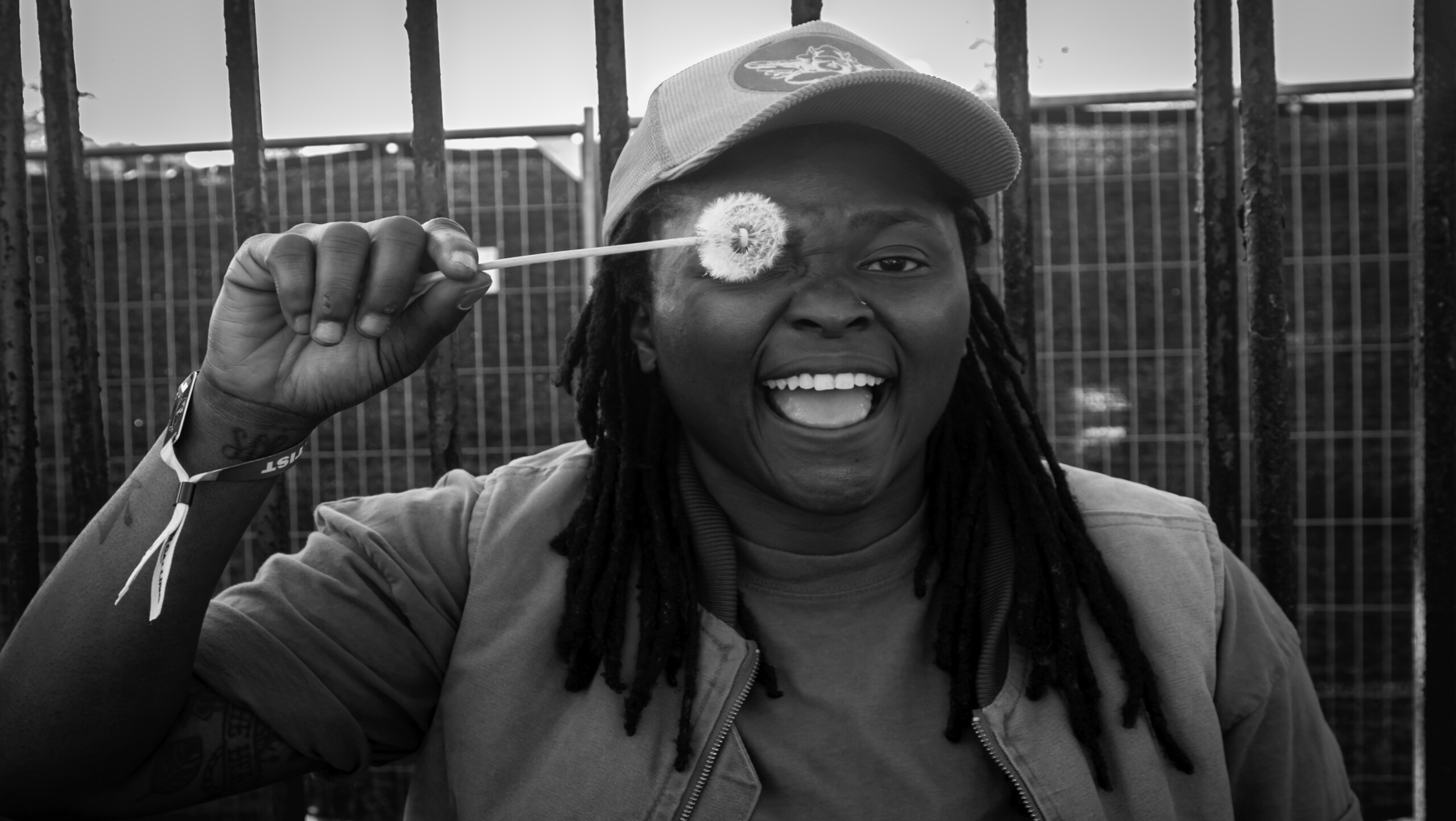 After an amazing Saturday performance at Boston Calling, our Staff Writer, Emma Kunz had the opportunity to chat with singer-songwriter Joy Oladokun. Joy's kindness, empathy, and genuine love for others were palpable from the beginning of this unforgettable interview experience. Not only does the Nashville-based singer-songwriter radiate positivity, but she also offers a refreshing outlook on finding support from different communities. 
HOW ARE YOU FEELING ABOUT BOSTON CALLING? HAVE YOU MET ANY INTERESTING FOLKS HERE YET?
Joy Oladokun: It's been great! Being at Boston Calling has been really fun. I played music, I had a good time, and I hope everybody else did. I feel like that's the goal for me: to have as much fun as possible and also try to give the crowd that same experience. I've met some interesting people—fans and friends. A lot of people I love are playing at this festival, so I'm hanging around this weekend, and yeah, life is good.
YOU RECENTLY RELEASED YOUR ALBUM, PROOF OF LIFE. WHAT IS YOUR FAVORITE SONG TO PERFORM LIVE, AND DID YOU PERFORM THAT SONG TODAY? 
JO: Honestly, a lot of them are getting really fun for me to perform. I like playing "Keeping the Light On," that's why we open with it. It's sort of like a chill, vibey opener, and for me, the lyrics feel like an introduction. At a festival or an opening gig (I'm on tour with Noah Kahan right now), I'm always trying to introduce myself as simply as possible. That way people are able to get comfortable and get ready to witness what I do for work.
HOW DOES COMMUNITY PLAY A ROLE IN YOUR ARTISTIC DEVELOPMENT, AND HOW HAS COMMUNITY IMPACTED THE DEVELOPMENT OF YOUR MOST RECENT ALBUM?
JO: Community was everything in the development of my most recent album. For me, as someone who struggles with imposter syndrome but is also signed to a major label, there was a part of me that didn't want to ask people to feature on the record. I sort of dug in and tried to make the best song that I could, and then asked the people that influence me every day to be the best version of myself as an artist to sing on it. And also, people whose music I just love. Manchester Orchestra is on the record, Andy Hall has become a good friend of mine, and Matt Quinn (of Mt. Joy) is becoming a great friend of mine. I think Noah Kahan is one of my favorite people I've met in my life at this point. And, yeah, Maxo Kream was this weird connection where we're just Nigerian American friends. 
To me, collaborating and creating and community are ways to not only foster actual relationships that you have with actual people that make art for work, but also are ways for me to say, "Here are people I respect and love, and whose music I listen to when I'm sad or happy or bored or whatever," and that's everything. It's a way for me to say "This is what I love, and these are the people I love doing it with." 
REGARDING YOUR COLLABORATION WITH MT. JOY, SINCE THE BAND IS ALSO PERFORMING AT BOSTON CALLING, HOW WAS THE EXPERIENCE WORKING ON "FRIENDS" WITH HIM, AND COULD YOU GIVE A LITTLE INSIGHT INTO THAT COLLABORATIVE PROCESS? 
JO: Matt is the sweetest heart with the sweetest voice and best energy. It just worked out that we sort of reached out to the whole band and said, "Would you be down to maybe sing something Matt, and we could collaborate in the future and make something that reflects both of our weird styles and ways of thinking about lyrics?" Not only is he kind, but he's also talented, and the sweetness, care, and beauty he brought to the song makes it one of my favorite songs on the record to listen to. I scrub forward to the part where it's us harmonizing because Matt's voice to me is so beautiful, and I think it's just representative of the person I've come to know, which is cool.
WHEN YOU SAY "WEIRD STYLE," FOR FANS OR LISTENERS OF THE STATION THAT MAY JUST BE BEGINNING TO LISTEN TO YOUR WORK, HOW WOULD YOU DESCRIBE YOUR STYLE IN A COUPLE OF DIFFERENT WORDS?
JO: Honestly, the words I've been using lately are singer-songwriter, you know? I sing 'em, I write 'em, I songwrite 'em. For me, I grew up listening to a lot of folk music, and so I came up in a lot of folk and Americana spaces. I live in Nashville, and before that, I grew up in the church so it's just a lot of guitars, harmonies, and storytelling. I think when you strip a lot of the stuff away from my music, it seems like folk singer-songwriter. And to me, that's so cool. Going back to the community thing, I'm inspired by so many different genres. It's like, here's the center or the bed, so how do I build something cool around it? 
WE HEARD TODAY THAT YOU ARE INSPIRED BY TRACY CHAPMAN, AND YOU'VE MENTIONED THAT IN A FEW INTERVIEWS. ARE THERE OTHER ARTISTS, OR FOLKS IN YOUR LIFE, THAT YOU'VE BEEN DRAWING INSPIRATION FROM RECENTLY? 
JO: Yeah! Bob Marley I've been thinking about a lot, and Nina Simone. I think about Hayley Williams from Paramore a lot. I've seen Paramore so many times in my life, and I plan to add to the scoreboard this weekend. They really inspired me as a band, and her as a vocalist and a writer. 
I feel inspired by my parents, interestingly enough. When I was packing up my road cases, I was thinking of my mom who works really hard and has stretched herself to provide for us all of this time. It's cool now to be in an emotional position, where I can put my pedal board away in the sun so that I can take my mom fishing in Alaska this summer. It's a cool thing to put into perspective. It's cool to be inspired by other artists, but I think my real-life relationships inspire me a lot too.
SO, YOU RELEASED YOUR FIRST ALBUM IN 2016. HOW HAS YOUR SINGER-SONGWRITER JOURNEY ALLOWED YOUR RELATIONSHIPS WITH THOSE AROUND YOU TO EVOLVE OVER THE COURSE OF YOUR JOURNEY SO FAR?
JO: I feel that music is therapeutic for me, and that's why I make it. And so a lot of my songs deal with some aspect of a relationship, or they're conversational, because even though I'm creating for myself, at some point I sort of expect it to be in conversation with someone else. And, I think for me, I just want to be a better partner, friend, person, and human, and be able to relate in that moment to that matter. It's cool to be able to play the main stage of Boston Calling, but it feels good when I can take care of my relationship with my parents, or my friends. Music inspires me to keep loving the people around me and ask for love and help when I need it. 
IN YOUR SONG "PRIDE," YOU SING "THOSE WHO TRY TO CUT YOU DOWN ARE SCARED OF THEIR OWN TRUTH. IT'S EASY TO FORGET THEY'RE PEOPLE JUST LIKE YOU." BRANCHING OFF OF THE LAST QUESTION, HOW HAVE THE WAYS THAT YOU VIEW COMPASSION AND EMPATHY CHANGED THROUGHOUT YOUR LIFE?
JO: I sometimes refer to myself as a bridge builder, and I think that for me music is the best way to extend a hand to someone like you or unlike you, and enjoy sounds, feel feelings, and dance a little bit, and clap. I think that's really cool and communal. And I've learned that I can't always control the type of people that find my music. I am a Black Queer person, and that's just true, but sometimes people who maybe wouldn't treat me nice if we met face to face find my record, because I have a song with Chris Stapleton, or something like that. And then, you know, I say something on Twitter that they don't like, and all of a sudden I'm in a fight that I didn't know I was fighting. 
I think for me, music is a way to say "I have things that I believe in and that I stand for in my personal life, with my platform, as myself. I'm never going to let you standing for the opposite make me wish ill on you," and that's not always easy. I do think I'm trying to make myself as humane as possible even down to the anger and the rage and the fears that I have as a person inhabiting this body, and I'm trying to communicate it so that people who think differently think twice if that makes sense. 
It's not my job always to police who finds my work, although I do police who I work with, that's a real big thing of mine. I do feel like it's important for me to give an honest representation of who I am, and what I believe in, in hopes that it will open a conversation for that person, or for me with people who are different from them. And I think that's how actual progress is made. And that makes me sound like a moderate politician, which I am not (laughs), but that's sort of the vibe. 
WHAT'S NEXT FOR YOU?
JO: I'm on the road with Noah Kahan this summer, and then I'm going on a headline tour which will be fun–I like playing music. I'm a homebody, but I've found ways to make the road home, so I'm really excited to play music with people I really love, which is my band. I'm writing more music and am trying to have fun and enjoy this weird ride that I'm on. I am actually going fishing with my mom in Alaska, that was true, so that'll happen in a couple of months.