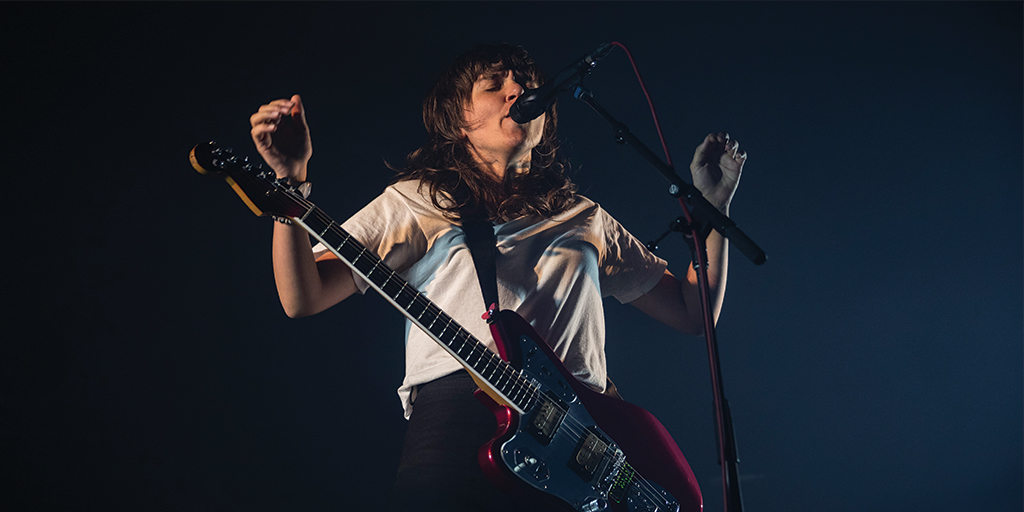 Photo Courtesy of Kane Hibberd
By Andrea Williams
While waiting in line to get into the Courtney Barnett show at the House of Blues in Boston, I was trying to see if one demographic dominated the audience. I soon gave up when I noticed people of all ages and genders waiting in line. As I walked into the packed venue, I saw older couples who were on their date night and college students who needed to take a break on their school work. They were all chatting and waiting for the show to start.
While the audience was waiting, conversations were flowing from everyone. One group was trying to rank the best venue in Boston (they concluded it was the Sinclair in Cambridge) while another was trying to figure out where the best spot to watch a show was (they determined it was on the middle about 15 feet back).
Waxahatchee soon took the stage
Singer-Songwriter Katie Crutchfield, better known as Waxahatchee, opened the show with just her acoustic guitar. She started with a cover of "Fruits of My Labor" from Lucinda Williams. The audience was captivated by her melodic voice and guitar that was commanding the entire stage.
On Waxahatchee's fourth song of the set, she brought out guitarist Katie Harkin. Harkin is a musician from Leeds. Their voices and guitar techniques blended perfectly as they played together for a total of four songs. Right before the introduction of their seventh song, "Sparks Fly" Waxahatchee admitted she had no idea the World Series was going on -- causing the audience to erupt in support of the Boston Red Sox.
Waxahatchee ended her 45-minute set with just her and her guitar once again. To end she performed a song from her third album released in 2015 titled "La Loose."
Now it was time for Courtney Barnett
As soon as Courtney Barnett went on stage, the venue filled with excitement as fans saw the singer they were all there for. Followed by Courtney Barnett was her band -- consisting of Dave Mundie on drums, Bones on bass, and Katie Harkin came back out on keys. Starting off the show Courtney Barnett sang her song "Hopefulessness." This song is from her most recent record and tour name Tell Me How You Really Feel.
Throughout the set, Courtney rarely stopped to talk to the fans in the audience. Instead, she went from song to song -- giving her an opportunity to perform as many songs as she could in the 90 minute set. As someone who is far from all-knowing about Courtney Barnett, it was refreshing to see all her fans enjoying her mixed repertoire and dancing around without a care in the world.
Towards the end of her set, she brought out Waxahatchee once again to duet. Together they sang a cover of "Houses" by Elyse Weinberg. Waxahatchee and Courtney Barnett are two completely different sounds. Yet, when they sang together, their voices blended so well. It wasn't just their voices either -- with Courtney Barnett's electric guitar and Waxahatchee's acoustic, the sound of two different styles meshed in a way I didn't think was possible. To end her set, Courtney Barnett sang "History Eraser" --an obvious crowd favorite seeing as when she played the first note the entire crowd erupted and sang along.
The Show Continues For the Encore
When Courtney Barnett left the stage, no one in the audience moved. Minutes after she left she came back with no band to back her and performed a cover of "Everything is Free" by Gillian Welch.
Ending with the words "it's been a special night," she started her last song of the night -- "Pedestrian at Best." While it's pretty much impossible to box Courtney Barnett in one style of music and even more challenging to pick one demographic of her fan base, it was clear that everyone on the stage and in the crowd had an amazing time.