There could not have been a more perfect end to this year's Boston Calling than what we saw on day three. A combination of up and coming acts like Frightened Rabbit and PUP combined with timeless acts like Tool and Weezer made Sunday a perfect mix of new music discovery and classic appreciation.
Our day started early with a performance from Pup, a punk rock band from Toronto. The young group didn't let the overcast weather rain on their Boston Calling experience as they energized fans with shredding guitars and up-tempo drums and bass. Many fans spent as much time crowd surfing during Pup's performance than they did with their feet on the ground.
Up next we saw Frightened Rabbit. The Scottish band brought a compelling mix of synth pop and foot tapping folk for a set that was equal parts inspiring and dance-inducing. Just weeks after the one year anniversary of their fifth album Painting Of A Panic Attack, Frightened Rabbit drew in hundreds of fans throughout their set with the warm and uplifting vibrations of their music that could be felt across the festival grounds.
Later in the day, we were treated to one of the most anticipated acts of the entire weekend, Cage The Elephant. The Kentucky-based band has had the reputation for over a decade as some of the most impressive high-energy performers in the world, and they did not disappoint. Vocalist Matthew Shultz owned the stage, dancing and thrashing around like a punk rock Mick Jagger. Cage The Elephant performed WERS favorites like "Cold Cold Cold' or "In One Ear," and fed off the massive energy from the crowd to give fans one of the wildest performances Boston Calling has ever seen.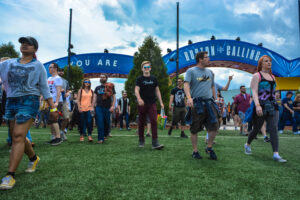 As the sun started to set over the festival, it was time for a group of true legends to perform. Weezer burst onto the stage in an explosion of distorted guitars and captivating lights. The band's video backdrop rotated between exciting red and yellow lights synched with the music, and a collection of classic cartoon styled animation. Weezer showed everyone in attendance how two and a half decades together has made them one of the most celebrated names in modern rock music. Impressively, every song seemed to be a hit. For almost the entirety of their 90 minute long set, the band played smash song after smash song like "Hash Pipe", "Sweater Song" and "My Name Is Jonas." In the interest of keeping the party alive, the L.A. rockers even covered Outkast's "Hey Ya!". Weezer closed out their set with "Buddy Holly", a song that helped first put them on the map in 1994 and now was being loved by tens of thousands of fans more than 20 years later.
Weezer was followed by another prolific Los Angeles band that helped define the musical landscape of the 1990s. Tool closed the weekend of music with a powerful and hard-hitting set of their trademarked Nu-Metal sound. Just as impressive as the power behind Tool's sound was their spectacular light show. Unsettling videos of hypnotic patterns and faceless creatures added to the beautifully nightmarish experience that was Tool's return to Boston.
Boston Calling has changed so much since we first packed into City Hall Plaza in 2013. This year the festival grew into an even more inspiring and exciting event that drew fans, bands, and new friends from around the world together to appreciate a collection of music like no other. We are already counting down the days until the next Boston Calling! By Ross Ketschke