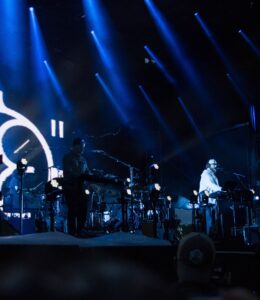 In the weeks leading up to Boston Calling, one group was consistently on our minds as one of the most anticipated acts of the festival. Wisconsin's Bon Iver was set to headline the Red Stage on the first day of the festival, and thousands of festival-goers crowded into the Harvard Athletic Complex to witness what was going to be a jaw-dropping show.
Less than a year ago, Bon Iver returned from a five-year hiatus in spectacular fashion, releasing one of the most memorable albums of 2016 22, A Million. The new record was a change of pace for the band, featuring a unique style of production and songwriting that sounds like it would be difficult to execute live. Impressively, Bon Iver's live performance of their new material was even more captivating than the album. Lead vocalist Jeremy Vernon had his hands full during the performance, switching effortlessly between guitar and piano, all while adjusting a complex series of effects on his vocals to recreate the signature sound that defined 22, A Million.
To further achieve the new sound,
Bon Iver has brought in the help of more live instruments. Saxophonists, synth players, and dueling percussionists joined the band at Boston Calling, combining to create an impressive wall of sound that could be felt throughout the capacity crowd on Friday night. A particularly special moment of the festival came towards the end of Bon Iver's performance. Not long after the sun set over the festival. Vernon took a break from the high production songs, and picked up his acoustic guitar to play their 2007 breakthrough song, "Skinny Love." As the crowd swayed along, a light rain began to fall, poetically mirroring the quiet and somber tone of the moment. The scene was almost too perfect and felt like a blissfully dramatic ending to a Hollywood movie. 
The rain ended just as Bon Iver finished their set, closing out what was an incredible first day of Boston Calling.
By Ross A. Ketschke
Photography by Bethany Owens
More Boston Calling Coverage:
https://wers.org/the-1975s-return-to-boston-calling/