By: Alex LaRosa and Erin Jean Hussey
Saturday night, the Middle East Downstairs was treated to a captivating taste of Iceland's music scene, thanks to the Reykjavík Calling music festival. Sponsored by Iceland Naturally and WERS, the festival featured two bands from Iceland and one from Boston, in a melting pot of culture and creativity.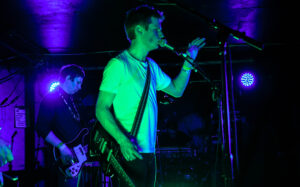 Introduced by WERS morning host George Knight, the first band, Fufanu, took the stage at 9 o'clock. Fufanu's sound was decidedly massive, and from their first song to the last, they walked the line between dark and danceable. Drummer Erling Bang pounded his simplistic kit to drive force for the music, which felt like a fusion of mid-2000's post-punk and some kind of brooding surf-rock.
Fufanu definitely represented an urban, intense part of Iceland, and they brought it to Boston with full volume and force.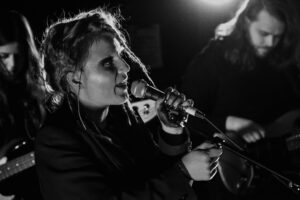 At 10, the next act, Mammút took the stage. If Fufanu was the urban side of Iceland, Mammút represented the island's beautiful and ethereal side. Piercing guitar lines and singer Katrína Kata Mogensen's voice rose above the bass to create an atmosphere with room to breathe.
After having experienced two different flavors of Icelandic music, the festival concluded with a local offering in the form of Boston-based band The Dirty Dottys.
The Dottys were dynamic like Mammút and driven like Fufanu, but all the while, they kept their own blend of swing and style. Featuring upright bass, three singers, a glittery drumkit, and bright horn lines, the only thing brighter than their sound was their sequined band uniforms. Singer Julie DiOrio's voice paid homage to 1950s Motown stars, all with a classic rock-n-roll attitude,  the band proved one more that they were worthy recipients of the New England Music Award for Pop Act of the Year.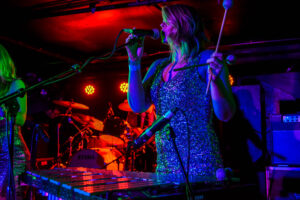 The band had fun with a few covers, including the theme to "The Fresh Prince of Bel-Air" and the legendary Temptations song "Just My Imagination." Even the police officer in the back of the room, sent to enforce the curfew on live concerts, had a smile on his face by the time the music wrapped up just past midnight.
From the energetic and intense Fufanu to the piercing, emotionally accessible Mammút to the lively flair of the Dirty Dotties, three great acts took the stage in one night and each band rocked the Middle East in their own way. It's safe to say that experiencing this little taste of Iceland left a strong desire to taste a little more.