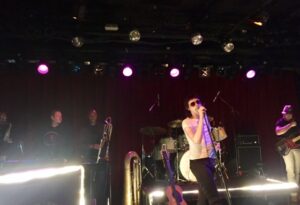 By Tim Jordan
If you were in attendance Saturday at the Paradise Rock Club, there's a possibility  your neck is still sore and your ears are still ringing. After Foxygen's performance there was not a still body in the crowd. The Australian indie group headlined the latest WERS discovery show last weekend. Self-described as a Mazzy Star inspired jam band, the group expressed a wide range of intensities, featuring frequent tempo changes and build-ups. Their guitar-and-drums indie feel got the crowd moving in anticipation of the following act.
The California-based rock duo, Foxygen, draws inspiration from artists ranging from Led Zeppelin to Lou Reed. And although the group is centered around lead singer, Sam France and multi-instrumentalist, Jonathan Rado, Foxygen performed with 7 musicians on stage. A three-man horn section with saxophones, trumpets, and at one point a tuba, was accompanied by a percussionist and back-up vocalist, Jackie Cohen.
The group was born when Rado and France met in a California middle school and bonded over music. Following in the footsteps of a shared idol, Anton Newcomb, they learned as many instruments as they could, and began writing songs. And since then they've released four full length albums, their most recent being January's Hang. Rado and France surprised Boston with their decision to tour for Hang, because they had announced their previous tour as the final go-around. But judging by the sold-out Paradise turn out, they still have a fan base that wants to see them jam.
Sam France, who has sported various personas throughout his career, showed up Saturday night donning a bangs-and-mullet hairstyle and rose-colored glasses. While France's presence was overwhelming, multi-instrumentalist, Rado stayed hidden behind the keys. The first song of the night was their hit, "San Francisco," from their 2013 sophomore album; We Are the 21st Century Ambassadors of Peace and Magic. The track begins with playful bells and drums, and a simple spoken melody that provokes memories of The Velvet Underground's "Sunday Morning." Moving on from this opener, there was a familiar rush to the stage as the more danceable (and recognized), "Shuggie" lick began. An enthused crowd kept up with the Foxygen's high energy throughout the night as each song seemed to invoke a bigger response from the crowd.
The climax of the night was four songs into their five-song encore. "How Can You Really" from 2014's …And Star Power followed by "No Destruction"prompted crowd members to be lifted onto the arms of strangers and passed around the club like worshiped celebrities.
This was the goodbye that Boston needed from a beloved band. Whether Foxygen follows through with their 'last tour' claim, or decide to come back for one more romp, it seems that Boston will greet them with open arms, a welcome stage, and shoes to dance in.