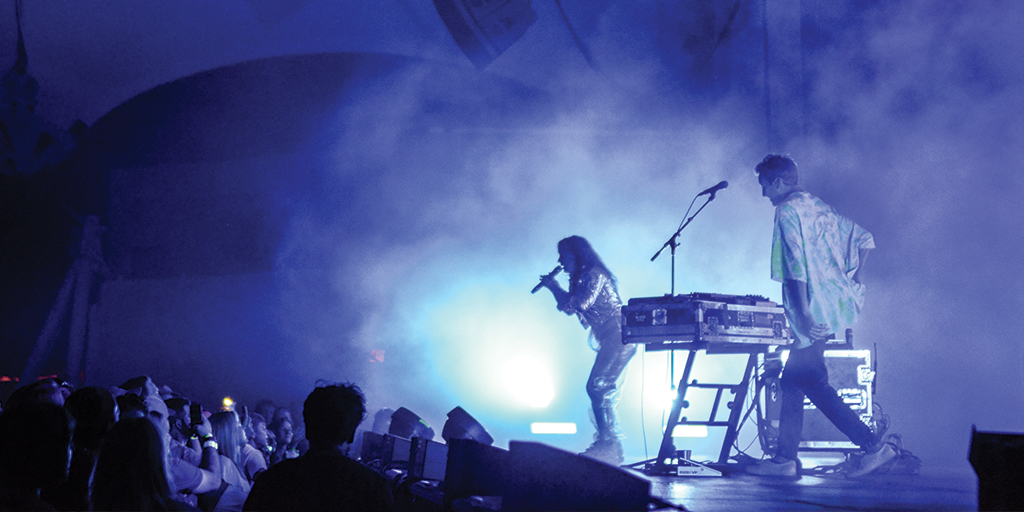 Photography by Jacob Cutler
Written By Jacob Cutler
The five members of Local Natives emerged onto the stage
at Blue Hills Bank Pavilion last night and instantly began to play "Past Lives" off of their album of the same name. The highs and lows of this dynamic track set the tone for the rest of their set. The crowd was able to relax and enjoy themselves while still being able to dance around to the groove. While Local Natives have not performed in Boston for some time, they felt right at home on stage. Their beautiful harmonies and blaring guitar riffs kept the crowd captivated from start to finish.
Their set consisted of plenty of songs from their newest album, but they managed to sprinkle in some classics and deeper cuts from their earlier records, such as "You and I" from Hummingbird and songs from Gorilla Manor. At one point in the show, Taylor Rice, one of the singers and guitarists of the group, began to play "Ceilings." He explained to the crowd that he originally wrote it as a break up song but as time has gone on it has adopted a new meaning.
As the sun was starting to set, Local Natives had one song left before they had to hand the stage over.
They thanked the crowd for choosing to see them and not Radiohead, who were playing that night as well at TD Garden. After they rocked to their hearts' content, the band took a bow and vacated the stage.
By the time that the Indie Pop duo that is Sylvan Esso took the stage, the sun had already set and fans were on their feet eagerly awaiting to dance their hearts out. The lights began to shine down on Nick Sanborn's instrument as he walked on and began to play "Sound." As the vocals came in, everyone was looking around trying to find Amelia Meath.
Where was Amelia Meath?
Amelia suddenly emerged from stage left. As the beat picked up, her energy got higher and her dancing got faster.
After playing a couple of songs, the group talked about how they came from North Carolina, but Meath is originally from Cambridge. She was glad to back in her hometown. As she wore clear pants, she stated "it's the only way to be" back home. Thoug, she reminisced about her time growing up in Cambridge, not all of it was positive. She talked about how their song "Hey Mami" is about catcalling. Specifically, it is about how a guy would follow her around Harvard Square when she was 15 and would catcall her.
After a night filled with jumping up and down, singing, and dancing, Sylvan Esso announced their final song "Radio." After the crowd was finished singing the infectious chorus, "Slave to the radio, slave to the radio, slave to the radio," Sylvan Esso left the stage. However, the crowd wasn't satisfied; they chanted and cheered for Sylvan Esso to return to the stage.
They came back after after a minute or so of this, and played two more songs that sent the audience off on a high note.
Jacob is a writer and photographer for WERS and a journalism major at Emerson College. His main passions are music and photography and can always be seen palming his trusty camera.