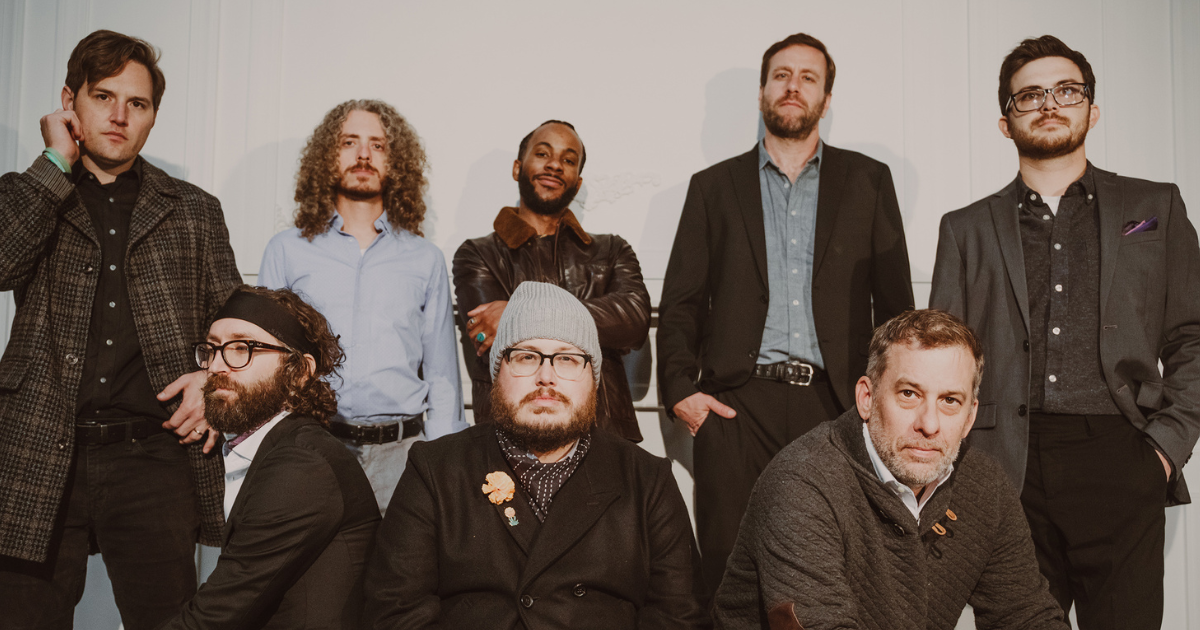 St. Paul & the Broken Bones are just coming off of the release of their most intimate album yet, Angels In Science Fiction, largely inspired by letters frontman Paul Janway wrote to his daughter, Marigold, before her birth. Staff writer Eden Unger sat down with Janeway to trace the evolution of themes of fatherhood in his records, unpack one of the album's stripped down tracks "South Dakota," and talk about how he *almost* fulfilled his childhood dreams of playing football for Alabama.
SO, YOU'RE JUST ABOUT A WEEK AND A HALF INTO THE ANGELS IN SCIENCE FICTION TOUR. I WANTED TO ASK IF THE ALBUM FEELS DIFFERENT NOW THAT YOU'RE PERFORMING IT LIVE, RATHER THAN IN THE STUDIO.
PJ: Yeah, I think that's always kind of the case when you go out and tour on anything, you know, especially for us because we're a live band. And once you play it live, it takes on a different life of its own. It's going to change, the energy changes a lot for some reason. And so, yeah, I would definitely say they've taken on kind of a different life than they have from the studio.
RIGHT, I CAN ONLY IMAGINE. IS THERE ANYTHING ABOUT THE ALBUM, AND THE SONGS, THAT HAS SURPRISED YOU, THREE YEARS OUT FROM ITS INCEPTION?
PJ: I think there's a few tender moments that make for a great part of the show. It's created a little bit of a different texture to the shows than we usually have, which is really nice, and kind of fun. But it's funny, sometimes you think one song's going to be like, "oh, this will do great live," and then it doesn't do as great. And then there's a song you're like, "I don't know how that's going to do," and it ends up doing really well, just from some sort of shifting a little bit… "Wolf In Rabbit Clothes," is one of them that has taken on a new life, and has really been like, "oh okay, this is gonna be a mainstay in the set now," and it's been kind of fun.
THAT'S VERY EXCITING! I UNDERSTAND THAT THIS ALBUM IS SORT OF A DEPARTURE FROM WHAT YOU GUYS HAVE DONE BEFORE. HOW DO YOU THINK IT FITS INTO THE GREATER SAINT PAUL AND THE BROKEN BONES DISCOGRAPHY?
PJ: I think in general this album feels like whatever we were building towards. We've released, what, five albums at this point now? And whatever that was building towards, this is the culmination of that. We've been saying this on tour and stuff, it's the end of an era, or whatever book we were writing. 
It kind of feels like an ending in a lot of ways, strangely, and I can't quite put my finger on it. I know it has a lot to do with who was involved at that point. And I think that it definitely does feel that way, so it's an interesting place to be. I think that's kind of where the record kind of is, it's kind of the most tender, less going on, record that we've had ever.
RIGHT. I LIKE THAT SORT OF THINKING ABOUT IT. SO IF THAT'S AN ENDING THOUGH, THEN WHAT MIGHT BE NEXT? OR IS IT TOO EARLY TO THINK ABOUT THAT?
PJ: I don't know. I think it's definitely not too early, since we recorded those songs in September of 2020. I think for us, it's really kind of hitting a reset button, and I don't know what that looks like just yet. After this tour we'll get into that process a little more and see where we're at. 
I've got stuff that I'm working on, solo stuff. There's other stuff like that that's kind of going around. And then, you know, the band, yeah I think it's definitely a big reset button. I don't know quite what that's going to look like.
SINCE THIS IS, YOU'VE DESCRIBED IT AS YOUR MOST TENDER AND LIGHT ALBUM SO FAR, DO YOU FEEL LIKE PEOPLE HAVE BEEN RECEPTIVE TO IT, OR ARE THEY MORE KIND OF LIKE "PLAY THE HITS?"
PJ: You know that's a good question. I really don't know. I mean the show, the show itself has had a really good response. I don't really know, because in the show we do both. You know, we do that and play the hits. I think the response has been good, but I don't know. 
I feel like if you listen to Half the City, and then you listen to like Alien Coast, or this record, it sounds like a different band. And partially because it is, it's just grown from there. And I don't know, I feel like people have gone on the journey for the most part, and the show, like I said, everybody's response to the songs, the shows, has been really good so far.
I'M GLAD TO HEAR THAT. ON "MARIGOLD," YOU COMFORT YOUR DAUGHTER BEFORE LEAVING FOR A TOUR. HAVE YOU PLAYED ANY OF THE SONGS ON THE ALBUM FOR HER, ESPECIALLY SINCE, AS I UNDERSTAND IT, SHE WAS KIND OF THE INSPIRATION FOR A LOT OF IT?
PJ: Yeah, I mean she heard the demos I feel like… I don't know if I've actually played it for her, I'll be honest. I think my in-laws have. I try not to listen to myself too often unless it's like demos and things like that. So no, I don't think I have.
YEAH, OF COURSE. I UNDERSTAND THIS ALBUM COMES FROM A DEEPLY PERSONAL PLACE. WHAT WAS IT LIKE TAKING THAT VERY INTIMATE MATERIAL AND TRANSFORMING IT INTO AN ALBUM YOU KNEW OTHER PEOPLE WOULD BE HEARING AND LISTENING TO, AND ALSO THAT YOU'D BE PERFORMING LIVE?
PJ: You know, this was one of those records that I wasn't even sure I wanted to put commerce with it, to be honest, because it was very intimate and personal. But when we started writing it, Jesse and a few of the other guys were like, "Hey, we have to release this. Like it's a beautiful record. People need to hear it." You know, that kind of thing, right?
I hope that people find some sort of comfort in it or, you know, it makes them feel something, right? But I don't—in this situation, I'm not sure that I care (laughs), you know what I mean? Because it is such a personal thing for me. And so I am glad that it's out in the world, and it has its place within the Saint Paul, I guess, discography.
ABSOLUTELY. SO, "SOUTH DAKOTA" IS PROBABLY ONE OF THE MOST, THE MORE STRIPPED-DOWN AND INTIMATE SONGS ON THE ALBUM. I'M VERY CURIOUS ABOUT YOUR INSPIRATION BEHIND IT, WHY SOUTH DAKOTA?
PJ: Well, part of it is my wife and I took, like a COVID trip, where we did the ol' Airbnb thing. We drove all the way from Alabama, to South Dakota, all the way to Wyoming. And during that time, my wife was pregnant. And so it made a lot of sense. And then Jesse, our bass player is, his Dad is is half Kootenai, which is a tribe in up in the BC, British Columbia… Jesse would tell me these stories about, growing up on the reservation, or growing up near the reservation. And so there's a there's a line in there that's kind of to him as well, that's inspired by him. I think that because the song is just me and Jesse, it's really just me and Jesse, like Jesse's on guitar, and I'm singing, there's little nods like that. Yeah, it's— that is a very intimate song.
AND I THINK THAT REALLY SHOWS. ONE OF THE CENTRAL THEMES ON YOUR 2018 ALBUM, YOUNG SICK CAMELLIA, WAS YOUR RELATIONSHIP WITH YOUR OWN FATHER AND GRANDFATHER. WERE YOU THINKING ABOUT THESE FAMILIAL RELATIONSHIPS WHEN WRITING AN ALBUM ABOUT YOUR OWN UPCOMING FATHERHOOD?
PJ: I think so. I think there's an element to it. You could probably make the connection [between] those two records for sure. I think it's always going to find its place in what I write, because it has such, on all of us, such an impact on who I am, what I am, kind of identity. And so, yeah, I think there's definitely a connection there for sure, that would be more so than Alien Coast which was, you know, definitely is not connected to them.
I'VE READ THAT THE WRITING AND RECORDING PROCESS FOR THE ALBUM WAS REALLY A SPRINT. YOU GUYS, OVER THE COURSE OF ONE TO TWO MONTHS, WENT IN AND WROTE IT ALL AND RECORDED IT. HOW DID THAT DIFFER FROM YOUR USUAL PROCESS AND HOW DID YOU HAVE TO CHANGE AND ADAPT?
PJ: Well, it's been really interesting. That's probably why it feels like the end of whatever book we were writing, because we wrote so many different ways. We did so differently, I think, with each record. I mean, with Half the City… we just showed up, did it, recorded it in three days and like, "OK." And then people cared, and we're like, "Oh, people care." 
And Sea of Noise, we had a bunch of, we had a decent amount of studio time, but I mean we walked in the studio with Sea of Noise not having songs done. And that was kind of scary because you just, you've got studio time, you don't want to waste anybody's time. 
And then with Young Sick Camellia, we had plenty of time to write. Go out and write with Jack, Jack Splash (who produced the album). But we didn't have a ton of time to record. 
And then with Alien Coast it was basically like, it was not max maximized, but we were doing Dropbox demos, and a lot of it was built through manufactured drum, sound things like that.
And then with Angels In Science Fiction, it was done, basically due to the pandemic, with like an acoustic guitar thing, and then me singing, or a piano thing and me singing. Like even when we recorded it, it was still September of 2020, so we still had to be pretty cautious. We only had two people at a time in the studio, so that's why I think it is a more intimate record, and it's something we hadn't really done because, you know, it's a band of eight people… When you have all eight going, it's a lot of noise. We've kind of done every record completely different. We've done it all sorts of ways. I think with Angels, it was very stripped down, and we have not really done it that way before. And I think we learned little nuggets throughout.
ABSOLUTELY. DO YOU THINK THAT THE FACT THAT, THERE WAS SORT OF THAT TIME CRUNCH, DO YOU THINK THAT TRANSLATED TO THE SONGS SOMEHOW?
PJ: Yes, I think it's not even that there was necessarily a time crunch, I think it's just more, the songs happened so quickly. Because I was feeling so inspired. Just with the circumstances, we were just writing at a pretty rapid pace, so it's like, "OK," I had kind of a deadline because, you know, [my daughter, Marigold] was going to be born at the end of September. So it's like, "Okay, well, we're going to record this thing. I need to record it before the end of September." So we recorded it two weeks before Marigold was born. It didn't quite give it a lot of urgency, but it was written quickly. And that was a really interesting way of doing things.
I IMAGINE. YOU GUYS HAVE OBVIOUSLY THIS SORT OF SOUL SOUND, BUT WERE THERE ANY SPECIFIC MUSICAL INSPIRATIONS FOR THIS ALBUM IN PARTICULAR?
PJ: I was actually, surprisingly enough, listening to a lot of Sparklehorse. Yeah, Sparklehorse was a big, big thing I was listening to at the time that I think had a pretty big influence. Jeff Buckley, things like that. Well, you know, a little bit more—I think that music's soulful, but not in a traditional way, [the way that people think of] when people think of our band, and so it's a little bit more melancholy maybe. Especially Sparklehorse. And I think that that was just a huge influence on what we were doing, and how we were writing at that point. I mean that's the other thing, like we've kind of shown all of our influences, right? I think that was definitely a side that we had not quite shown yet.
RIGHT. ALSO BIG CONGRATULATIONS ON YOUR SINGLE "SATURDAY NIGHT" BEING PUT INTO THE S.E.C COMMERCIAL.
PJ: (Laughs) Yes, yes, that was a fun project we had. I guess it was one of those things [that] they were like, "Hey, does someone want to do this?" And you know they kind of send out a feeler and we're like, "Yeah, we, we, we could be interested." So we went up to Muscle Shoals and tried to make the song. You know, it's a pretty simple song, so we were like, "Alright, how do we kind of make it our own?" And we did the best we could, but yes, that was a—thank you— that was a good thing, I think, I never know, but yeah. I think it went over well, and there's a lot of folks back home that were like, 'Oh, y'all are in an S.E.C commercial!' You know? Like there's a certain group of people within all of our families that were like, "Oh, that's great! That's the big time!" I'm like, "Yeah, I mean. That's good, I guess."
HAVE YOU HAD A CHANCE TO ACTUALLY SEE THE COMMERCIAL?
PJ: I saw it whenever they sent over like the treatment or whatever…I've watched, you know, obviously watched the S.E.C football games, and I haven't seen it. I know it's out there, I know it's being played, I just haven't seen it.
RIGHT, I SAW ON INSTAGRAM YOU SAID "THIS IS THE CLOSEST I WILL EVER BE TO FULFILLING MY CHILDHOOD DREAM OF PLAYING FOOTBALL FOR ALABAMA."
PJ: Oh that is very accurate. That is as close as I'm going to get.
YOU GUYS HAVE SOME REALLY GREAT OPENERS COMING WITH YOU ON THIS TOUR… WHAT DO YOU THINK IS THE MOST DIFFERENT ARTIST THAT YOU GUYS HAVE SHARED A STAGE WITH, EITHER OPENING FOR YOU, OR EVEN AT FESTIVALS OR SOMETHING?
PJ: Oh man. One time in Chattanooga, we had a cover band that did like Queens of the Stone Age and Mastodon stuff. That one was definitely an odd one. They're pretty, you know festivals are pretty smart now. They don't try to like jolt you too much, you know what I mean? So I can't say there's been something that's like, "Ooh, that was different!" But yeah, we've had pretty good luck with that stuff.
YOU GUYS ARE GOING TO BE IN BOSTON LATER THIS WEEK (BEFORE DATE OF PUBLICATION) IF I REMEMBER CORRECTLY.
PJ: Yeah, I think it's not tomorrow. It's the next day.
YEAH, AT THE EMERSON COLONIAL THEATRE. UNFORTUNATELY, I'LL BE OUT OF TOWN, OTHERWISE I'D LOVE TO COME AND SEE YOUR SHOW, BUT I'M SURE THAT'S GOING TO BE REALLY AWESOME.
PJ: Yeah, it's interesting. It's the first time we've ever played there in Boston, so it'll be interesting.