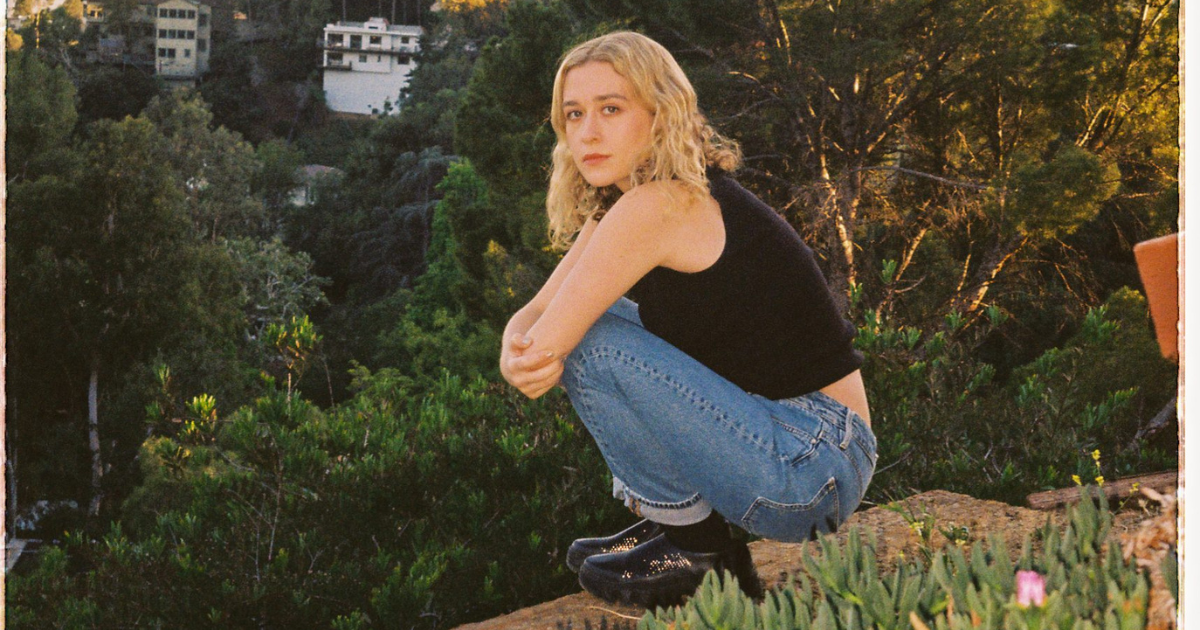 Sabrina Teitelbaum is Blondshell, the indie-rock sensation whose debut self-titled album bursts with potent lyrics and vigorous vocals. In the months following the release of her self-titled album, the LA-based musician toured the U.S. and Europe, opened for MUNA at the Greek Theatre and released a deluxe version of the album with five never-before-heard songs. Now, Teitelbaum is joining living legend Liz Phair on her upcoming Guyville Tour, and the iconic duo will be gracing the stage at Boston's Roadrunner on November 21st. 
Our Music Coordinator, Claire Dunham recently spoke to Teitelbaum about all things Blondshell, including her experience songwriting on tour, singing new deluxe songs, and the books that live on her nightstand. 
FIRST OF ALL, I WANTED TO CONGRATULATE YOU ON THE DELUXE EDITION OF BLONDSHELL. IT'S REALLY AWESOME. I LOVE THE ALBUM AND GETTING TO HEAR THE STRIPPED DOWN VERSIONS OF "KISS CITY" AND "TARMAC" WAS SUPER AWESOME.
Sabrina Teitelbaum: Thanks. I'm glad.
GOING OFF OF THAT, WHAT INSPIRED YOU TO REINTERPRET THOSE TRACKS THAT HAD ALREADY BEEN INCLUDED ON THE ORIGINAL ALBUM?
ST: Well, it's sort of closer to how I wrote them. Like the "Kiss City - home demo" was how it was when I first wrote it that night. That's exactly what it sounded like on my phone. And so I wanted to show people what everything sounded like in the writing process before the production was involved. Because it can be interpreted differently that way. It was like showing the process.
DO YOU HAVE A FAVORITE DELUXE SONG OR ONE THAT YOU'RE EXCITED TO PLAY LIVE?
ST: I like the stripped down "Tarmac" version, but I haven't been playing that one live just because I always play the regular version. Yeah, but that one, I think, is my favorite. I like how it turned out. There was nothing else that felt like that on the album.
I WANT TO CIRCLE BACK TO THE DEBUT ALBUM. YOU TOUCHED ON THIS IN OTHER INTERVIEWS, BUT I WAS WONDERING IF YOU COULD TALK TO ME ABOUT WHAT IT WAS LIKE STARTING THIS NEW PROJECT (BLONDSHELL) AFTER RELEASING MUSIC, UNDER "BAUM." 
ST: It was exciting, because I've worked on that last project for a while and just kind of felt like there was a lot of stuff that I wanted to do differently with the music. And changing my name, it sort of felt overwhelming. It was a big pass to start entirely over. But it was a really big opportunity to do things exactly how I wanted to, so it was mostly exciting, to be honest.
FOR SURE! I KNOW A LOT OF THE SONGS ON YOUR DEBUT ALBUM ARE VERY BRUTALLY HONEST, AND I THINK THAT'S ONE REASON WHY I AM PERSONALLY REALLY DRAWN TO YOUR MUSIC. WAS IT HARD WRITING THAT WAY OR WAS THAT SOMETHING THAT CAME EASY TO YOU?
ST: No, that stuff came naturally. That felt really good, because I think the hard part is when you have to figure what you're saying, like if you have to figure out ways to make it feel more digestible or something. I think that's difficult. But if you're just kind of talking, like how you talk to your friends or whatever, it's not. I don't know, it's like, an easier way to write if that makes sense.
CAN YOU REMEMBER THE FIRST SONG YOU EVER WROTE? HAVE YOU ALWAYS FELT LIKE A SONGWRITER OR DID THE MUSIC COME FIRST FOR YOU?
ST: It kind of came hand in hand. I do remember the first song I ever wrote was when I was very little. I think I was just obsessed with music. There was always music around my house. My parents listened to a lot of music that I really connected to and became very obsessed with, and it was a thing to be like, "Okay, I'm obsessed with these songs, and I know that someone's writing them about their life, so why can't I write songs about my life?" That was a natural progression for me, so they sort of came together. 
SO I WAS READING, AND I SAW THAT DURING THE WRITING PROCESS OF BLONDSHELL YOU WERE TAKING INSPIRATION FROM AUTHORS LIKE PATTI SMITH AND REBECCA SOLNIT, AND I WAS WONDERING IF YOU HAD ANYTHING THAT YOU'RE READING RIGHT NOW THAT YOU COULD RECOMMEND TO OUR LISTENERS?
ST: Actually, yes. I just read a book called Bliss Montage by Ling Ma. I just read that because I read Severance. Do you know Severance, that book?
I DON'T THINK SO.
ST: So, I think that that was her first book, and it came out, weirdly, like right before COVID, and it was kind of about a COVID-like virus taking over New York City. I read that and was obsessed with it, and [Bliss Montage] was the next book since Severance, and right now next to my bed, I have this book Tomorrow, and Tomorrow, and Tomorrow.
YEAH! I READ THAT ONE.
ST: Everyone's reading it, and I'd gotten mixed reviews when I posted it on my story, but I have personally loved it. I'm almost done with it, and so far, [I've] been really, really enjoying it. It's like exactly what I need right now. 
I REALLY ENJOYED IT TOO! I CRIED A LOT WHEN I READ IT.
ST: Okay, that's what multiple people have said, and I'm like, "At what part?" because I haven't cried yet, and I'm like, "Oh, God." The person who pitched it to me was like, "You need to read this." They told me they cried for like 50 pages, and I was like, "I'm just waiting to get to that part." Yeah, I'm anticipating that.
IT'S TOWARD THE END. IT GETS PRETTY BAD— I MEAN, IT'S GREAT, BUT IT'S SAD. IT'S VERY SAD.
ST: Yeah, I think it's been really good so far. I really liked it. 
You know what? I just went to a bookstore and bought Opinions by Roxane Gay. 
NICE! YEAH, I HAVEN'T GOTTEN AROUND TO THAT ONE. I NEED TO GIVE IT A READ. 
ST: It should be good. 
FOR SURE! I ALSO WANTED TO ASK YOU ABOUT YOUR EXPERIENCE OPENING FOR MUNA AT THE GREEK THEATRE.
ST: Oh, my God. It was amazing.
I WISH I COULD HAVE BEEN THERE. I'M SURE IT WAS AWESOME.
ST: It was so fun, and I have been a fan of theirs since the first EP that they put out. 
OH, WOW!
ST: I know all the songs, and they went to the same school that I went to, and people were always talking about them when I got to school. So all my friends and I listened to their music and went to the shows and all that stuff, so it was really exciting to play that show, and it was really fun. Also, just to watch their show was fun, and the artist who played before me was also amazing. I think her name is Zsela.
AWESOME! AND I SAW THAT YOU ALSO DID A COVER OF "DECEPTACON." IT WAS PRETTY KILLER! I WANTED TO KNOW WHY YOU DECIDED TO DO THAT ONE OR IF YOU WERE CONSIDERING ANY OTHER COVERS.
ST: I'm always considering a lot of covers, but we've been doing that one. We did it on tour this summer, and I chose it because I love that song. I love that whole album, and that was really fun to play live because it's so fast and there are a lot of voices on it, so two people were singing with me at the Greek [Theatre]. It's a really fun song, and I knew that people would know it also.
IS THERE A SONG THAT YOU PLAYED ON TOUR THAT WAS CHANGED FOR YOU, LIKE THE MEANING OR THE IMPORTANCE OF THE SONG?
ST: There's some songs that really changed, like how you sing them when you're singing them every night. I started playing "It Wasn't Love," which is the song on the Deluxe. I started playing that song live for the first time on tour this summer, and it really changed the song for me. It's not like there's a whole new meaning or something. I don't know, I think it feels like it comes to life more live, which obviously makes sense, but it just feels really exciting to me live. It just feels different, and so I've been loving playing that one.
GOING OFF OF THAT: I KNOW THAT YOU'RE JOINING LIZ PHAIR ON TOUR THIS FALL. I WANTED TO KNOW, IF YOU HAD TO PICK ONE LIZ PHAIR SONG TO LISTEN TO FOR THE REST OF YOUR LIFE, WHAT WOULD IT BE?
ST: Okay, that is a very good question, because I was listening to all the [Exile In] Guyville songs a lot, and then, I recently started listening to Whip-Smart more because there's really interesting chord stuff going on, like on the song "Nashville," if you know that song. I love that song, but if I had to pick one, probably "6'1'"or "F*** and Run," which are classics.
LOOKING FORWARD, DO YOU HAVE ANYTHING IN THE WORKS FOR BLONDSHELL? I DON'T KNOW IF YOU CAN REVEAL TOO MUCH, BUT ARE YOU WRITING ANYTHING OR ARE YOU IN THE STUDIO? 
ST: Yeah. I've been writing again. I took a minute where I was not writing, and I've been writing again, so I'm working on getting some stuff together. I'm just playing a lot of shows the rest of the year. 
DO YOU FIND THAT YOU CAN WRITE ON TOUR OR DO YOU LIKE TO KEEP THOSE TWO THINGS COMPLETELY SEPARATE?
ST: I'm sort of figuring it all out now because this is the first time I've put out an album, so there's not really a precedent for how I do things. And I have found that being in a lot of different places and meeting a lot of people and being outside of my comfort zone has made me want to write. Sometimes I'm too tired, because tour is like— you're moving a lot. But when I'm not, I do like to write on tour. I always bring my guitar everywhere.
Blondshell is opening for Liz Phair at Roadrunner on November 21st. Tickets are available now.