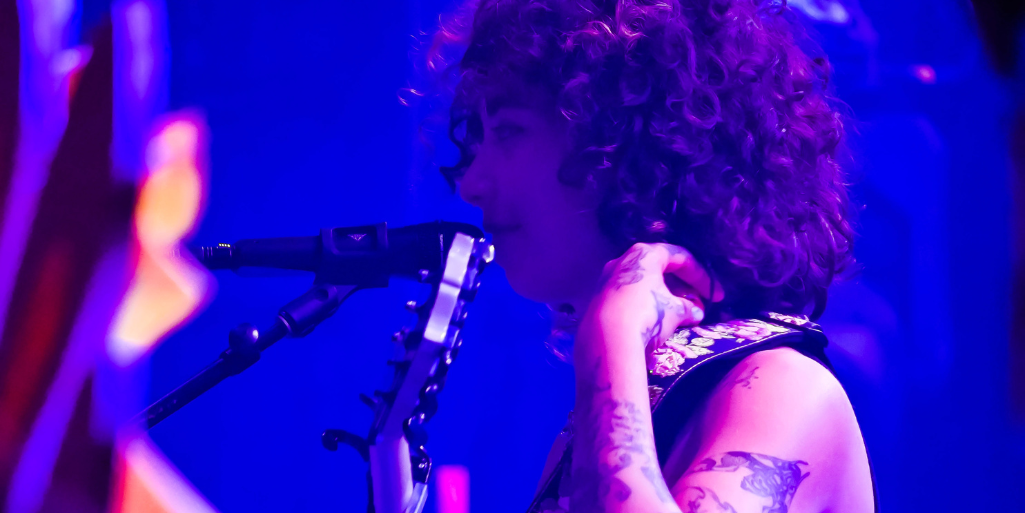 Listening to Indigo De Souza's lyricism, her honesty — sometimes brutal, always beautiful — shines. As the singer-songwriter from Asheville, North Carolina sat down for a quick interview with our staff writer Elle Dickson, that same quality became clear. The two chatted ahead of De Souza's performance at the Royale in Boston, covering what touring has been like, the magical power of music and more.   
WELCOME BACK TO BOSTON! THIS IS YOUR SECOND TIME HERE, HOW DO YOU FEEL BEING BACK?
Indigo De Souza: It's actually my third— my first time I opened for Alex G, and then the second time, I was headlining actually at this venue. I don't know, it just kind of feels like a show. 
HOW HAS THIS TOUR BEEN FOR YOU SO FAR? 
IDS: It's been really good. Lots of people have been singing along with the new songs, and it's really cool that that's happening. 
I've been really homesick, like more than I have ever been in my whole life, maybe because my life at home just got so good. Everything is better than it's ever been, and that makes it harder to leave than it's ever been. It's been kind of hard so far, but okay. 
HOW HAVE YOU STAYED CONNECTED WITH HOME SINCE BEING ON THE TOUR? 
IDS: I mean, I just try to facetime them when I can. It's kind of hard to find alone time on tour, and even when you do, you kind of just want to spend it in silence. Plus the time changes are always messing me up, so it's hard to keep up with people. 
It's hard to explain, but being in a touring party kind of feels like a bubble where you only see the same people, and they're constantly there and you're constantly doing the same thing. It almost feels hard to make a phone call sometimes because it feels like it breaks the flow of the bubble. Like when someone asks me, "What's been going on?," it's hard to explain. 
HOW WOULD YOU DESCRIBE THE TOUR SO FAR?
IDS: It's been very intentional, like we're out on a mission—very family oriented. 
WHAT DO YOU WANT YOUR FANS TO TAKE AWAY FROM THIS TOUR AND YOUR MUSIC? 
IDS: I guess that, in a really simple way, I want people to feel okay. I think music can do a really magical thing where it can make you feel okay for a moment, or make you feel seen and that you can engage with certain emotions. 
Like today I was having a really hard day and I was listening to crazy rock music in my headphones and just looking out the window like an emo b*tch. But like sometimes I have to do that to fully engage with myself. I just think music is an amazing tool for that. 
HOW WOULD YOU DESCRIBE THE DIFFERENCE BETWEEN THE COMMUNITY ASPECT OF PERFORMING VERSUS LISTENING TO AND PLAYING MUSIC FOR YOURSELF?
IDS: Everyone's perspective is different. I could listen to a song and you can listen to it and get something completely different. When it's just me, it means something different. But what's really special about the people I'm playing with now is that we all feel really aligned and like we're on the same mission. I think that's what you need. 
OKAY LAST QUESTION IS GOING TO BE A SILLY ONE, IF YOU COULD EAT SOMETHING THAT WASN'T EDIBLE WHAT WOULD IT BE?
IDS: I don't know, maybe my fingers.