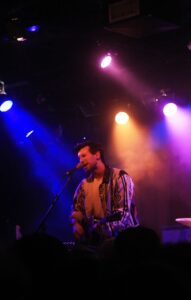 Max Frost opened for the band , however he performed solo without any accompaniment. Some might say this is a risky move considering the amount of instruments in his songs, but Frost pulled it off. Playing such hits as "White Lies" and "Let Me Down Easy," Frost utilized his loop pedal while playing to the crowd. Though an Austin native, Frost seemed right in his element playing in the popular Boston venue. Most of the audience sang along to his catchy tunes, but the highlight of his set was his electronic cover of "Roses" by Outkast, where Frost showcased his range. Concert-goers also received a special treat – he debuted a new song, named "Adderall," which can be found on Atlantic Records on October 14th.
While Max Frost surprised the audience with his solo performance, Honne gave the audience exactly what they were expecting. The breakout electronic soul duo from London that consists of James Hatcher and Andy Clutterbuck made the small stage their home with the help of a bass guitarist (Amadu Koroma), backup vocals, and drums (Duayane Sanford).
Both Hatcher and Clutterbuck write and produce their music, with Clutterbuck as the main vocalist along side their backup vocalist, Naomi Scarlett. Their debut EP was released in September of 2014, featuring one of their hit songs: Warm on a Cold Night.
Their second EP, All in the Value, followed within the same year under the label Super Recordings, however they began their own record label, Tatemae Recordings, in
2015. Under their own label, they produced their third EP, Coastal Love.
You can see their spirit when they perform, as they have no reservations or boundaries in their instruments and individual style. The small venue was almost packed to the brim with many die-hard fans, which created the perfect tone for Honne to do their work. Hatcher sat at the keyboard while Clutterbuck played to the crowd — moving up and down the stage to hits such as "Good Together" and "Someone That Loves You." Even though Honne was formed only two short years ago, the group radiated maturity like seasoned performers. Clutterbuck's velvet voice echoed throughout the club, while being supported by an almost perfectly synchronized band. Honne's charming British demeanor captivated the audience throughout the entire set; their stage presence palpable. They left the entire crowd begging for more as they closed with the crowdpleaser "All in the Value." Although it wasn't a cold night, Honne definitely kept us warm.