The Adam Ezra Group is set to put out their new record on Sunday, and WERS wants to make sure you're up to speed with the latest from the talented local ensemble.
On Wednesday afternoon, we debuted two new songs off the album, "Let Your Hair Down" and "Life of a Thief," before any other station.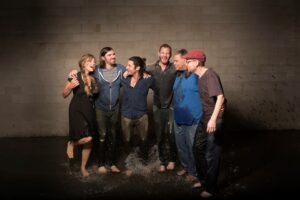 Titled "Hurricane Wind," this is a very special record for the Adam Ezra Group – it's entirely crowd-funded and fan-produced, making it a uniquely collaborative and involved project. And to celebrate its release, the band will be performing "Hurricane Wind" in its entirety on their annual cruise ship show Sunday afternoon.
Here's a brief synopsis of the two songs we're playing:
"Let Your Hair Down"…
…slows things down a little but has the potential to really make an impact and launch the group into the national discussion. Perfectly tailored for Ezra's voice, the track is full of imagery and explodes into a chorus that rewards the listener for paying attention.
"Life of a Thief"…
…starts off with an acoustic guitar line and quickly dives into a funky, modern, and confident tone. Ezra delivers the verses in an almost rap-like style and then delivers a powerful and energetic chorus. The swagger and assertiveness is obvious, but the lyrics never stumble into self-centered territory, which is refreshing to hear. Together, the two songs should see plenty of airtime on the WERS playlist and deservedly so. We're looking forward to hearing the rest of the record when it comes out, and on Tuesday, we'll welcome Ezra into the WERS Live Mix Studio to play a few songs as well. That performance goes live at 5:00 p.m. and is sure to be a fun listening experience.
When the new record comes out, it'll be easy to pick up a copy too – "Hurricane Wind" comes without a price tag for two weeks after its formal release. So for two weeks, from Sunday afternoon to June 2nd, it'll be totally free.
So to sum it all up, here's the deal:
WERS will be playing some Adam Ezra Group tunes (keep your ears out for them!) and then Ezra will play them live for us, Tuesday at 5:00. It's a music discovery to get excited over, and we're equally excited to bring it to you in ways that only WERS can!