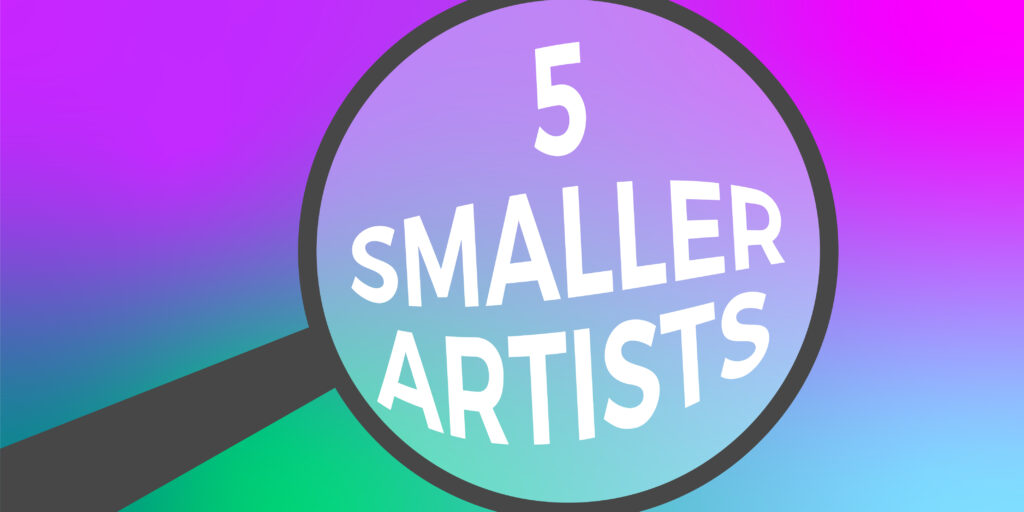 By Simon Luedtke
Who doesn't love discovering new music? Nowadays, there are more ways than ever to find tunes that fit your taste. Streaming programs have even released 'song radio' programs that tailor channels to your liking. But algorithms don't always do the trick. Sometimes hand-picked selections are the place to go to find exactly what you're looking for (much like WERS.) If you like listening to us, we think we've found some great smaller artists you'll also love listening to. Here are five artists you may not have heard of before who are steamrolling the way for the future of music. 
Naia Izumi
Naia Izumi (34) is a guitarist and songwriter based in Los Angeles, California. The majority of his discography can be found on Bandcamp, though he has a small presence on other streaming services. Izumi is the 2018 winner of NPR's Tiny Desk Concert Contest. In a video submission sent to NPR back in March, Izumi flexes his guitar skills and showcases his gliding, dreamy voice with his track "Soft Spoken." It's no wonder he was selected for top honors of the contest. Izumi plays with the energy and smoothness of a four-piece band. In the video, he has nothing more than a drum machine, a silky voice and a Fender Jaguar to create a truly addictive rhythm. By May, Izumi played his own Tiny Desk Concert, backed by a drummer and bassist. His performance delighted audiences online and in person.
Though Izumi now identifies with the gender he was born with - male - he identified as a woman for seven years of his musical career. In fact, the original title of his track "Soft Spoken" was "Soft Spoken Woman." Much of Izumi's music addresses his gender identity, as well as the difficulties he has faced in varying social circumstances. His tender personal insights make his music all the more gravitating.
PATIO
A local Boston pick, PATIO has only two songs available to the public at this time. However, the artist has been making appearances at house shows around the city, enough to stir up hype for his releases. For now, we are privy to "Bottle the Feeling" and the accompanying rework "Wish I Could Bottle the Feeling." Both tracks are examples of the growing 'bedroom band' genre, with a distinctly homemade impression. Everything here is filtered through a tape recorder, giving it a stripped back analog sound. In fact, just about every aspect of production here goes against traditional methods taught at music schools around the country. It's no mystery here that PATIO is a recent dropout of Berklee College of Music.
PATIO employs a specific and experimental structure to his music. Both versions begin with an open-air recording, transitioning to a sort of choral interlude and bringing drums in close to the 3-minute mark. The layered voices, grainy guitar, and thrumming bassline are sure to get PATIO's falsetto hook stuck in your head for days. The lyrics here are particularly evocative too, containing sweet hums of little romances and self-reflection. With talks of a new demo around the corner, we are certainly looking forward to what PATIO produces next.
Flo Morrissey and Matthew E White
The British singer-songwriter and American producer have put together one full-length project. In 2017 the impromptu duo released Gentlewoman, Ruby Man as a ten-track collection of covers. Their goal, as is evident in the rest of their individual discography, was to put together as diverse a set of songs as they could. For this album, they certainly succeeded. The covers here range from Leonard Cohen to Frank Ocean, even including a titular track from the musical Grease. Their broad instrumental talent is certainly showcased on varied styles throughout the project. On their Velvet Underground cover "Sunday Morning," the two embrace a thick choral backdrop and neo-psychedelic guitar presence. Combined with a more deliberate and driving beat, the song is given new life.
Gentlewoman, Ruby Man is a delightful collaboration. The two artists initially met while performing at a tribute concert for Lee Hazelwood. Intrigued and inspired by one another's styles, the two proposed producing a variety of musical projects together. Due to their inherently busy lives as active artists on two different continents, it was hard to nail anything down. However, once they landed on doing a cover album, their work came seamlessly together. Who knows if we'll see the two together again anytime soon. Thankfully, they've given us plenty to enjoy in this album and their countless inspirations.
Arielle Marie
In 2017, west coast singer-writer Arielle Marie released In the Clouds. The project is a collection of folk covers and heartfelt originals. The range of musical styles here is impressive, with everything from the ukulele-driven "Work of Art" to the ferocious KT Tunstall cover of "Black Horse and a Cherry Tree." Even the titular track boasts a spacey and ethereal accent that guides the listener through the album's peaceful close. The true beauty of this album, however, is Marie's voice. In a 42-minute run time, she proves she can sound like just about anybody and make you feel just about anything. The track "Coffee" is a narrative and heart wrenching tale that Marie makes instantly relatable and alluring with some of the strongest lyrics in the entire project. Countless melodies and messages throughout In the Clouds will surely endure until Marie's next project.
Arielle Marie is currently studying at Berklee College of Music. Though she has not announced what her next long-form project will be, she has treated her fans to a number of singles since In the Clouds was first released. With plenty of collaborators within arm's reach, we certainly hope even greater things are coming soon.
Kadhja Bonet
She is described by fans and critics alike as a psychedelic soul artist. Kadhja Bonet has been intertwining jazz, soul, folk and interplanetary sounds into her work for years. She is a largely self-taught musician with a focus on violin and guitar. However, the instrumentation of her projects reflects far broader explorations. Take, for example, her track "Honeycomb," the lead single from her debut album The Visitor (2016). The orchestral influence here is tangible, but what really shines are the flitting reed instruments and wandering vocal background support. This multi-genre complexity has given Bonet a unique name early in her musical career.
Kadhja Bonet's newest project, and second full-length album is Childqueen (2018). She has truly upped the ante with this piece. The sound is more full, the lyrics more realized, and Bonet's voice is more enticing than ever. The track album's single "Mother Maybe" is a tour-de-force of new age funk fusion. The lyrics here are wrought with joyous self-acknowledgment and appreciation, embracing Bonet's own "Child queen." The album toys with the listener thematically, as one might expect. The upbeat and faintly haunting "Another Time Lover" gives way to the lavishly orchestrated "Delphine." On the latter track, Bonet shows a vocal freedom and vulnerability unmatched in her previous works. For anyone interested in genre-defying, yet familiar tunes, Kadhja Bonet deserves your listen.