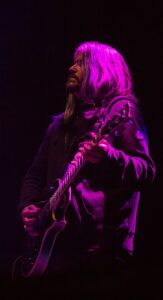 This year's Boston Calling was unlike anything we had ever seen in Boston. The new location at the Harvard Athletic Complex allowed for a larger than life experience for festival goers that included so much more than just music. So how exactly do a give a proper finale to a weekend full of Ferris wheels, amazing food, and world class musicians? You turn to experience. Boston Calling brought in Weezer and Tool, two of the most influential bands of the 1990s and 2000s to end the festival with a bang. While their performances were vastly different experiences, fans left Sunday night knowing they had just witnessed two of the greatest bands of the last three decades.
Weezer closed the weekend on the Blue Stage in front of thousands of fans, young and old. Before the L.A.-based band could even take the stage, the screaming crowd already had their hands up in the signature "W" that has become the international symbol for Weezer fans. The band must have gotten a whiff of the crowd before coming out on stage because they began their set with a rousing performance of the Green Album's "Hash Pipe." Fans were already well off their feet when Weezer transitioned immediately into other timeless classics, "My Jane is Jones" followed by "Pork and Beans." Not long into Weezer's set, the audience started to realize something very special about the band. Every song is a hit! There are not many groups that can effortlessly fill an hour and a half show with crowd favorite after crowd favorite, but it was just another day at work for the veteran four-piece band.
Even their new music sent the crowd into a frenzied excitement.
The band played hard rocking WERS favorite "Back To The Shack" and blew fans away with impressively powerful guitar riffs. During their performance of "Thank God For Girls," the video screen played a montage of powerful female figures including First Lady Michelle Obama, Hillary Clinton, and Oprah Winfrey. The performance was somewhat of a homecoming for guitarist/vocalist River Cuomo, who dropped out of Harvard University to record the band's second album Pinkerton in 1996. Weezer closed their set with a powerful performance of their 1994 "Buddy Holly" that was capped off with an epic confetti blast onto the thousands of Boston Calling fans.
There was one performance left
In what had been one of the greatest weekends of music ever in Boston, the band with the seemingly impossible task of closing out the festival was fellow L.A. natives Tool. The band has one of the most interesting fan bases around, and has been described by WERS's Alex Waters as "Phish, but for metal heads." A spot on description. This massively popular and talented, yet somehow niche group pioneered the evolution of 1990s grunge into modern nu metal.
Tool's performance was one of the most unique we had ever seen; more of an experience than a concert. Aggressively powerful guitar riffs and hypnotic rhythms from drummer Danny Carey and bassist Justin Chancellor created a massive wall of sound that had the thousands in attendance pumping their fists and banging their heads. Beyond the impressively intricate music, Tool had a light show like nothing we had ever seen before. Massive video projection screens behind the stage broadcast unsettling, yet captivating images and dark flowing colors. The images paralleled the eerily beautiful tone of the band's music while laser lights stretched over the crowd all the way to the Charles River. Tool's jaw-dropping performance brought the unforgettable weekend of Boston Calling 2017 to a fitting close.
By Ross A. Ketschke