By Kate Alfin Johnson
Photos by Zach Fask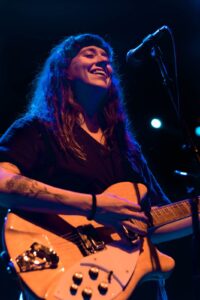 Watching the New Pornographers perform is nothing short of electrifying. As the octet of musicians flooded the stage of the House of Blues, dressed in a mix of glitzy gold sequin tops and denim, their grins turned to wide smiles to greet the audience. The Canadian-born band is currently touring their seventh album Whiteout Conditions, released this past January by Concord Records. Alabama indie group Waxahatchee, a side project run by singer-songwriter Katie Crutchfield, joins them on the tour to bring a soothing introduction to their wild and lively performance.
Waxahatchee
 Waxahatchee, composed of simply a singer, her guitar, and bassist, crooned and swayed mystically through the venue with smooth vocals and dissonant rhythms. Crutchfield's guitar carries lyrics of heartache and yearning from past lovers and emotional growing pains from one song to the next with ease, slowly growing stronger with each tale.
The New Pornographers
The New Pornographers, on the other hand, illuminated by pulsating neon beams from every angle, began their set with "High Ticket Attraction," an effervescent ode to upbeat 1980's synthpop intertwined with lyrics questioning the unknown future ahead. This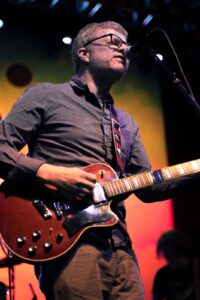 melancholic atmosphere echoes throughout their recently released album, Whiteout Conditions, with songs like "Play Money" and "This is the World of the Theater" that maintain a bright exploration of synthesizer and drums while unraveling feelings of fear, isolation, and confusion. The New Pornographers brought a musical presence that demands attention, along with entrancing melodies varied enough to keep you bopping on the edge. They didn't stick exclusively with tracks off the new album, but provided a range of their discography with songs off Electric Vision, Twin Cinema, and all the way back to their 2000 release Mass Romantic. The New Pornographers gave an insight on how we can take uneasy feelings and turn them into a radical and uplifting anthem. With a performance to match, this collective of musicians effortlessly found a balance between the dark and the light, illustrating the lyrics found in "High Ticket Attractions", "the violence of yearning, defiance of learning."