Standing Room Only is Boston's only musical theater radio show and has been a home to "Broadway and Beyond" for over 30 years. To help you get to know the latest hosts and musical researchers behind SRO, we recently sat down with six of the students that make the show go on!
Host of SRO, Saturdays 10am to 2pm
My name is Cory Mack, my pronouns are he/him/his and I'm a senior at Emerson. I'm a business of creative enterprises major from Southern Vermont, and I've been a host for Standing Room Only since my sophomore year at Emerson. And I absolutely love Standing Room Only.
I love our audience. I love all of the fans who have been so dedicated to the show for so many years, some of which have been listening for over 40 years, which is so exciting that I get to be a part of those 40 years for them. I first got involved with a standing room only by Phil, actually. We talked about me hosting the show in passing, because he needed a host. It was my sophomore year, because I had just started working on the sponsorship team, too. And it was just totally out of the blue, and I was just kind of tossed on air and it was a lot of fun. So I just kept doing it. And now I'm the Saturday host of the show.
A show Cory has watched so many times he knows all of the lyrics: So a show that I watched so many times that I know all the lyrics, it's definitely got to be the revival of Falsettos, and that also happens to be my favorite show. William Finn is also one of my favorite composers. I know Kate and I had a great time with that one when she was shadowing me in the studio, so that was a lot of fun.
My name is Kate Riley, I use she-series pronouns and I'm a sophomore theater education performance major at Emerson. I'm from Natick, Massachusetts, which is Bill Finn's hometown. I am on the SRO music team. I've also co-hosted once before and would very much like to continue. I grew up listening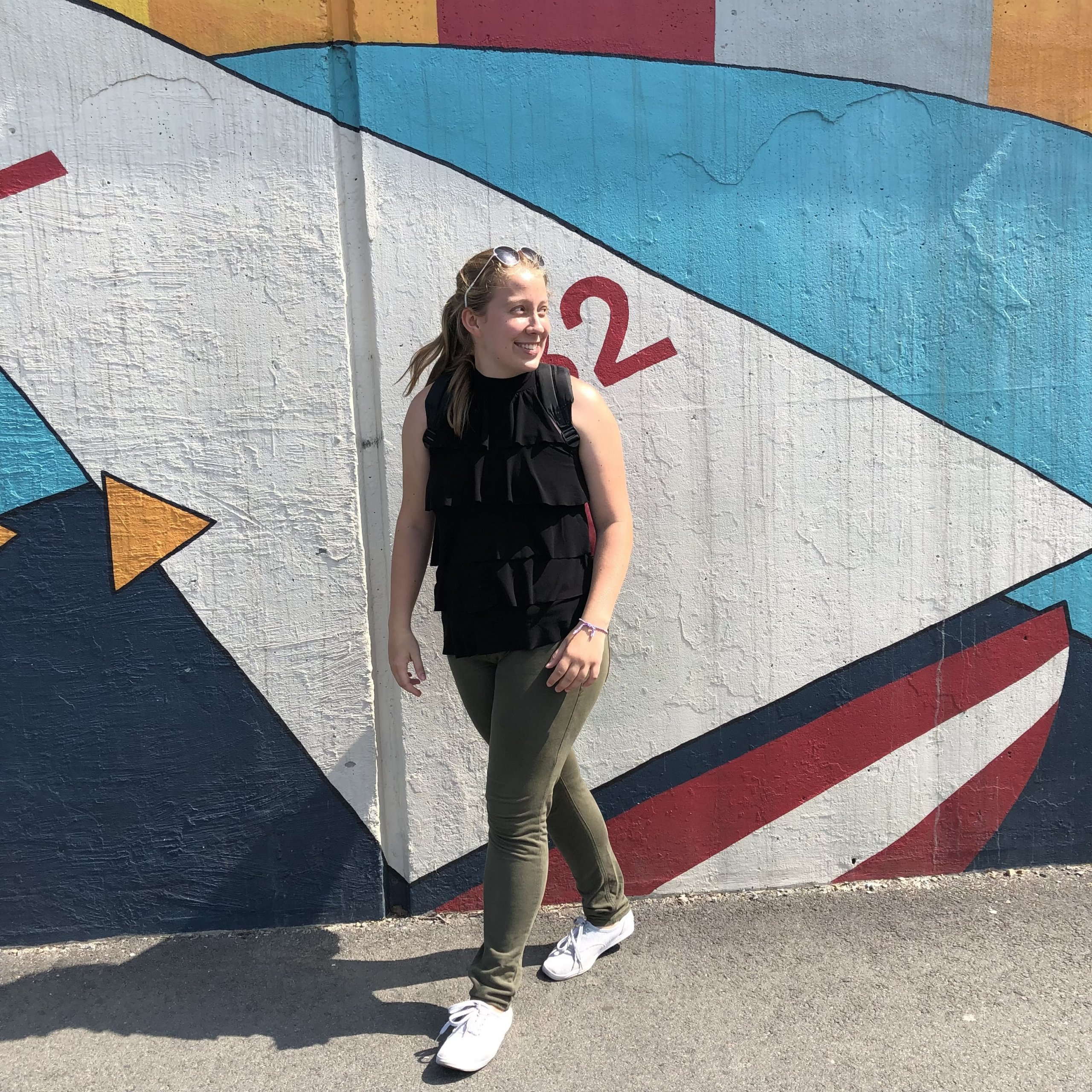 to SRO, because I live like 30 minutes west of Boston, so I'm from the area. Not a ton of my friends knew about it, so it was kind of my niche little thing that I would do. And it's something that I would do with my family. Specifically, my dad is a big theater person. So, I grew up listening to SRO in the car with him and we would play 'name that musical.' My dad and all of his theater friends from college, they're kind of like a second family to me, and they all have been listening to SRO from the very, very beginning. So it's kind of been a big thing for me. I was never planning on coming to Emerson. But then when I did, it clicked, like, 'oh my god, I could be a part of this.' And here I am, and I think it's wild. It's exciting.
Kate's Hometown connections to a famous musical composer: So William Finn has a musical Elegies, and there's one song in Elegies called "14 Dwight Ave., Natick, Massachusetts." And my friend lives across the street — he's 15 Dwight Ave. And so soon, as I figured that out, I was like, what the heck? Like, I had no idea that this song existed? And this song literally takes you through the streets of that area. [It] mentions my middle school and the Dairy Queen that everybody goes to and like all of these things. From when he grew up here, like maybe, like 50 years ago, there are a lot of things that are different about the town. But a lot of it is just kind of set in stone from his memory. I just think that's so cool. And like, I'm just obsessed with listening to the song because it's like for me, I can see everything, everything he says makes perfect sense.
Hi! I'm Jillian Heatherman. Same name on the radio the one time I've co-hosted with Corey. I use she/her pronouns and I'm a freshman. I'm an interdisciplinary studies major, which is like DIY, your own major. I'm learning how to write musical theater, so this is the place to be!
I'm from Fairfield, Connecticut, and I'm on the SRO music team. I hope to continue hosting. And I first got involved with SRO because Kate attached my name to an email chain. And she was like, Hey, Phil, I have this friend. I think she'd be really great. Like with the team, can she just hop on next time? And then I was on Zoom call the next day. So I'm very thankful for Kate.
Jillian's musical theater favorites: I've watched Newsies, like literally 30 times, so I know everything and I was in it like I know that show at the back of my hand. My favorite show tune right now, I'm loving "show off" from the drowsy chaperon. I love Sutton Foster's repertoire. It's great. And my favorite composer is Marc Shaiman because Smash the TV show is like Chef's Kiss.
Jillian's experience writing musicals: I have written so many musical theater songs; The script is where I'm like 'ehh.' So right now I'm taking a Skillshare type course that's taught by Pasek and Paul for how to write a musical. And it's going pretty well. So, yeah, I'm just trying to learn as much as I can here.
Host of SRO, Sundays 12 to 2 pm
Hello! my name is Dolly Pickelhaupt. I am both on the SRO music team and an on-air host. My pronouns are she/her, I am a theater and performance freshman. I am from Winchester, Massachusetts. I love SRO because, like Kate, I also grew
up listening to SRO all the time, mainly on the weekends when me and my mom would run errands. So it's kind of like our thing that when we were driving to Costco, we would listen to standing room only and also all a capella. And it's a big part of why I wanted to go to Emerson, so that I could be involved and like, bring the radio to the people. And I thought that was cool.
Dolly's favorite Broadway performer: My favorite Broadway performer is Robyn Hurder. She is currently in Moulin Rouge as Nini, she was nominated for a Tony for it. She did not win, sadly, but I have loved her for so many years. I first saw her when she was in Chicago and she winked at me. Cus, you know, when they go out into the audience or whatever, they do their little winks. She winked at me and I was so starstruck. I waited out at the stage door for like a long time because no one else was waiting because like, it's Chicago. And like, I feel like it's not like a stay for unless it's like someone really famous cast in it. So I was at the stage door and it was just me with my little playbill, and my parents and my sister so annoyed because it was freezing cold. It was so fun, though.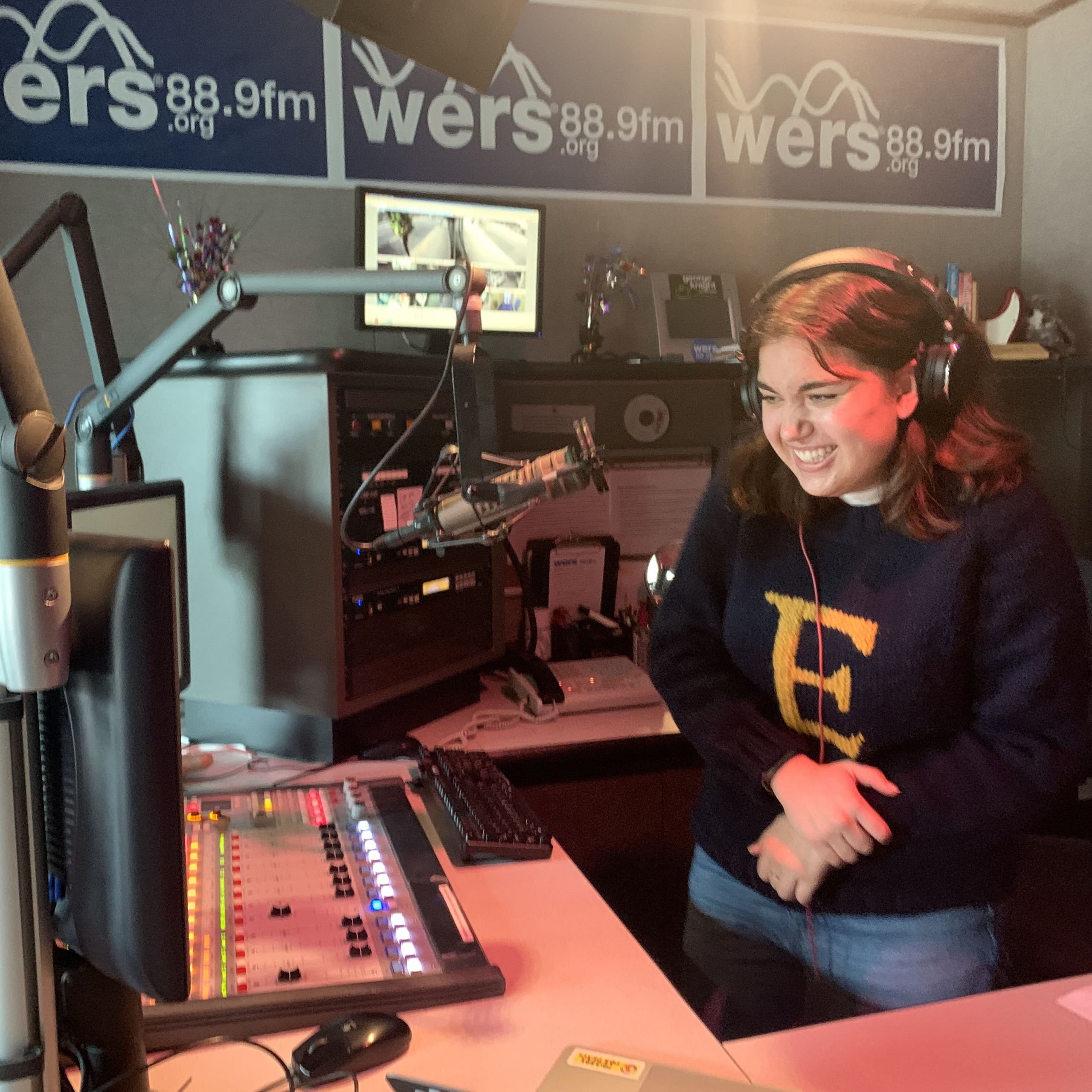 My name is Emelia and I use she/her pronouns. I'm a first year theatre and performance major and I am from Santa Barbara, California. I help out with music research, going through the library of songs with the rest of the team. I love getting to listen to so many shows I might have never heard of before and finding out more
about some of my favorite shows. I hosted SRO once last semester and had so much fun. It was so exciting, and a little terrifying, to know I was live and talking with SROs dedicated listeners. I loved how much being live on air kept me on my toes. This coming semester, when students are able to go back into the studio, I will be hosting All A Capella from 2-4pm on Sundays! I first got involved with WERS last semester, Fall 2021, through the SRO music team.
Emelia's favorite live performance she's seen: My favorite musical I have ever seen live has to be either Hadestown or Urinetown. I loved them both so much I can't pick!
My name is David Estabrooks, I use he/him/his, and I'm a sophomore theatre BFA major at Emerson. I'm from Boxford, MA, about 30 minutes north of Boston, so not too far from Emerson, although I'll be studying abroad in the Netherlands this semester! I first got involved with WERS the first semester of my
freshman year, and joined as a member of the research team. I love doing the research for the team because I get to know so many new musicals that I might not otherwise listen to! My favorite song that I've found through Standing Room Only is "High Is Better Than Low" from the 1963 musical Jennie.
The first musical theater production David was a part of: My first experience with theater was when I was seven, in a musical theater review show. The first musical I performed in was Annie when I was eight, and I played a variety of ensemble roles, like Mr. Bundles!