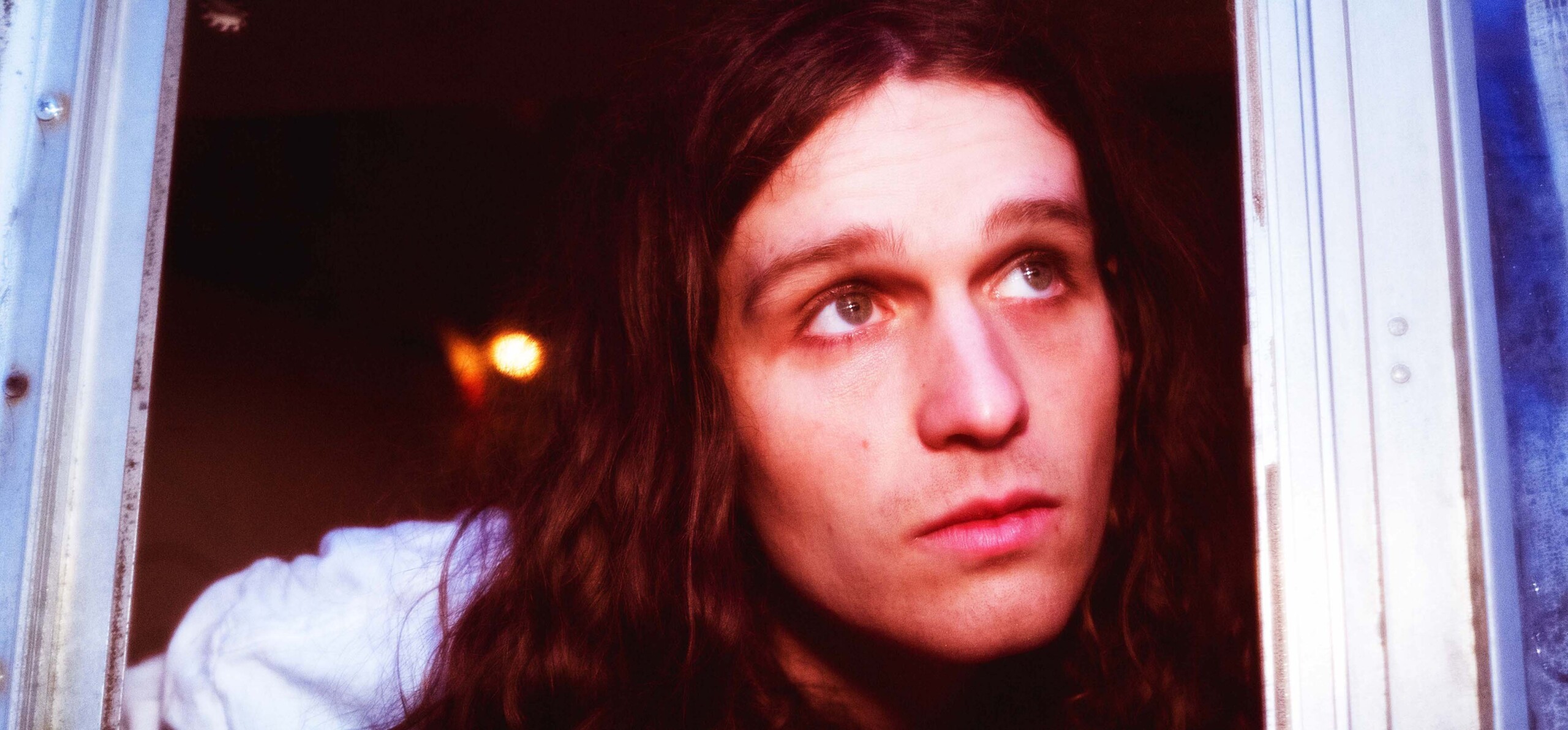 With his great-grandfather's guitar in hand, 15-year-old Briston Maroney delighted American Idol judges with a cover of "You Can't Always Get What You Want" by The Rolling Stones. Although he did not win the talent contest, Maroney continued to pursue music and independently released his debut EP in 2015. In the years that followed, the Nashville-based artist acquired a dedicated fanbase and released his debut album, "Sunflower." 
Now, Briston is back, and he recently announced his highly-anticipated sophomore album "Ultrapure." Last month, our Music Coordinator, Claire Dunham traveled to Louisville, KY to hear Briston perform a stripped-down version of his new single "Body" and spoke with him about the inspiration behind his upcoming album (In Louisville, Briston was joined by fellow indie musician Samia and her dog Milk).
FIRST, I JUST WANT TO SAY, I'M A BIG FAN OF YOURS, SO THIS IS REALLY EXCITING FOR ME…ALSO, SAMIA AS WELL. THAT WAS A FUN SURPRISE. I DIDN'T WANT TO FREAK OUT WHEN I SAW YOU GUYS AT THE DOOR, BUT I DIDN'T KNOW THAT YOU'D BE HERE.
Briston Maroney: I was freaking out because we walked up with like our little ragtag, crazy dog and couldn't get in the building. I was like, "Oh, no. This person works here, and we're making fools of ourselves in front of you."
NO! I HAD NO IDEA WHAT WAS GOING ON. THIS IS MY FIRST TIME HERE TOO, SO WE'RE IN THE SAME BOAT. DO YOU WANT TO TALK A LITTLE BIT ABOUT THE NEW MUSIC? 
BM: I'd love to! Is there anything specific you want to know?
YEAH! WHAT WAS THE INSPIRATION BEHIND THE ALBUM, EITHER LYRICALLY OR MUSICALLY? 
BM: Yeah. I mean, I think this whole album definitely came from a place of trying to be really confident that what I am feeling, and what I have to say, could be enough to share with the world. This album was supposed to be a stream of consciousness about the root pieces of who I am, so there are a lot of themes about interpersonal conflict, battles with confidence, and a lot of familial stuff that I haven't really touched on before—I think those things lead to the interpersonal conflict. So, yeah, I'm just going back to the beginning of when I started realizing I had big emotions, like as a person, and trying to kind of get into some of that stuff.
THAT'S COOL! WAS THAT THERAPEUTIC FOR YOU OR WAS IT A STRUGGLE TO GET INTO THAT MINDSET?
BM: I think, initially, it was scary to just land there because nobody wants to have to dig through all that stuff and make the water muddy. It was definitely scary to be like, "Oh, damn, I think this is going to be the most honest thing for me to talk about right now." So those first couple of songs touching on my childhood stuff were a little intimidating, but once I got in the flow with it, it was totally cathartic, and it became a lot easier. Yeah, it was just like, a really positive thing.
FOR YOUR SONGWRITING PROCESS, WAS IT A LOT DIFFERENT THAN YOUR FIRST ALBUM OR WOULD YOU SAY THAT IT WAS PRETTY SIMILAR?
BM: I think the biggest difference was there was a lot less co-writing. There are two songs on the album that are co-written, maybe three, but for the first record, so much of the time making the record was spent in LA meeting strangers and writing songs together. So this was me and Samia just hanging at home, and we had a little upstairs bedroom at the time, that was our little studio. At the end of the day, it was just like sitting up there for a couple of hours, going between there and our bedroom, and driving her crazy asking for help on these songs. It was super contained in our environment, which is really cool.
HAD YOU GUYS COLLABORATED ON SONGWRITING BEFORE THIS?
BM: We've written like one, start to finish, song together, but throughout this process, there were so many times where I would come in like the worst version of myself being like, "I am literally dirt, and I need you to help me with this thing." We're always throwing a word or two around for each other's songs and helping out, but I feel like [Samia] you're a lot more helpful to me than I am to you. One of the first songs I wrote for this album was one of those where we started at 7:00 pm and went until 5:00 am, with a bunch of quitting in between, you know? Sam was there the whole time helping me stay on track. She was really, really helpful to me during this time.
NICE. SO, WAS "BODY" TOWARD THE BEGINNING OF THE WRITING PROCESS OR WAS THAT LATER?
BM: I think that was actually the very first one because I wrote that during the pandemic—right when everything kind of shut down. I had moved back home. I think that was the first song of this whole batch.
IT'S AWESOME! WE'RE PLAYING IT ON OUR STATION. EVERYONE REALLY LOVES IT.
BM: That's sick! Thank you so much. 
IT SOUNDS GREAT ACOUSTIC AS WELL.
BM: It's really fun to play it that way.
DO YOU HAVE A FAVORITE SONG OR A SONG THAT YOU'RE EXCITED TO PLAY FROM THE NEW ALBUM?
BM: Totally. There's one called "Breathe." It's not a single. I think it's the third track on the album or something. It's one of the more upbeat, heavier ones, so I'm really stoked to shred. It's a shredder for sure.
NICE! YOU WERE TALKING ABOUT THIS BEFORE, BUT YOU PLAYED ALL THE INSTRUMENTS ON THE NEW ALBUM. 
BM: Yeah. 
I'M SURE THAT WAS FUN TO GET TO SHRED ON THAT ONE.
BM: So much fun. I felt like a little kid—that was definitely how I wanted it to feel. When I demo the songs at home, it's usually a laptop, a mic, and a guitar cable. Then just our little studio room with a keyboard, a bunch of guitars, a bass, a shitty drum kit, and the ability to just turn a chair 10 inches, as soon as you have an idea, and be doing a keys part, then turn and play guitar. I wanted that feeling in a proper studio, and that's totally what it felt like. It felt like I was in my basement having fun. 
THAT'S SO COOL! THAT'S AWESOME. WHO DID YOU WORK WITH ON PRODUCTION FOR THIS ALBUM?
BM: The main producer was a guy named Daniel Tashian, who lives in Nashville. A guy named Konrad Snyder engineered and also helped produce as well. 
HAD YOU WORKED WITH THEM BEFORE?
BM: I'd met Daniel before. I knew Daniel for a minute. I was a fan of his forever. We'd done a couple of sessions together, and I was always just a big fan of him, as a person. He's just a goofball, and we met up years before. 
OH, REALLY?
BM: Yeah. We went in to just do a single session together. We did "Body" first, and we cranked it out in like a day or two, and I was like, "Man, I have not felt this excited about recording in a long time." I just knew he was the perfect person to hold that project.
THAT'S AWESOME! SPEAKING OF "BODY," YOU DIRECTED THAT MUSIC VIDEO, RIGHT?
BM: Oh, yes, with my friend Drew Bauml. It was pretty collaborative. I mean, he executed so much that I never could have done.
DID HE DO THE ILLUSTRATIONS AS WELL?
BM: The animator, her name is Leah Putnam, she lives in London, and she's pretty young. I think she's still in school, but she just killed it. 
YEAH. IT'S REALLY COOL!
BM: Thank you! You should check out her Instagram page, it's full of her animation.
I DEFINITELY WILL. HOW WAS YOUR EXPERIENCE STARRING AND DIRECTING IN THE VIDEO? HAD YOU DONE SOMETHING LIKE THAT BEFORE?
BM: Not really. Everything I've made in the past has either been with my friend Drew or my friend Joey Brodnax. They both have such strong directorial visions, so I had never been responsible for the ideas. Like, if I had ideas, they would always hear them, but this time if something went wrong, it was gonna be my fault…and things did go wrong, and it was my fault. But, yeah, I learned so much. It was really exciting to just try something new—that was the big thing.
IT LOOKED LIKE IT WAS A LOT OF FUN. DID YOU HAVE FUN DOING IT FOR THE MOST PART? I MEAN OBVIOUSLY, IT WAS PROBABLY A LITTLE STRESSFUL.
BM: It was, but oh my god, I just get so tired. I'm turning into a grumpy old man, so I was definitely pretty wiped out, but it was so worth it. You know what I mean? 
YEAH.
BM: It was a good tired. 
YOU WERE RUNNING AROUND OUTSIDE TOO, SO THAT'S GONNA TAKE IT OUT OF YOU.
BM: Yeah. It was windy too.
OH! YOU WOULD NEVER KNOW FROM THE VIDEO BECAUSE IT'S SO SUNNY! 
BM: The whole time I kept saying, "I wish that people knew the pain I was in."
WELL, NOW SOME PEOPLE WILL KNOW. THE WERS LISTENERS WILL KNOW! 
BM: They will know my pain!
YEAH! SO YOU JUST RELEASED "SUNBURN FADES," THE SECOND SINGLE.
BM: Yeah!
IT IS SUCH A BEAUTIFUL SONG, AND IT'S DEFINITELY VERY PERSONAL TO YOU—YOU CAN JUST TELL LISTENING TO THE WRITING. DID YOU HAVE A POSITIVE EXPERIENCE WRITING THAT ONE?
BM: Totally! I'd had "Body" done for a little bit. I knew that it would probably be on an album eventually, but I really didn't know what the direction of the whole record was going to be. Then, "Sunburn Fades" was the first song that really woke something up in me. I was like, "Oh man! This is how I want to write again." It had been a minute, and I went through a ton of changes with friends and life, and that song came out as a result of that. Nothing feels quite like a song just spilling out of you when it needs to. That song really shaped the rest of them for sure.
I THINK THAT'S SO COOL, THAT YOU CAN BUILD A WHOLE THEME FOR AN ALBUM OFF OF ONE SONG.
BM: Yeah, dude. I know so many artists who feel that way. It's like, you're just waiting for that one emotion to be clear, or like that one chorus, verse, or line that breaks the ice. Then, everything else just falls into place.
SO COOL! ALL RIGHT, SO I WANT TO TALK A LITTLE BIT ABOUT PARADISE FESTIVAL. HOW EXCITED ARE YOU FOR THAT?
BM: I'm almost excited, because I'm still really scared about it. I've just been so nervous. I always say it's like throwing a birthday party—I'm gonna come downstairs in my little costume and just hope all my friends showed up. I'm still in that phase of it. The closer we get, I'm sure I'll be able to breathe a little bit. It was so much fun last year, and people were so sweet, so I can't wait. 
NICE! IS THERE A DIFFERENT SORT OF ENERGY AT THAT TYPE OF SHOW COMPARED TO A TOUR DATE, LIKE WHEN YOU'RE COLLABORATING WITH OTHER ARTISTS?
BM: Having friends there is so relaxing. Especially this year, all of the bands are the sweetest people, same as last year, but it's even more friends this year. We all share an understanding of just being people. Sometimes there's pressure for shows to be perfect, but when you play with your friends everybody is there to have a good time. I think that energy translates to an audience for sure.
DEFINITELY. I BET IT WILL. I SAW ON INSTAGRAM THAT YOU WERE ASKING FANS TO SEND COVERS OF YOUR SONGS, SO THIS IS A FUN QUESTION BASED ON THAT: IF YOU HAD TO PICK A MUSICIAN TO COVER ONE OF YOUR SONGS, WHO WOULD YOU PICK AND WHAT SONG WOULD YOU CHOOSE? 
BM: That is a great question. I might steal Bella's answer. I was asking her yesterday, who she would want to write a song with, and honestly, hearing Post Malone do "Sunburn Fades" would be insane. That would actually be my dream—I'm realizing that in real-time. That is my dream. 
DO YOU WANT TO KNOW SOMETHING? I JUST SAW POST MALONE! I LITERALLY JUST SAW HIM ON SUNDAY, SO THAT'S FUNNY THAT YOU SAID THAT.
BM: Small world. Does he have a band on tour now? 
YEAH!
BM: Oh, that's so awesome! Yeah, I love him. 
HE WAS SO GOOD LIVE.
BM: Yeah, that is so sick. I'm a big fan.
HE WAS SHREDDING TOO!
BM: Dude, he does it all. Yeah, he truly does it all.
YEAH! ALRIGHT, THAT'S ALL I HAD PLANNED. THANK YOU SO MUCH FOR TALKING TO ME TODAY. 
BM: Thanks for having me! 
Briston Maroney's sophomore album "Ultrapure" comes out on September 22nd. The album's lead single "Body" is available now.