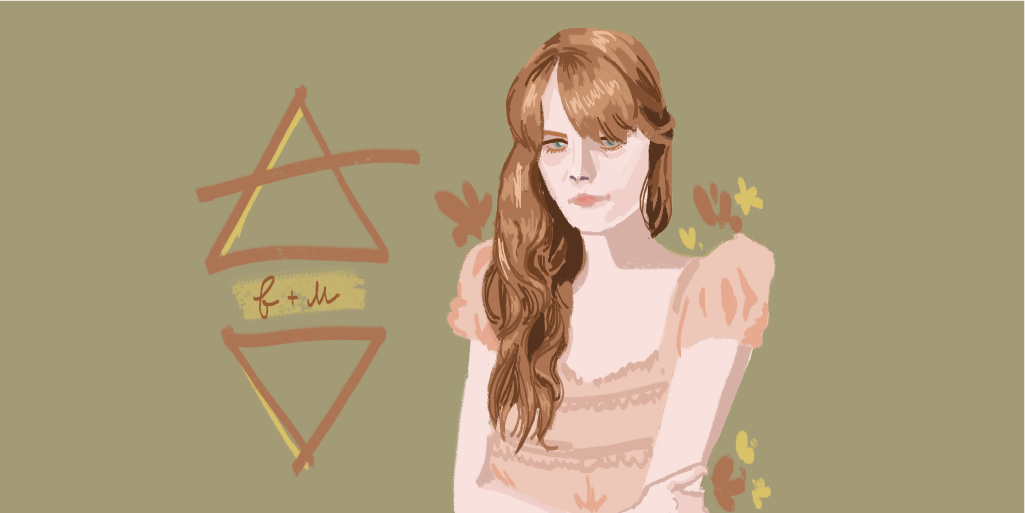 - By Regan Harvey -
Florence Welch is known for her powerful voice, both literally and symbolically. She spreads love and positivity with her incredible vocal range. In the past, Welch has inspired enormous audiences with songs such as "Dog Days Are Over," and "Shake It Off"-- hits that are as uplifting as their titles suggest. Florence + The Machine's most recent album, High as Hope, reveals a new side of the English songstress -- a side that explores the anxieties and insecurities we all experience.
The record begins with the gentle plucking of violins and piano keys before Welch's ethereal voice comes in.
The opening track, titled "June," climbs in volume as the singer croons, "in those heavy days in June, when love became an act of defiance." The lyrics allude to the Pulse nightclub shooting and the pervasively bleak state of affairs during the summer of 2016 when Welch began recording the album. Coming full circle, Welch released High As Hope two years later during June 2018.
Like many others, larger events happening in the world affected Welch's mindset. The album expresses these worries throughout. While the band's earlier albums create otherworldly atmospheres and fairytale-like stories, High As Hope sits solidly within the real world. The lyrics from the album disclose thoughts more personal and serious than Welch has ventured to express before.
The lead single, "Hunger," deals with Welch's struggles with substance abuse and an eating disorder.
Welch uses her past issues to provide commentary on the deep human urge to fill a void within ourselves. Drugs and self-harm are widely known to worsen this problem. Welch surprisingly includes performing as a way she hurt herself trying to achieve purpose and meaning. Opening up and giving herself to strangers didn't fix the issues she had within.
High As Hope seems to be a cathartic journey for Welch.
The album deals less with romantic love than many of her past albums have. It focuses more on familial love and how her fame and career have affected these relationships. Welch has an entire song dedicated to the place she grew up -- "South London Forever," and another for her sister, "Grace." In "The End of Love," Welch sings, "we're a family pulled from the flood," expressing homesickness for those she left behind in England to follow her dreams.
High As Hope ends as softly as it began. The uncharacteristically stripped-down closing track is fittingly titled, "No Choir." Welch's voice is the centerpiece of the song. The self-aware lyrics are not as joyous as we may have come to expect from the singer. An example are the repetitions of "this will be forgotten" that first seem to be disheartening. But, Welch revels in temporary moments of community and happiness, saying "I can put [loneliness] down in the pleasure of your company" and "at least we had it for a moment." This sentiment may not be as grand and uplifting as past anthems, but is perhaps more realistic and comforting in its genuine nature.
Regan is a writer for WERS and a Media Arts Production major at Emerson College. She has a passion for music, comedy, and podcasting