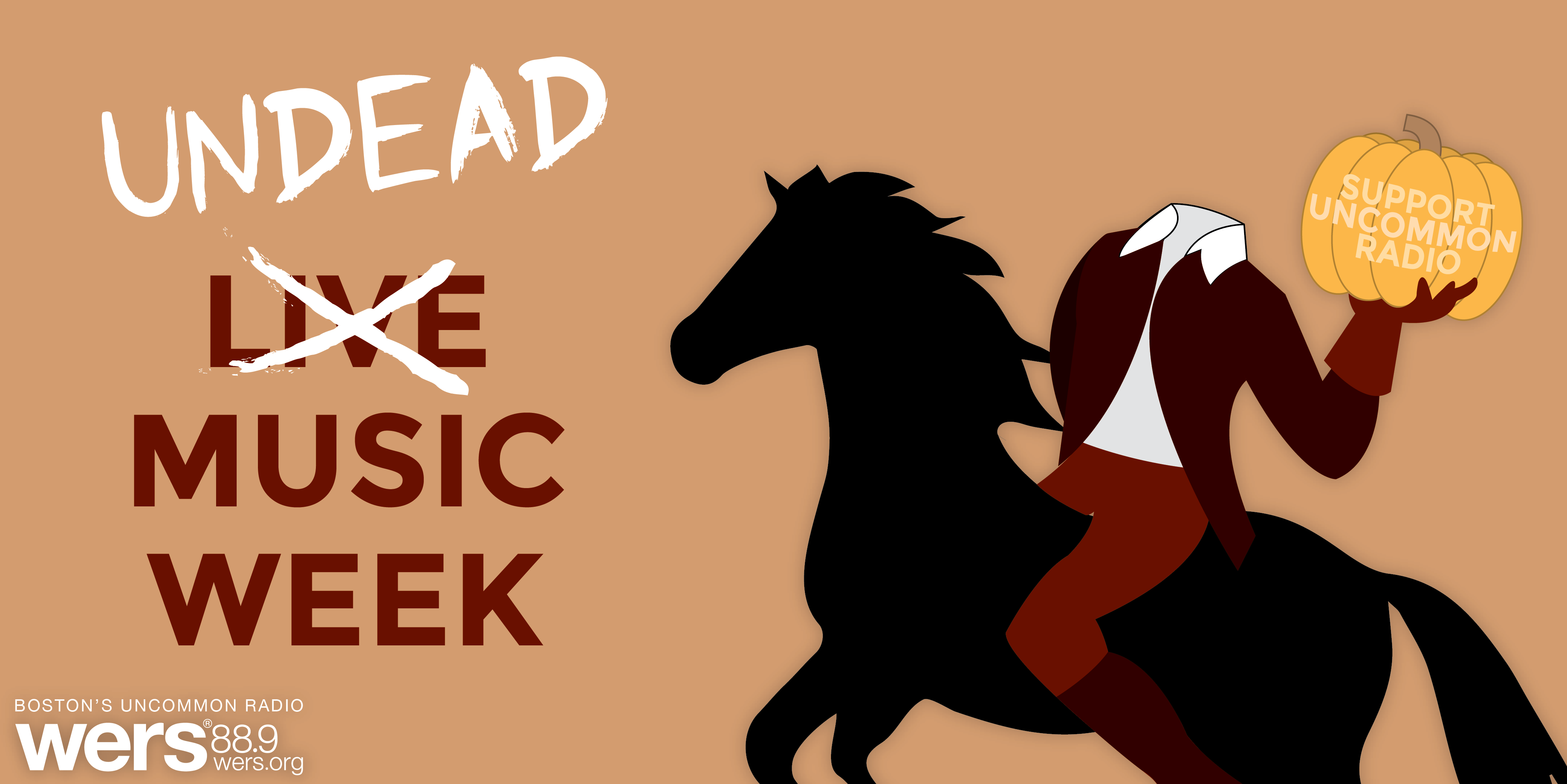 We are casting a spell over the airwaves this Live Music Week, to bring you Undead Music Week! Show us you have a pulse! We'll be haunting the radio dial to bring you wicked good live, local music!
Your financial support of WERS ensures that everyone across Massachusetts and the world can discover new songs, new beats, even an entire new genre of music any time they want.
Your financial support helps to expand our music library not only to include what's brand new, but deep cuts that may have missed from older, more established artists.
Your financial support is an investment in the power of all types of music - to affect, inspire, and bring us together.
That's why your gift is so important right now during our membership drive. You can give WERS that additional boost that is so crucial to continuing to serve the Boston community with the best variety of music anywhere.
When you donate in support of Undead Music Week, you'll also receive one of our ghoulishly cool thank you gifts!
CHECK OUT OUR THANK YOU GIFTS: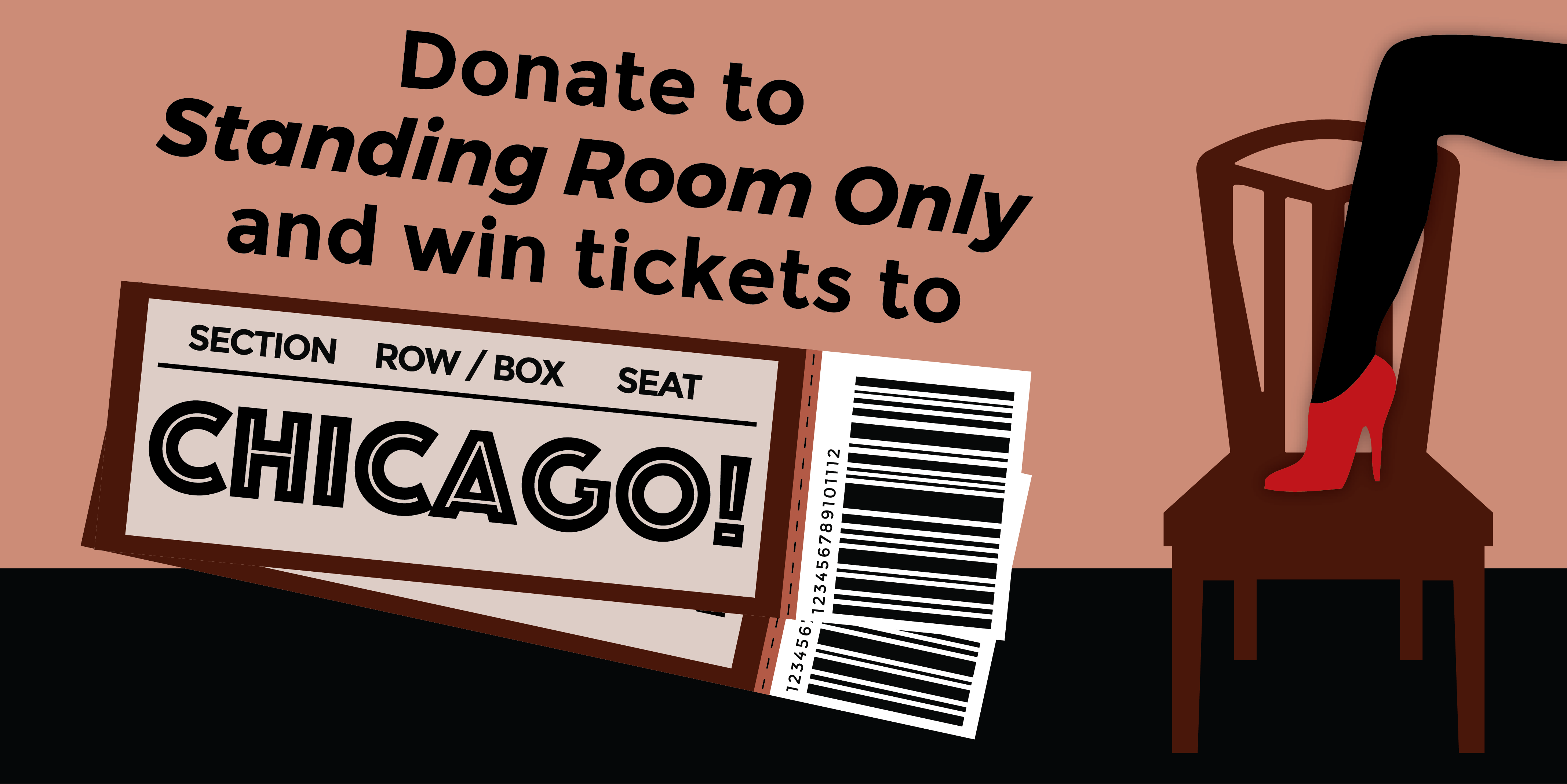 When you make any donation this weekend to support Standing Room Only, you'll be entered into a special Broadway in Boston giveaway! We have a pair of orchestra tickets for opening night of Chicago at the Colonial Theater, just down the street from our radio station! Plus we're adding a $200 gift card that you can use for whatever you want — dinner, drinks, merch from the show... it's up to you! To get in the running to go see Chicago, just make a donation to help keep Broadway and show tunes on the air!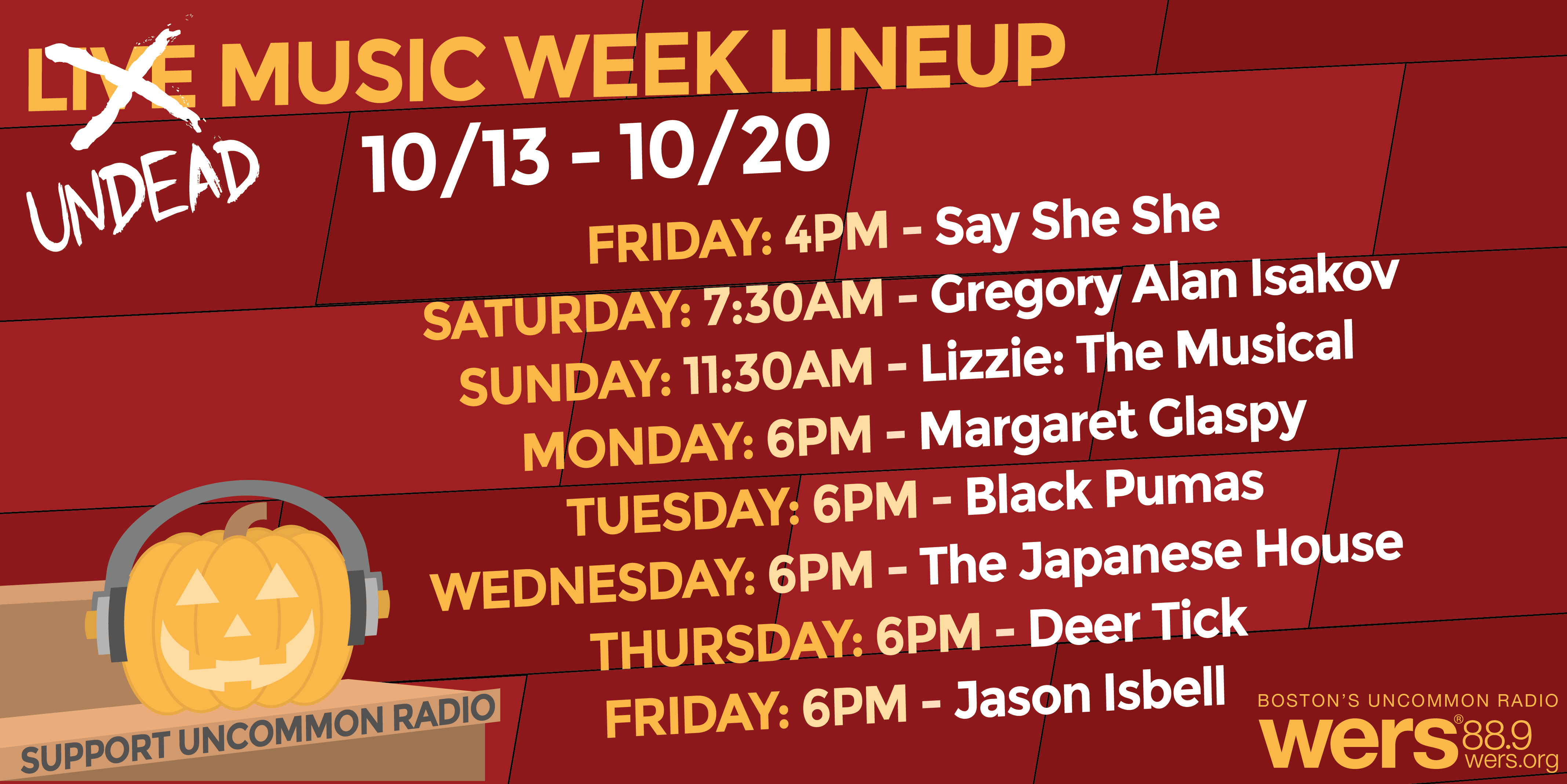 This Undead Music Week has a lineup full of hauntingly good performances! We'll start the week off strong with three brand new live sets, and we'll also sprinkle in some archived favorites across the days. Read on for our list of eight live sets to catch and to find out when you can tune in to hear them.
FRIDAY 10/13 @ 4PM
SAY SHE SHE
Just in time for their upcoming show at the Sinclair on October 14th comes our new live session with Say She She. The all-female trio will transport you into a serene sonic universe full of airy vocal notes and groovy, largely electronic backgrounds. Their songs will have you picturing yourself at the disco, swaying your hips along. We couldn't ask for a better live set to kick off Undead Music Week!
SATURDAY 10/14 @ 7:30AM ON THE COFFEE HOUSE
GREGORY ALAN ISAKOV 
If you get chills listening to the Lumineers' "Caves," then you'll surely feel the same way while listening to the music of its original singer and writer, Gregory Alan Isakov. His live set comes new this Undead Music Week. Isakov's deep voice shines against indie-rock and folk-infused backings in tracks like "San Luis" and "The Stable Song." Start your morning by hearing it on the Coffee House.
SUNDAY 10/15 @ 11:30AM ON STANDING ROOM ONLY
LIZZIE: THE MUSICAL
NEW! 
We don't often have musicals as part of our Live Music Week lineups, but this one is just too good to skip out on including! Lizzie: The Musical covers the story of Lizzie Borden, who murdered her two parents. The dark nature of the subject matter gets translated into an emotional, moody cache of songs.The cast rock out on the electric guitar-heavy "Gotta Get Out of Here," and then there's also ballads like "Maybe Someday." Don't miss out on this live set on Sunday's Standing Room Only.
MONDAY 10/16 @ 6PM
MARGARET GLASPY
We've been fans of Margaret Glaspy way longer than since the release of her new single "Act Natural," and this 2016 live session from her is proof! Hear her play singles from her 2016 album Emotions and Math. Her voice has an almost jazzy quality, and paired with rock instrumentation it creates quite an alluring sound. You'll be glad we're pulling this one out of the archives!
TUESDAY 10/17 @ 6PM
BLACK PUMAS
If you know the Black Pumas for songs like "Colors" and "Fire," but aren't familiar with the rest of their discography, then do yourself a favor and tune in for this live performance. And even if you have listened to most of their music before, this recording of a stripped-back, acoustic, solo version of their work is something very worth hearing! Lead vocalist Eric Burton stopped by Studio 889 just over three years ago and blessed us with songs from their self-titled 2013 album like "OCT 33" and others that we just can't get enough of!
WEDNESDAY 10/18 @ 6PM
THE JAPANESE HOUSE
If you've heard her latest album, The Japanese House will transcend you with her dreamy and beautifully melancholic songs. This live session that we have for you is archived from 2015, where you'll have the pleasure of listening to some of her earlier hits as well as pieces from her first EP, "Pools To Bathe In." And if you can't get enough of live music from The Japanese House, she'll be in town in December!
THURSDAY 10/19 @ 6PM
DEER TICK
Exactly a decade ago, singer-songwriter John McCauley and guitarist Ian O'Neil of Deer Tick took a seat in studio 889. The two have an acoustic guitar each, one strumming the chords of the backing rhythm and the other taking the lead, the plucked melodies carrying the mood of the tracks. "The Dream is in the Ditch" is a special treat you won't want to miss, with its warm, impassioned vocals and stunning guitar solo. 
FRIDAY 10/20 @ 6PM
JASON ISBELL
In 2012, only five years after taking the leap from being in the southern rock group the Drive-By-Truckers to launching his solo career, Jason Isbell sat down to record a live session in Studio 889. Songs from his 2007 album Sirens of the Ditch make the cut, and maybe even ones from his most critically acclaimed album, Southeastern (2013). Hear for yourself how perfectly his raspy voice pairs with the acoustic guitar, which he plays with a gritty flourish.