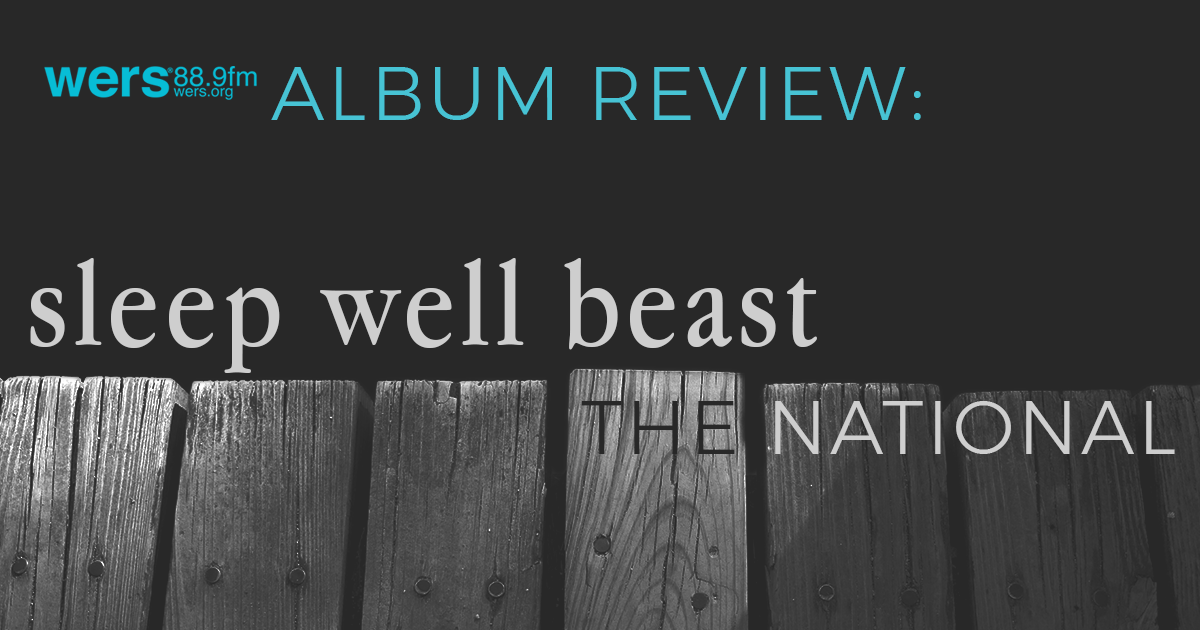 By Melissa Gauger
"Meet me in the stairwell in a second for a glass of gin,"
Matt Berninger croons in the first lines of "Nobody Else Will Be There," the haunting opening track to The National's seventh studio album, Sleep Well Beast.  Regarded by critics and fans alike as their finest work, Sleep Well Beast holds true to The National's signature graceful, dark sound while pushing forward into new, exciting territory.  Like drinking alone on a rainy evening in a New York City hotel room, Sleep Well Beast capitalizes on the moments of sorrow we let ourselves feel before we pick up our pieces and return to work in the morning.  
Much of Sleep Well Beast encompasses aging's natural potent feelings of angst and existentialism. Coming to terms with being middle-aged himself, Berninger sings of midlife struggles with a rocky marriage and general regret.  On the album's second track "Day I Die," he openly questions his own relationship status: will he and his partner fix their complications "by his passing," or is their future just a heartbroken, tragic destiny?  (He inquires, "The day I die/ The day I die/ Where will we be?").  Over the sound of rocky guitars and fist pumping beats, the world can hear the hints of strained uncertainty in Berninger's voice, as if he were dancing in the darkened parlor with a wine bottle in hand.
Meanwhile, the seventh track "Empire Line" sprawls through open fields, led by a pulsating synth as Berninger's voice drifts across the landscape like a lonely commuter train.  A cool, distant, melancholic breeze drifts through those graying fields as Berninger quietly laments among the noise: "I've been trying to see where you're going/ But you're so hard to follow/ And I don't think we're getting anywhere any time soon."  Quiet, beautiful, and understated, "Empire Line" follows a long standing relationship's quiet distancing.  As hard as any couple tries, the coldness always creeps in, and Berninger, desperate for warmth, calls out, asking, "can't you find a way?"  The National often uses instrumentals as a second format to communicate their message; the purposeful instrumental distance echoes the widening gap between Berninger and his crumbling lover.
However, not every song on Sleep Well Beast deals with heartache.
Berninger also uses his lyricism to discuss politics and the state of America.  "The System Only Dreams In Total Darkness," the lead single from the album, is, in Berringer's words, "an abstract portrait of a weird time we're in."  Raging across a distant choir, urgent piano, and audibly restless guitar, The National seemingly departs from the "passivity" of the first three songs on the album and delves into head shakes and fist throws as they try to make sense of the demons on all of our backs.
"Turtleneck" loses the pristine sound of a typical The National song as it takes listeners back to the Boxer days and embraces loose, raw guitar and unapologetic screams.  A true test in experimentalism, The National finally embraces messiness and freedom rather than refinery.  Now, Berninger has exited the aforementioned parlor and instead has entered the heavily crowded dining hall, where he smashes wine glasses and dares to swing from the chandelier.  Sweat drips from our foreheads as we feel our ions become charged: why drink alone when we could drink alone and scream in a room full of angry people?
Part of The National's great charm is their blatant and heartfelt honesty throughout all of their work.  Matt Berninger holds back no secrets from the truth about long-lasting relationships. Hhe does not shy away from the problems and misfortunes, but rather uses these pitfalls as a topic of his own songwriting.  He feels no remorse in his own identity and political stances; he looks not to please the audience with falsifications but instead to share his own emotions and opinions as they truly exist.  The National has never felt the need to hide who they are as lovesick, thoughtful, angry, distraught, imperfect human beings.  It brings the band's work to a relatable, truly mundane place; anyone could listen in and find themselves, somewhere, among the heartache and the dysphoria.  Because as The National reaffirms, love does not last unless one makes it so, whether that means drinking alone in that New York hotel room or screaming in a room full of strangers before we go home and begin to heal.