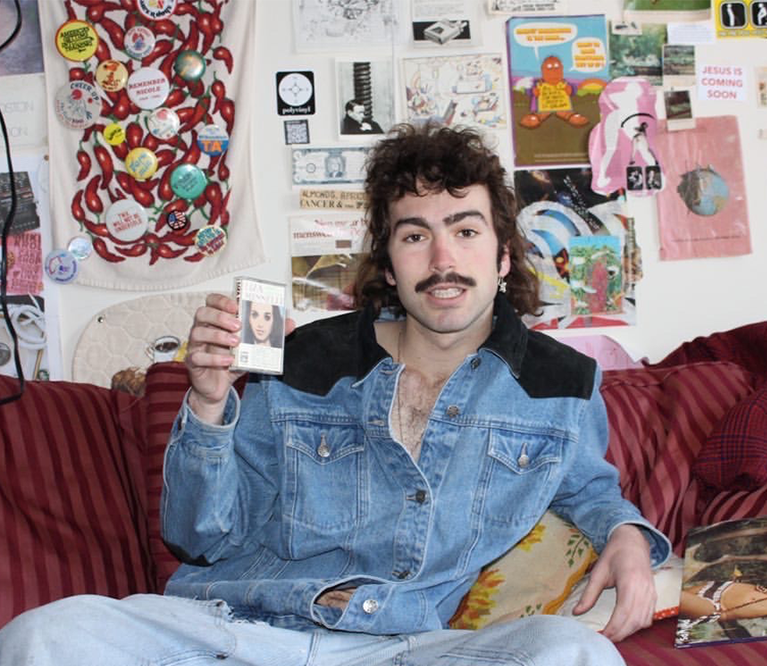 Every Wednesday, WERS presents Wicked Local Wednesday, our program dedicated to bringing you music and interviews with artists in the Boston/New England area. Tune in at 9 pm every Wednesday night to hear songs from these local bands looking to share their music with the world! To learn more about the artists you hear on the program, check here on our WERS Music Blog for weekly Wicked Local Wednesday interviews. 
In this interview, Boston artist Alden McWayne — one half of the band Dana and Alden, who is also known as Gucci Pineapple online — talks with staff writer Kira Weaver about making music with his brother, taking cold showers, and how he first got into comedy.
YOUR LATEST ALBUM, BROTHERS, YOU CREATED WITH YOU BROTHER. HOW LONG HAVE YOU GUYS BEEN PLAYING TOGETHER?
AM: We started playing together in around eighth grade. He would take me to jazz clubs and I would get really nervous. I would hop on drums. He played tenor saxophone. And actually, during the pandemic we just cooked up the album together. 
WAS THERE A LOT OF ART AND MUSIC SURROUNDING YOUR FAMILIAL SETTING GROWING UP?
AM: My dad played flamingo guitar and my mom was a part of the church choir. She's not that good of a singer, but she puts her heart into it, you know? 
SO DO YOU THINK THAT ENVIRONMENT AFFECTED YOUR SOUND TODAY? 
AM:  Yeah, my dad would alway put on jazz and rock and Pink Floyd- we had a lot of cool music in the house. 
THE ALBUM FEELS VERY JAZZ INFLUENCED–
AM: For Sure!
GOING IN, DID YOU HAVE AN IDEA OF THE SOUND YOU WANTED TO CREATE?
AM: It was pretty natural but at the same time I was like 'I want to make jazz for indie kids.' I wanted it to have a wider appeal. 
A MORE MODERNIZED TAKE.
AM: Exactly! Gen-Z Jazz. 
WERE THERE ANY MUSICAL INSPIRATIONS BEHIND THE WORK, IN TERMS OF INDIE-JAZZ FUSION?
AM: I'll say. We listen to a lot of Brazilian music. There's a Brazilian band called Azymuth. Marcos Val from Brazil is sick. 
But also just soul music in general. Dijon is one of my favorite artists! 
WHAT ARE SOME OF YOUR NON-MUSICAL INSPIRATIONS?
AM: Good question. Wim Hom. He's this iceman from the Netherlands-
AN ICE MAN, WHAT DOES THAT MEAN?
AM: He's like obsessed with cold baths and deep breathing. 
SO DOES THAT MEAN YOU ARE ONE OF THOSE PEOPLE THAT ONLY TAKE COLD SHOWERS? 
AM: Well, I start cold but then I go hot for like twenty minutes. But I still like to think I get the positive benefits of cold water!
… Also Andrew Callaghan!
ANDREW CALLAGHAN?
AM: He used to do "All Gas No Breaks" but now he does "Channel 5 News." It's this Youtube channel. It's this indie-guerilla journalism. And he just  walks around and talks to people on the street. It's super cool. 
ARE YOU WORKING ON MUSIC RIGHT NOW? 
AM: Me and my brother are cooking up a song for the summer right now. Probably coming out in June! 
DO YOU SEE IT DIFFERING FROM YOUR PREVIOUS PROJECT TOGETHER IN ANYWAY? 
AM: I just wanna take it to the next level. I feel like both our musicality and confidence has just grown, since when we recorded a year ago. 
YOU ALSO HAVE AN ACTIVE TIK TOK. DO YOU USE THAT IN RELATION TO YOUR ART AT ALL? 
AM: I feel like it's a great way to spread your art. It's increased our audience for sure!
I FEEL LIKE I'VE SEEN YOU USE IT AS A SOURCE TO CREATE AND PLATFORM NOT ONLY YOUR MUSIC BUT ALSO YOUR COMEDY. 
AM: I like to put out a mix. Cause I feel like it would almost be boring if I only did one. They are both such vital parts of my personality. It's almost like I'm putting out my whole personality if I show the comedy and the music. 
HOW DID YOU FIRST GET INTO COMEDY?
AM: Back in middle school I would rap in funny videos on instagram, on my second account. I have a second account, most people don't know about it. But during the pandemic I kind of tapped back into that content creator mind. And it was so fun. 
DO YOU HAVE ANY UPCOMING SHOWS IN THE AREA? 
AM: Potentially, New York City, August 13th at Bowery Electric. Also, be on the lookout for Boston-based shows this fall!
Catch Alden McWayne's At-Home Concert tonight on Wicked Local Wednesday! Every Wednesday at 9PM, we play music from Boston-based bands you won't hear anywhere else.