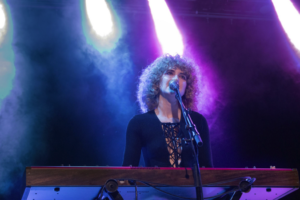 By : Nate Smith
The bitter cold Boston night did not deter the enthusiastic crowd at the Sinclair on Thursday night. Tennis, one of 2017's most watched indie-pop duos, was originally slated  to perform on Wednesday, however  the show was rescheduled  due to weather.
Opening the show was Boston's own Parks, who brought  a sophisticated and melodic take on garage rock. Notable songs from their lineup included "Sweater Weather" and "Modern Fiction." Parks' sound is a delightful amalgamation of Strokes-esque guitar riffs, thoughtful lyrics, and rather impressive vocal harmonies.
After Parks, Tennis opened with "In the Morning I'll be Better," one of the hit singles from their newest release, Yours Conditionally. Alaina Moore's vocals were immediately striking, her voice at one moment soft and husky, at the next, girlish and vibrant. Her voice is complemented by an upbeat, almost beachy, muted drum kit and warm synth. Pastel vaporwave-styled tees and tote bags at the merch table complete the theme throughout. If Tennis has done one thing right, it's defining  their aesthetic: perfectly nostalgic late 80s and early 90s inspired motifs coupled with a distinctly 2000-teens flair. Their stage presence finishes it off: the coiled guitar cables recall the days of tethered telephones; it's a very satisfying mix of Cocteau Twins and the Baby-Sitters Club.
Despite their somewhat recent spike in notoriety, vocalist Alaina Moore and her husband, keyboard and guitarist Patrick Riley kept the show remarkably intimate. Alaina paused to tell the story behind the song, "Modern Woman." "It's about a friendship that I lost," she explained, "I use her real name, Kate, because I hope one day she hears this song." As the duo came on stage to perform their last song, Alaina sat down in front of the crowd and dedicated it to "bad girls, who know deep down that they're good."
Be on the lookout for more good things to come from Tennis. Yours Conditionally, released last week, contains some great tracks. For a good taste of Tennis, listen to "Ladies Don't Play Guitar" and "Modern Woman". Try also "I'm Callin'" and "Bad Girls" from 2014's Ritual in Repeat.