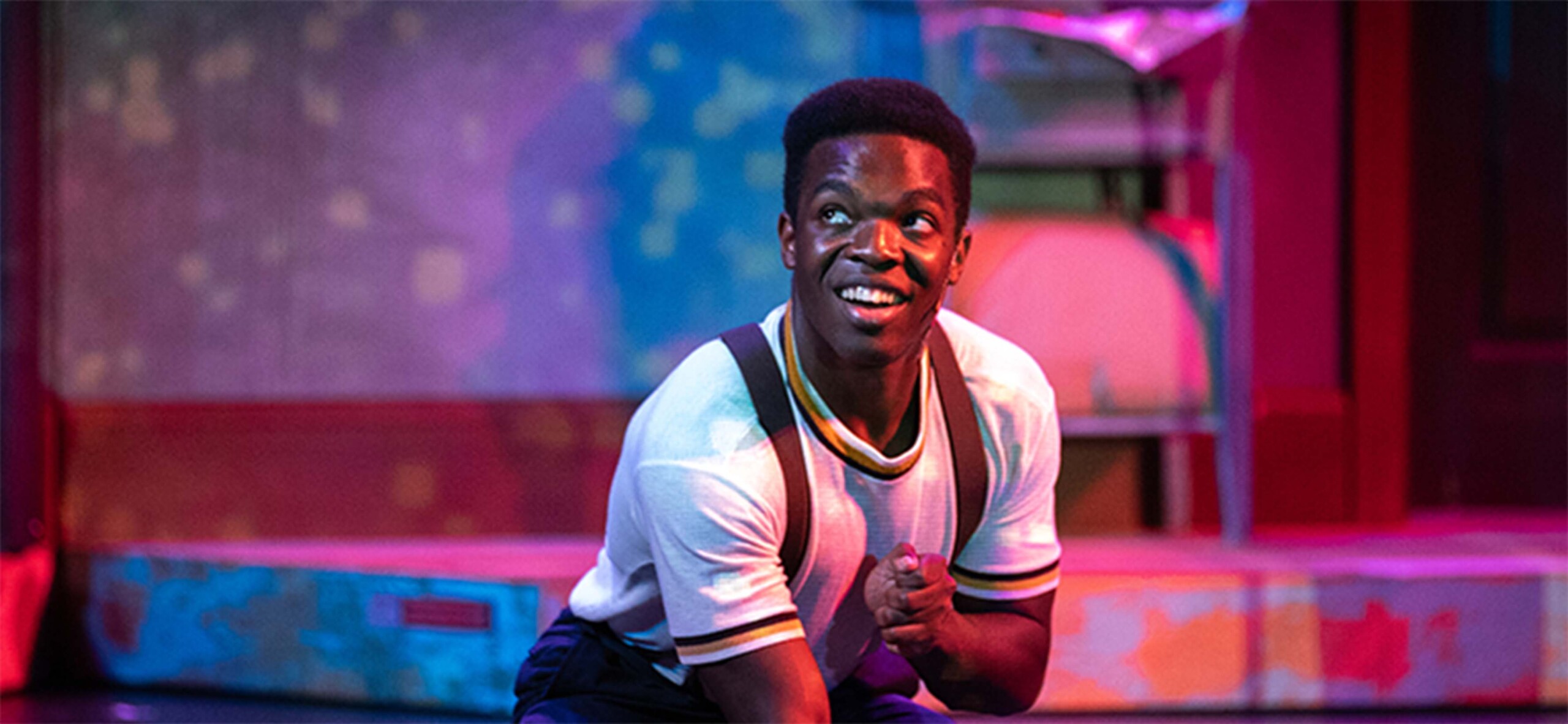 By Emelia Aragon, Sponsorship Coordinator
"The Boy Who Kissed the Sky" is a vibrant, colorful explosion of music and a heartwarming exploration of legacy. Written by Idris Goodwin, directed by Summer L. Williams, and inspired by the life of Jimi Hendrix, the musical is set in Seattle, the icon's hometown.
Produced by Company One at the historic Strand Theater in Dorchester, "The Boy Who Kissed The Sky" runs through August 12th.
AN ENGAGING CELEBRATION OF BLACK JOY AND RESILIENCE
The music by Divinity Roxx and Eugene H. Russel IV is upbeat and engaging with energetic choreography performed by the small ensemble. Starring Errol Service Jr. as "The Boy," the show follows his journey through an imaginative world with his magical band. He struggles with not having "enough to go around" for himself and the people in his community, but he is a resilient main character for young audiences to observe even as he faces some of life's toughest challenges. 
Throughout the piece, we get to learn about our main character's heritage and familial connection to music and see his determination as he saves up to buy strings for his old guitar. Even with the underlying struggles that The Boy and his father experience, the cast carries this with an undercurrent of joy throughout the whole story. Music serves as a form of escapism for "The Boy" and the levity that his imaginary musical companion, J. Sonic, brings to the darkest moments is felt by the audience. 
THE PERFECT SUMMER EXCURSION FOR YOUNG THEATRE AUDIENCES
Like many of Goodwin's works, The Boy Who Kissed The Sky is a true TYA piece but speaks to audiences of all ages. The story is digestible and easy to understand for young audiences, but The Boy's tale of strength and resilience will resonate with everyone. The colorful set, lighting design, and captivating musical numbers are the total package for young theatre-goers, making Company One's production a great fit for young and old audiences alike. 
COMPANY ONE'S INCREDIBLE MISSION FOR THEATRE
Company One's "pay-what-you-want" ticket program is doing the work to make theatre more accessible. The ultimate goal of theatre is to reach people, and Company One is making huge strides toward that goal. In the lobby of the revived Strand Theatre in Upham's Corner, the team has thoughtful and engaging dramaturgy projects to spark conversations as well as a plethora of resources from community partners. 
The Boy Who Kissed The Sky is running now through August 12th at The Strand Theater in Dorchester! Tickets are pay-what-you-want and you can find more information at https://companyone.org/the-boy-who-kissed-the-sky/