Art Courtesy of The Umbrella Arts Center
The Umbrella Arts Center in Concord is running The Color Purple until June 4. DJ Mo Wilks from the Secret Spot got to speak with Director BW Gonzales.
DJ Mo Wilks
When did you first realize arts and theater were your life? 
BW Gonzalez
I think I was probably about 5 years old. I grew up in Dorchester, the second born of 4 kids. My father worked as a jazz musician until he couldn't do it anymore, because we were coming along. And so he got a job working as a custodian for Boston University, and my mother worked as a secretary for a bone specialist at Boston University Medical Centre. I grew up on Columbia Road. My parents struggled a lot, and I found my solace in the arts specifically in theater. When I was a kid, my uncle, my father's brother, had a Bell and Howell 8 millimeter camera, and I used to push my brothers out of the way, so that I could perform in front of it, because I was a natural ham in that sense, and it was just really a natural progression for me to listen to Broadway musical albums and copy the songs. When I was a teenager my parents moved from Dorchester to the suburbs of Boston, on the North shore, to Peabody, Massachusetts, and I really didn't fit in very well right away. I became very shy and withdrawn and started hanging around with what they call a bad crowd and back. Then in Junior High School we used to sneak smoking cigarettes in the girls room. And one day I got caught by the English teacher, who had just heard me read a passage from Julis Caesar, and asked me if I wanted to be in the spring show that season, and she gave me an ultimatum. It was either that or get expelled from school, so I decided to do the show and the rest was history. 
DJ Mo Wilks
When did you first connect with Alice Walker's work?
BW Gonzalez
I discovered Alice Walker when I was still in my late twenties, and The Color Purple was the first book I read, and then I was shocked to learn that she was the first African American female ever to win a Pulitzer prize, because she stands on the shoulders of so many other authors. But it was life changing for me, because it was not like any other novel I had ever read, and I feel as though, as an African American female in this country, Alice Walker helped me to find my voice, and she affirmed a lot of the emotions that I had been going through just being African American, female, and living in this country. It's still probably my favorite novel of all time. I am so glad she is inhabiting the earth right now.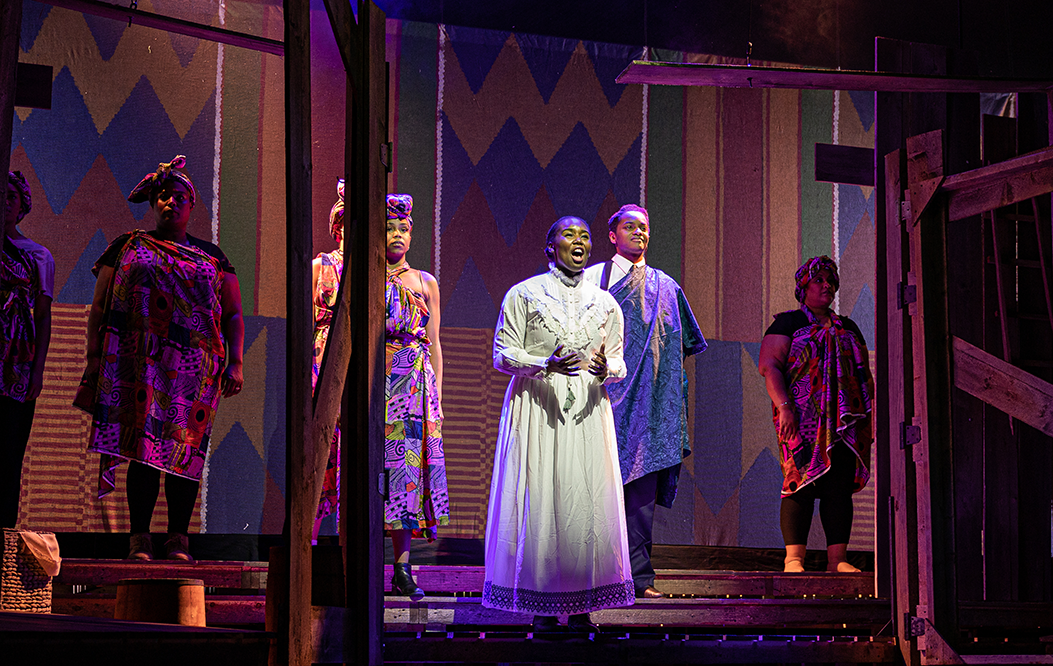 The Cast of the Color Purple. Photo by Jim Sabitus
DJ Mo Wilks
Can you share a little of The Color Purple's story for those who may haven't read Alice Walker's brilliant novel or seen the Stephen Spielberg directed movie?
BW Gonzalez
It tells the story in first person of a young girl growing up in the South at the turn of the twentieth century. I believe the book starts in 18, roughly in the late 1890s. And goes through all the way up into the 1940s. And it has to do with her journey to self love, and Alice Walker wrote it because she believed herself to be a spiritual person, but not a religious one, and she was looking for God. What God is, who God is, and how God lives in her life and in her spirituality. And in a sense that parallels Celie's journey through the devastating circumstances that she was born into being black and being female during that period of time in rural Georgia and Tennessee and the surrounding area, she goes through the brutalisation of the patriarchy. She ends up having 2 children by the age of 14, and can no longer conceive, and she meets a host of characters that help her and propel her along her journey to her own spirituality and the acceptance of God inside of herself.
The opening number starts in church. And so we have a church service actually happening on stage that invites the audience into it. 
DJ Mo Wilks
Is there anything else audiences should be sure to expect?
BW Gonzalez
I just hope that the audience has the same type of affirmation of life and love and beauty and joy and family and community that I get every single time I watch this show. It is a phenomenal piece. I hope that they can find not only the beauty within Celie, and all the other characters in their flaws and their glories, but also find the beauty within themselves with all their flaws and all their glories as well.