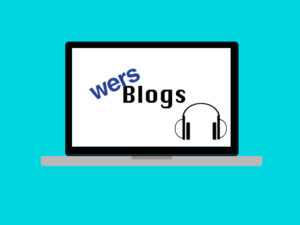 By : Alex LaRosa
As you've probably heard time and time again, WERS is Boston's "Music Discovery" station. We try our hardest to find new songs from artists that you might not have heard of, and then give them a chance to make their mark on music by putting their songs on the air.
One of the cool things about being a radio personality is that I get to hear these songs fairly often, and sometimes, I'm discovering the songs alongside you. On many occasions, I'll be listening to a song for the first time while it's on the air during my show, and that means you, the listener, and I are exploring this song together in real time.
So that brings me to what I wanted to write about: my favorite discoveries this year through working at WERS! There are far too many new songs to choose from, but here's my top three.
COIN – "Talk Too Much"
This song, with is heartbeat-like bass drum and its jangly guitar lines, instantly grabs the ears. I actually discovered this song on my own a few weeks before it got put in regular rotation on 'ERS, so I felt very much like a hipster for just a split second—I liked this song before it was cool. Nonetheless, when this song comes up during my show, you'd better believe that the volume knob goes up and my sense of dignity goes down; I've been seen dancing shamelessly through the studio during songs like this one.
Yeasayer – "Silly Me"
Here's a good example of a song that you're probably not going to hear anywhere besides 88.9 – it's quirky, it's funny, and it's very unique in the way that it's put together. When I first heard this song, I had to take a moment to digest the odd synthesizers and the slanted vocal delivery, but once I understood the artistry behind it, I quickly fell in love with this tune. Plus, while heartbreak is a common theme in music, this one breaks new ground by detailing what sounds to me like a divorce proceeding, halfway through the song. Lyrical freshness + musical boldness = a pretty great new song.
Kungs versus Cookin' on 3 Burners – "This Girl"
What can I say about this little gem of a song? From the very first syncopated melody, the listener can immediately tell that their body will be moving by the final chorus. And indeed, this song delivers on that promise. And who could resist the band Cookin' on 3 Burners' self-description as "Australia's hardest-hitting Hammond Organ Trio"? The only drawback to this song is that Kungs, the French producer, is 19 years old, which makes me feel like I'm not doing enough with my life right now.
So there you have it! That's certainly not a comprehensive list of songs that I loved discovering this past year, but that's definitely the tip of the iceberg. I'm genuinely excited to hear what our Music Staff will dig up next, so keep your ears peeled—and I will too. I'll bet lots of new music is on the way.