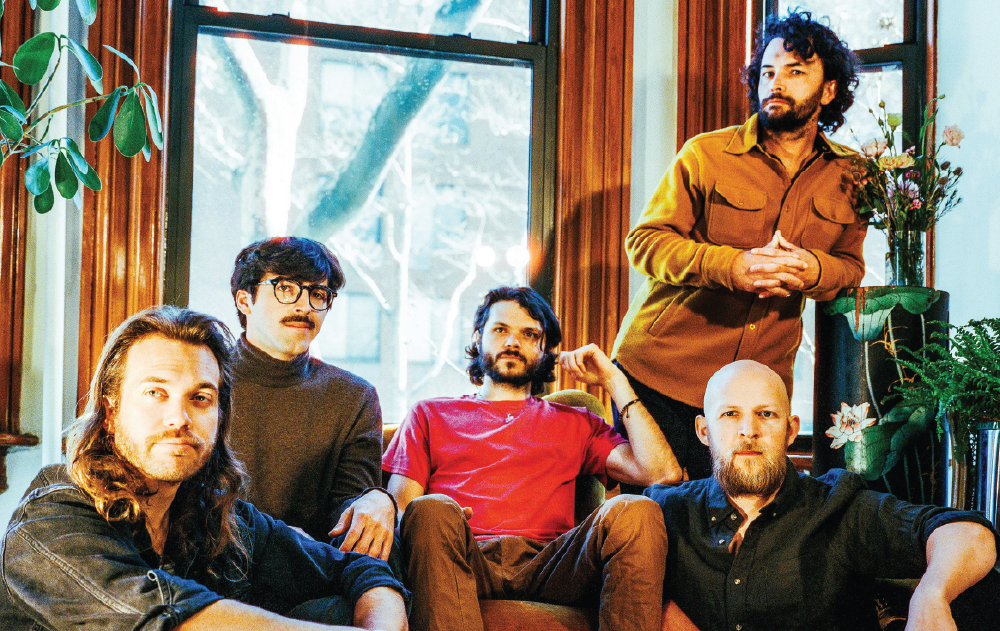 Taking off after the release of their album "Moon Cabin" in 2016, Connecticut jam band Goose has been performing at festivals and venues across the country. The band will be making an appearance July 8th at the Levitate Musical Festival in Marshfield, MA.
On March 23rd, our staff writer Arlo Winokur sat down with guitarist-singer-songwriter Rick Mitarotonda of Goose before their performance at Roadrunner and discussed the bands rise in popularity, stage improvisation and creative process in the studio.
SO YOU'RE HERE IN BOSTON FOR A SOLD OUT SHOW. YOU HAD A STRING OF SOLD OUT SHOWS BEFORE AND ANOTHER AFTER. WHEN YOU FIRST STARTED THE BAND, DID YOU EVER IMAGINE SEEING SUCH AN OVERWHELMING DEMAND FOR PERFORMANCES SO SOON?
Rick Mitarotonda: I mean, you know, starting a band and playing shows locally and stuff like that is one thing, but, you know, having aspirations to do it as a career, you sort of have to be, I guess, at least naive enough to believe that it's possible. So yeah, I would say I was pretty naive about it, I just had the notion of like, yeah, I'll just work at it and it'll work out. And, you know, when we started the band we had no realistic idea of how much it would actually take. I think some level was just kind of like yeah, we'll play a couple of festivals and then we'll be good! But really it took a long time and a lot of work and a lot of experimentation. But with that being said, I'm just really fortunate. I very much recognize how rare it is to be able to do for a living, So super grateful and yeah, recognize how lucky we are.
WAS THERE LIKE A POINT WHEN YOU REALIZED THAT IT WAS LIKE TAKING OFF?
RM: Um, yeah. Yeah. It's like, when the fire actually caught, like the early part of it, we were starting to see progress. We started to see more people coming out to shows, and then by the summer there were a few festivals that happened, then that fall, everything started selling out. And then it was just where the world went from there.
AT ONE POINT YOU GUYS WERE AVERAGING 100 SHOWS A YEAR AND YOU SAID THE PROCESS WAS DRAINING. WHERE ARE YOU NOW IN TERMS OF LIKE SHOWS PER YEAR, MORE OR LESS, AND HAVE YOU KIND OF FIGURED OUT HOW TO MANAGE THAT?
RM: Um, working on that still, actually. But I don't know where we are in terms of numbers. I would guess we're about the same this year, maybe a little more, little less. Some people play like in the two hundreds, so easily twice as many shows as we do, I think it's just like an individual thing, you know? Some people are good on the road and, you know, and some people have to be a little more conscious about balancing it
HOW DO YOU FIND, LIKE, THE BALANCE BETWEEN HAVING ONE, YOUR LIVE IDENTITY AND THEN THE SONGS HAVING THEIR OWN, LIKE STUDIO RECORDED IDENTITY?
RM: It's funny, like, depending on how you look at it, there's more freedom in either place, you know. In some regards, there's freedom in the live thing. There's some freedom in having to commit as time is going. And if you want to change something, you can't. You have to commit. You're constantly committing, every decision that is made onstage is a commitment. Where with the studio you don't have to do it that way. So depending on how you look at it there's more freedom either way. So I don't know, I love recording, I always have. I love being in the studio and that whole process. So that comes sort of naturally. And as far as this band and the nature of this band, it's kind of fun to explore and make some decisions that we normally wouldn't or couldn't be able to on stage. It seems like people generally have a more of a preference between one of the two or something. But regardless, you know, we love it. We have a great time doing it.
IS THERE A RIGHT WAY TO ENJOY YOUR MUSIC?
RM: No, I would never I would never say that. When you create something, it takes on a life, the thing wants to be what the thing wants to be. And if you're doing the best job as an artist you're letting the thing be what it wants to be and not what you want to be. The more that it's coming through as opposed to coming from, I think is what I strive for. So from there, it's kind of like all bets are off, whatever people make of it or do with it… it's free.
THAT BEING SAID, THOUGH, DO YOU EVER SEE LIKE AN INTERPRETATION OF YOUR WORK OR THAT YOU'RE LIKE, OH, THAT'S NOT LIKE, THAT'S NOT WHAT I MEANT IN TERMS OF PEOPLE INTERPRETING LYRICS OR SOMETHING LIKE THAT?
RM: I've seen interpretations of lyrics that are not at all what it was to me, but in my opinion that doesn't invalidate it at all, it's like the same concept, whatever a song means to each person. It doesn't make it less valid than what it means to me. That's a more interesting way to think about it for me than like, it's about when I broke up with my girlfriend and nothing else. I guess the mystery is more interesting to me right now.
SO WHAT DOES A TYPICAL DAY LOOK LIKE FOR A TOUR?
RM: Um, usually try to walk. Walking is tight, also eating food is tight. Walking, eating foods and exercise. Maybe sometimes you do some activities, but most of the time everyone's just kinda doing their own thing. It's like, it's a strange thing to do a lot of, you know. It's really fun in spurts, and then at a certain point it becomes strange and then, the days off are really a balancing act for a lot of people, you need rest and need space and things like that.
AND WHEN YOU'RE TOURING, WHAT'S THE PROCESS FOR DETERMINING WHAT SONGS MAKE THE SETLIST?
RM: Well, there's a few layers to that. Usually Peter puts blocks of things for shows ahead of time, and then I'm usually kind of going off of instinct, like close to before the shows– and we actually run into issues with it sometimes when people want setlists ahead of time, and it's kind of like whenever I write a setlist ahead of time it and they're changing it a million times it becomes annoying and contrived. So it's really like a response to whatever I'm feeling for the night, whatever the room feels like and whatever the energy of the band feels like, it's just kind of an instinct thing. There's other factors too like the things that are going on that weekend or what we played here last time, things like that. So we're taking a lot of different things into account, but I think that instinct thing is, what do I see us playing tonight or what I feel us playing, that's the most important mechanism.
HOW BIG ARE THE IMPROV DECISIONS MADE ON STAGE?
RM: I write a set just to have it most of the time and I say we stick to the setlist 60-70% of the time and change it the rest of the time. And you know it's the same thing. It's like an instinctive kind of right, we write a set and then get out there and the energy feels different, then we can adjust course, having that freedom is huge. The improvisation is different for different songs, some are a little bit more in the box and then some tend to go elsewhere. It's pretty good to stretch out in places where you don't normally, so you wind up places that you wouldn't otherwise. It's really just trying to be in the moment and be present and see where things are going and not be too caught up in where you think it should go. 
DO YOU EVER FEEL LIKE YOU'RE BECAUSE YOU'VE DONE SO MANY LIVE SHOWS, YOU EVER FEEL LIKE YOU GET INTO A GROOVE AND YOU KIND OF WANT TO, LIKE, KICK THAT AND TRY SOMETHING NEW?
RM: For sure. But, you know, I think that's like it's almost that almost is our groove. There's a fair amount of decisions where it's like, okay, this works, we know it works, we'll do it. And, you know, there's nothing wrong with that, but then again, it just comes back to feeling and instinct. It's like when that feels boring. Then it's like, all right, we know this is going to work, we've done this before and it feels good, enjoy it then. If it feels boring or like, it's not exciting then let's do something intentionally different.
SO I WANT TO TALK A BIT ABOUT, LIKE, THE BAND AND ITS PROCESS. SEEMS LIKE YOU GUYS ENJOY EXPLORING YOUR MUSICAL IMAGINATIONS, AND I READ THAT YOU ALL DO A GOOD DEAL OF IMPROVISING THAT OBVIOUSLY RESULTS IN YOUR OWN STYLE. SO WHEN YOU'RE WORKING IN A GROUP, HOW DO YOU HAVE EACH PERSON'S INDIVIDUAL STYLE COME TOGETHER TO CREATE ONE GROUP'S VOICE?
RM: It just happens naturally, you know? I've always been very observant of the band and assembling bands and how that goes, what works and what doesn't and all that. It really doesn't matter how much a person is contributing, or how little. It doesn't matter if someone's just hitting a cowbell, it's a circuit, and the minute someone enters or leaves that circuit, it alters the circuit, you know. And a human energy in that, it's like a chemistry project. It took a lot of tinkering with that, and once you find a circuit that works in a way that's balanced it's pretty evident, you can see, and it's something I've always been curious about and pretty observant of.
THAT'S A REALLY COOL WAY OF THINKING ABOUT IT.. AND HOW DOES THAT CHANGE WHEN YOU'VE HAD PEOPLE COME AND GO FROM THE BAND, WHAT IS THAT PROCESS OF PEOPLE COMING AND GOING?
RM: Yeah, it's tough, you know, because we're humans, and especially when you're in a place where you're pursuing it as a career, it's just such a strange thing to pursue this career, you know, and try to make a living doing it. It's challenging, a lot of people that were in the band are, they're great people, some of them left under mutual circumstances and those are great, like this was fun, this was great, but it's not right for you in your life anymore. And then other times it's been 'it's not working and for whatever set of reasons, we have to make it make a change,' you know? It can be very tough, it's an emotional thing. I mean it sucks getting fired from a job regardless, but there's definitely more emotion.
SO YOU GUYS DO A GOOD JOB IN SORT OF SEPARATING YOUR IDENTITY FROM THAT OF, LIKE, A TRADITIONAL JAM BAND? AND SO HOW WILLING IS EVERYBODY TO EXPERIMENT AND TO, LIKE, GO IN NEW DIRECTIONS WITH THEIR SOUND?
RM: Pretty willing. I'd say it's not as much of an issue as a willingness as it is awareness, or knowing how to open up other doors, that's the challenging part. I don't think anyone in the band is opposed to doing different things. I think the challenge comes in those things occurring or being natural, so that's kind of where the work comes in. 
ARE YOU EVER SURPRISED BY THE DIRECTION YOU GUYS END UP GOING?
RM: Sometimes, particularly in the studio. But it usually comes from like an idea or something, sometimes I'm surprised a little bit, especially working with Dan on the last set of recordings. Because that was the first time we worked with someone who really kind of pushed us to make decisions that we wouldn't have on our own, so that's like a process of, of trust. And I really do trust Dan, which is an awesome thing. If he's got an idea that seems out of line from what I was envisioning, we're going to try it, and then we'll see, and the vast majority of the time I'm like, "wow, yeah, you're right." And then every once in a while it's probably better the other way. But that's just the nature of working collaboratively. It's like a playtime when you're a kid, you know?
DO YOU LIKE TO PLAY MUSIC FOR FUN?
RM: I would say fundamentally, yeah, I play music for fun, and it's gotten super conflated with the career demands and pressure and things like that. For me,I have to be really vigilant and do things consciously to retain my personal connection to it, and like retain that special space. It's really important and there's a vulnerability to it, and it'll never vanish and go away entirely but it can get really messed with by other things. It's your work and there's all kinds of demand, it really does change things and it makes it very different from when, you know, you get home from school or work and it's like your release.
WHO ARE YOU LISTENING TO RIGHT NOW?
RM: I've been listening to Atoms for Peace a lot, which is a Thom Yorke side project. I didn't know about that record until a few months ago, so I've been listening to that a lot recently. I don't have a ton of conscious listening time, sometimes when I'm driving the car or put some music on while cooking or something like that.
But also listening to pop music, it's kind of such an individual thing. There's a lot of pop I don't like, but I just love good melodies and 'm just fascinated and drawn to badass melodies and things that just grab you like that. A lot of pop music seems fairly redundant but there's a portion of it that is just like, "this hook is so good, this melody is so good." And then I just get curious about it and analyze it. I really like that stuff, which is funny, it is a criticism of life of the band, I think in the jam world, poppy or hokey melodies, people are like, that's wack.
I think melodies are sick, I'm kind of a nerd about good hooks and melodies. I always have been like, in the nineties there was so much good shit in the nineties. You would hear a song on the radio and then like, go try to download it on Napster to find it, and you don't know who it is or like you catch a few lyrics on the radio and then type in Napster. It was just like, it's such a fun process, now everything's just easy and it's all at our fingertips, which takes a little bit of the magic away.
LASTLY, ARE YOU CREATING ANYTHING OUTSIDE OF MUSIC AND LIKE, DO YOU HAVE ANY HOBBIES TO KIND OF REJUVENATE YOUR CREATIVITY?
RM: Nothing that you would normally associate with that, Trevor started recently which is super cool, I would love to get into that. I've been doing a bunch of home stuff recently, it's taken up a lot of my time, renovation, and building and stuff like that, so that's been taking up a lot of my energy, actually. Cooking can be considered a creative act, I do a lot of that, but I'd love to get back into drawing and painting.